Decades ago when audio technology was in its formative stages, recording at home was nothing more than a distant dream. Musicians would need access to high-end analog equipment, which made recording inaccessible to the masses.
As digital equipment has developed over the years, the possibility of recording at home has now become a reality. Now, aspiring musicians and producers can create a fully-functioning home recording studio on a very tight budget.
The main challenge people face when setting up their home recording space is knowing what gear they will need.
With so much to choose from, it can be difficult to identify the best-suited equipment for the specific requirements of your home recording setup.
This guide is written to provide you with all of the information you need for the complete setup for home recording. I'll provide you with the best equipment to suit your budget, and offer advice on how to use it effectively.
Let's start our home recording gear safari with entry-level and move up from entry-level to affordable through to intermediate then onto professional and even high end.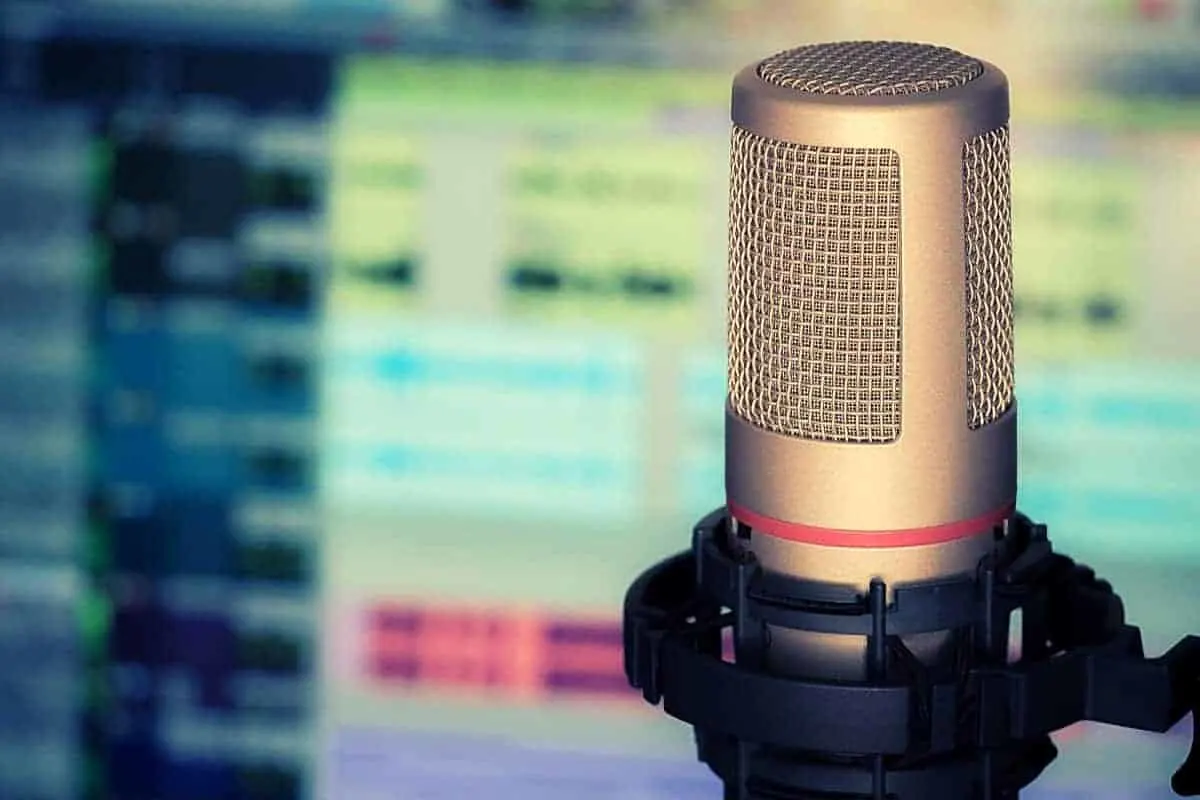 One piece of advice I always like to give is "Grow your ear before your gear"
In this article, I will offer some short additional information as to why (or why you may not) need a particular level of equipment, and I'll also link you to some other articles here at Stampsound, that may help answer any additional gear-related questions.
Ok, let's get into this.
Entry-Level Home Recording Set-Up
Entry-level, or budget recording equipment is ideal for those who don't have an excess of disposable funds to spend on more expensive equipment.
Despite the lower price tags, there are many hidden gems within the entry-level category.
While it may be true that the recording gear I'm about to present to you is unlikely to include the sophisticated features and add-ons you'd expect to find on the highest-end equipment, you can still use it to achieve high-quality results and assemble a competent set up for home recording.
Entry-Level Audio Interfaces
The first and perhaps most important component in any home recording setup is the audio interface. This device acts as the link between the audio source, the microphone or pickup, and the computer or laptop.
Entry-level audio interfaces are available at very reasonable costs.
Audio interfaces typically include a single input for instrument signals and another for microphone signals. This will allow you to record two sources simultaneously, providing one is line-level and another is microphone-level.
The best budget audio interfaces are made by a brand called Midiplus. They're very easy to use and are reliable enough to record audio into a DAW.
Midiplus also provide +48v phantom power, which is essential when recording with a condenser microphone. You can hook your monitors up to these entry-level interfaces too.
For more information on phantom power be sure to check out our article. You can read it here.
Recommendations:
The Midiplus Audiolink Light and the Midiplus Smartface are incredibly inexpensive considering the quality of their performance.
For slightly more advanced features, such as superior preamps on the inputs and more control over the gain settings of each channel, the more costly Midiplus Smartface II is a great option.
Entry-Level Condenser Microphones
Condenser microphones are vital if you intend to record vocals, whether this is for musical purposes or podcasting.
Entry-level condenser mics may not provide the incredible clarity of more advanced models, but they're a great starting point.
The condenser microphone is commonly connected to your computer or laptop either via an XLR cable, which is plugged into the input on your audio interface, or via USB, which is directly connected to the device.
Be sure to check out this article on XLR vs USB microphones for more information.
The only issue with budget condenser mics is that they may produce some noise when you use them for recording. However, if you're willing to spend some time using EQ and other mixing processes, you can minimize the unwanted noise.
Recommendations:
Samson is one of the leading providers of entry-level condenser microphones, I'd highly recommend the Samson SAGOMIC, a portable USB condenser that captures audio in a clear and precise manner.
The Neewer NW-800 is a brilliant condenser microphone, considering its low cost. If you're on a tight budget, I'd recommend considering that mic or the Fifine K669B which is similar in terms of price and quality.
Entry-Level Dynamic Microphones
For recording sounds that are louder, and don't require the attention to detail of a condenser microphone, dynamic mics are the best option.
These microphones can handle the higher volumes of guitar amplifiers, drums, and other electronic instruments.
Most dynamic microphones are reasonably priced, which is great if you're looking for a bargain. Compared to condenser and ribbon microphones, they're generally more affordable.
In the majority of cases, dynamic microphones are connected to the audio interface via an XLR or jack cable. You can then increase or decrease the gain on the input to achieve an optimal level.
Recommendations:
Many entry-level dynamic microphones are capable of recording a range of sounds. The Audio-Technica ATR-1200 is a great choice if you're looking to save some of your funds to invest in other equipment for your home recording setup.
Alternatively, you could opt for a dynamic microphone like the Behringer BA-85A. This is one of the best low-priced dynamic microphones available, as it has a super-cardioid polar pattern and an optimized frequency voice for capturing instruments and vocals.
Entry-Level Studio Monitors
Studio monitors are an integral part of any setup for home recording. To achieve balanced mixes, and hear the recordings clearly, it's important to choose monitors that project the entire frequency range with clarity.
While it is certainly possible to find cheap studio monitors that perform to a decent standard, I'd recommend investing in the best possible set that your budget allows for.
With that being said, there are some capable speakers available at very low prices.
Recommendations:
Three examples of entry-level studio monitors that are worth considering are the Samson MediaOne M30, Mackie CR-X, and the Donner Studio Monitors.
If you have a little extra to spend on monitors, I'd recommend the Donner Studio Monitors as they feature a 3 inch woven woofer for low-end clarity, and impressively accurate frequency response.
The first two sets of monitors I suggested are less costly and have a slightly reduced clarity but they will still provide you with a decent platform for listening back to your recordings.
Entry-Level Headphones
Whether you're recording an instrument, vocals, or any other sound source, headphones are vitally important. Without them, it's impossible to record over an existing audio track or metronome without the sound spilling into your recordings.
The headphone market is highly saturated, and while there are many entry-level options out there, you have to sift through the sub-par offerings to find a decent pair.
If you don't intend to mix using headphones, you can get away with using a budget set that doesn't offer the same sound quality as more expensive options.
Recommendations:
Philips produces several sets of headphones that perform to a level that belies their modest price tags. The Philips Over-Ear Stereo Headphones are an example of this, with a frequency response stretching from 10Hz – 23kHz.
The Tascam TH-02 headphones are also very capable, providing you with a good balance in the lower, mid, and treble frequency bands. If you're willing to invest a little extra, the OneOdio Wired Over-Ear Headphones are amongst the best in the entry-level category.
Be sure to check out our article entitled "Are expensive headphones worth it" You can read it here.
Entry-Level MIDI Controllers/Keyboards
MIDI controllers allow you to record virtual instruments into a DAW. They can be used to play synth parts, program drum samples, or modulate certain aspects of a virtual instrument using the onboard controls.
There are many entry-level MIDI keyboards available, which facilitate this type of recording.
These budget devices have a limited number of keys and controls compared to more advanced options, but they are still very useful if you're on a tight budget.
Recommendations:
The MIDIPLUS AKM320 has 32 keys and additional features such as a pitch bend and modulation wheel. It is great value for money, and compact enough to fit into a small home recording setup.
If you're willing to invest a little extra in a MIDI keyboard, I'd recommend considering the Samson Graphite M25. While this MIDI controller has fewer keys than the MIDIPLUS, it features a wide range of programmable controls and is a highly useful tool for music production within your chosen DAW.
If you have always wondered what MIDI is, you can find more information in this article.
Entry-Level Cables
There are two main cable types that you're likely to use for recording audio through an interface. Firstly, XLR cables are used to transmit balanced signals, most commonly from microphones. They're also used to connect your monitors to your audio interface.
Guitar cables, also known as instrument cables, carry an unbalanced signal. This type of cable is used for recording instruments such as electric guitars, acoustic-electric guitars, synths, keyboards, or samplers.
Recommendations:
Entry-level cables are a great choice if you're looking to save funds to invest in other components in your home recording setup.
Two XLR microphone cables I'd recommend are the Amazon Basics XLR Cable, and the Sovvid XLR Cable, which are 6ft and 10ft in length, respectively.
If you're considering using budget instrument cables, the New Bee Guitar Cable is great value for money. With a length of 10ft and a right-angle connector, this cable rivals more expensive options.
Alternatively, you could save more money by purchasing the Sovvid Guitar Cable, which is also 10ft long and has robust connectors.
If you have ever wondered how long XLR cables can be, then you can find more information in this article
Entry-Level DAWs & Recording Software
Regardless of how much physical equipment you amass, it will all be rendered useless for recording unless you have a DAW (Digital Audio Workstation).
Over the years, many new DAWs have emerged, providing us with a plethora of choices depending on our requirements.
For an entry-level setup, I'd recommend using one of the following free DAWs. They're all capable of recording audio, and provide you with a decent amount of tools for processing your recordings:
Recommendations:
Garageband
Reaper
Pro Tools First
Cakewalk by BandLab
Other Entry-Level Equipment
Depending on what you intend to use your home recording set up for, you'll need to consider adding some other equipment such as pop filters and microphone stands.
Pop filters, or pop shields as they are also commonly called, are used to block plosives from entering the microphone capsule when recording vocals.
If you're using a condenser or dynamic microphone to record into your DAW, you'll need a suitable stand. Mic stands come in a variety of sizes and forms, so you'll need to check that they match up with the specs of the mics you choose.
Recommendations:
Two budget pop filters that will make your vocal recordings clearer are the Neewer Pop Filter, and the PMOTech Pop Shield.
I'd also recommend considering the Bilione 3 in 1 Desktop Mic Stand, or if you're looking for a more compact option the Pyle PMKS3 Microphone Stand.
Check out our article called "Can you use 2 pop filters" for some additional information. You can read it here.
Affordable Home Recording Set-Up
While all of the gear mentioned in the previous section will allow you to record, mix, and produce audio in your home studio, there's a good chance you'll outgrow the equipment as time passes.
If you have a little extra to invest into your home recording setup, it might be a better idea to consider affordable gear rather than the most basic, low-priced options on the market.
Price isn't always an indicator of quality, and it's always possible to find a bargain that performs to the standard you'd expect from a more expensive device.
The following items are a step up in quality compared to the aforementioned entry-level home recording setup.
They feature more adjustable controls, superior build qualities, and many other benefits which I'll explain in detail in the sections below.
Affordable Audio Interfaces
Investing in a better quality audio interface will improve every aspect of your home recordings. There are plenty of affordable options out there which have additional capabilities and features, compared to entry-level audio interfaces.
One of the areas that you'll see the most improvement is the preamps that are installed on these interfaces.
Preamps are responsible for amplifying and processing the signal received from an instrument or microphone. Each preamp colors the tone slightly and therefore has a significant impact on the sound of the recorded audio.
Most affordable audio interfaces have two inputs and two outputs, which is also the norm for entry-level options. However, you can expect a better sound quality when recording and outputting audio to monitors or headphones.
Audio interfaces also help with latency. You can read more on this topic here.
These devices also boast 24-bit/192 kHz converters, which ensures that you get a high-quality recording without noise issues or glitches caused by a lack of processing power.
Recommendations:
Behringer is renowned for being one of the leading manufacturers of affordable home recording equipment. They produce a range of audio interfaces, which include the reliable Behringer UM2.
This interface is ideal for recording a signal from a microphone and an instrument simultaneously. The Behringer UM2 is a slightly more advanced version but still falls into the affordable category.
Additionally, prolific manufacturers M-Audio also produce several high-performing affordable audio interfaces. The preamps featured on these devices are impressive, to say the least, as is illustrated with the popular M-Audio M-Track Solo.
Check out this article for more information on preamps and integrated amps.
Affordable Condenser Microphones
Affordable condenser mics generally capture audio with more detail and clarity than entry-level equivalents. This is commonly due to the improved focus of the cardioid pickup pattern.
Another thing you'll notice about these affordable microphones is their superior build quality compared to budget mics. Everything from the grille to the connector is likely to be more robust, and therefore less likely to be damaged when used in your home recording set up.
Materials like zinc are commonly used to construct the housing of affordable condenser microphones, and they tend to have a flat frequency response of 20hZ to 20kHz, which leads to smooth-sounding recordings.
If you have ever wondered what the difference between large and small condenser microphones is, be sure to check out this article.
Recommendations:
The Behringer B-1 is another example of the prolific manufacturer's expertise in home recording equipment.
This large-diaphragm condenser mic is ideal for capturing vocals, spoken word, or acoustic instruments thanks to its pressure-gradient transducer and switchable roll for reducing problematic low frequencies.
Another affordable condenser mic that performs to a standard that belies its modest price tag is the MXL V67G.
With a unidirectional polar pattern, it can be used for podcasting conversations that feature more than one person, and its solid-state preamp makes it a great choice for musicians too.
Affordable Dynamic Microphones
Affordable dynamic microphones record instruments and other sound sources with improved clarity, compared to the basic options discussed earlier in this article.
This is a result of performance-enhancing features, such as integral pop filters for minimizing vocal plosives, robust metal grilles, and tailored frequency responses.
Another common improvement that is made to affordable dynamic mics is their ability to reduce handling noise.
Entry-level mics are susceptible to noise issues when recording, but by using techniques like shock-mounted cartridges, manufacturers can keep this problem under control.
Recommendations:
Shure is regarded as the leading producer of dynamic microphones for home recording setups and live audio.
One of their best affordable offerings is the Shure SM48, which is incredibly durable and competent at recording amplified instruments or other loud sounds.
Shure's biggest rival when it comes to dynamic mics is Audio-Technica.
If you're looking for a dynamic microphone that can be connected to your computer via USB, or by the usual XLR cable, the Audio-Technica AT2005 is a solid option.
Affordable Studio Monitors
A set of entry-level studio monitors are worth considering if you're setting up a home recording space on a very tight budget.
Moreover, if you have a little extra to invest, affordable studio monitors will provide you with noticeable improvements when mixing your recordings.
These improvements are likely to be the result of larger, more powerful speaker cones and woofers.
They may also include controls for fine-tuning the frequency output of the speakers so that you can tailor them to suit the acoustic of your home recording studio.
You need to take care of your studio monitors especially to eliminate pooing when turning on or off. You can read more on this subject here
Recommendations:
When looking for affordable studio monitors, it's important to check that they include at least a 3-inch woofer with a tweeter that can produce transients and treble frequencies accurately.
The PreSonus Eris E3.5 ticks both of these boxes.
Affordable Headphones
Investing a little extra in a pair of studio headphones will allow you to experience superior sound quality, better noise cancellation, and a more accurate representation of the recordings you create.
Affordable headphones, compared to entry-level options, add less coloration to the audio you play through them. (this is what you want)
Consequently, you'll find that when you mix your recordings in these headphones, they translate to other speakers with more consistency.
Recommendations:
Wireless headphones are very useful for recording, as they prevent cables from getting in the way of playing an instrument.
Wireless headphones also allow you to move around your home recording space freely without being limited by the length of the wire. The JBL Live 650 headphones are an affordable option if you want to enjoy the benefits of a wireless design.
Another example of affordable headphones that are ideally suited to a home recording setup is the Audio-Technica ATH-M20X.
These headphones feature a closed-back design and cancel most of the outside noise so that you can zone in when recording vocals, instruments, or when mixing and mastering audio.
Affordable MIDI Controllers/Keyboards
The importance of a MIDI controller will differ depending on the specifics of your home recording setup.
If you will predominantly be recording live instruments and vocals, with minimal use of MIDI instruments, you perhaps won't require a MIDI keyboard with advanced features or a large number of keys.
If that is the case, affordable MIDI controllers are likely to be the best choice for your requirements.
These devices include more controls and adjustable parameters than the most basic options, such as user preset slots and octave shift buttons.
However, they're not overly complicated, and won't take up a large amount of space in your home studio.
Recommendations:
M-Audio is one of the leading producers of affordable MIDI controllers. Compact and lightweight, they're the perfect choice for musicians and producers who value simplicity. The M-Audio Keystation Mini 32 MK3 is one of their most popular low-priced offerings.
If you'd like to be even more efficient with the space in your home recording set up, the Akai Professional LPK25 is a smaller option that includes a few useful features such as an onboard arpeggiator and a sustain control.
Affordable Cables
Affordable cables are abundantly available, but it's important to check that they combine durability with sound quality before investing in them.
Compared to the most basic cables on the market, these slightly more expensive options boast superior shielding which reduces interference and improves the sound of your recordings.
Recommendations:
Two affordable XLR cables that are suitable for a home recording setup are the Monoprice Premier Series XLR, and the Cable Matters XLR.
Both have robust connectors and are long enough to stretch from your audio interface to a microphone located across the room.
Likewise, the Gig Snake Guitar Cable and the GLS Audio Instrument Cable embody the same qualities, but for the recording of instruments and other unbalanced signals.
Affordable DAWs & Recording Software
The DAWs I recommended for entry-level home recording setups will allow you to perform all of the basic functions required to capture and process audio.
If you want to expand the possibilities, and integrate more VST plugins into the software, it's worth upgrading to an affordable, more advanced DAW.
Recommendations:
Two affordable DAWs that have risen considerably in popularity in recent years, are Magix Music Maker Plus and PreSonus Studio One.
The former is a great tool for learning the various skills required to mix audio, and the latter is slightly more sophisticated, making it more suitable for those with some prior experience in audio processing.
Other Affordable Equipment
The importance of pop filters, pop shields, isolation booths, and microphone stands is often overlooked by those setting up a home recording studio.
Check out our article on vocal isolation booths here.
This is understandable, as these items don't have the direct impact on the sound of the recordings that many other components, such as mics or monitors do.
However, spending a little extra on these items will prevent you from needing to replace them sooner, which will save you money in the long term.
Affordable pop shields and mic stands are made from stronger materials, like metal and mesh foam, and they often have a flexible design to prevent wear and tear.
Recommendations:
Recording vocals is one of the trickiest disciplines to master, especially in a home studio. Check out this article for help with this.
It can be incredibly frustrating if plosives and other noises mar the sound of your vocal takes.
Thankfully, there are affordable tools, like the Arisen Pop Filter and the Elgato Wave Pop Shield which minimize this potential issue.
Furthermore, the stability of your microphones will also directly affect the sound of your recordings.
If the stand is flimsy and prone to moving around, you might end up with unwanted noises in your recordings, or your mics could be damaged by falling over.
To prevent this, investing in a sturdy stand, like the Kasonic Mic Stand or the On-Stage Desktop Mic Stand is a wise decision.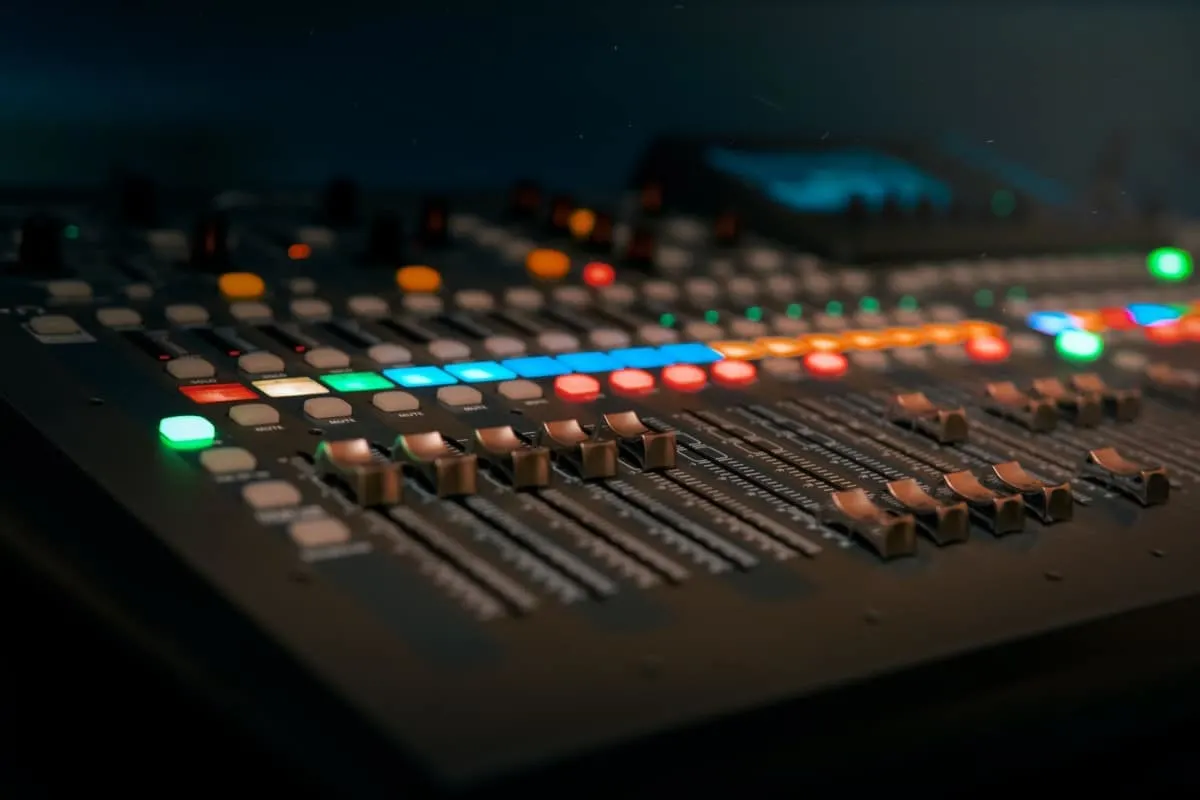 Intermediate Home Recording Set-Up
Moving on from affordable equipment for your home recording set up, we're now moving into the territory of more capable, durable, and high-performance devices.
The previous two complete setups for home recording are recommendable to musicians or producers who perhaps have limited experience in the field, or simply don't have the funds available to invest in better equipment.
Nevertheless, you can certainly achieve good quality recordings at home using the setups I've presented thus far.
An intermediate set up for home recording is ideally suited to those who are serious about the quality of their results.
If you aspire to create crisp, polished recordings in your home studio but don't have a limitless budget, the setup I'm about to outline could be perfect for your requirements.
Intermediate Audio Interfaces
As we move into the territory of mid-level audio interfaces, you'll notice that there are many noticeable improvements compared to entry-level and affordable models.
One of the most significant differences is again the quality of the preamplifiers, with Class-A microphone preamps providing impeccable input quality.
The improved preamps allow you to achieve clear, full-bodied recordings when plugging an instrument directly into the audio interface.
Lesser quality interfaces are capable of direct recordings, but there's a strong possibility they will suck some of the natural tones from your instrument, which limits your options when mixing.
Durability and build quality are also likely to be improved with intermediate audio interfaces.
While this won't affect the quality of your recordings, the robust metal chassis will protect the inner components of the device, improving both its longevity and resistance to damage.
Check out this article that shows how to connect an iPad or iPhone to an audio interface.
Finally, it's common that manufacturers will include free software with mid-priced audio interfaces. This isn't usually offered with lower quality equivalents, so if you're yet to install a DAW on your computer or laptop, it might be wise to consider an audio interface that includes one.
Recommendations:
One of the best-selling audio interfaces in this category is the legendary Focusrite Scarlett Solo (3rd Gen). Compact and stylishly designed, it features high-quality mic preamps and a switchable air mode, which can instantly brighten up a dull-sounding recording.
The Steinberg UR12 is another wonderful option for those looking for a blend of quality and affordability.
This interface has a Class-A D-Pre mic preamp, as well as all of the necessary features for polished recordings, such as phantom power and direct monitoring.
Many musicians want to connect a guitar amp to an audio interface. Check out our article here on how to do this.
Intermediate Condenser Microphones
One of the main improvements you'll find if you choose to use a mid-level condenser microphone in your home studio is the addition of multiple polar patterns.
Polar patterns determine the direction that the microphone capsule can pick up sound.
As condenser mics improve in quality, they commonly include three or four polar patterns. These could consist of:
Cardioid
Omnidirectional
Bi-directional
Hyper-cardioid
Having multiple polar patterns to choose from makes the condenser mic more versatile.
If you intend to record a variety of instruments and sound sources, an intermediate-level condenser microphone with several polar patterns is a suitable choice.
Recommendations:
The Blue Yeti has amassed a large and loyal following amongst musicians, broadcasters, podcasters, and live streamers. It features a unique design, and captures vocals with impressive clarity, making it one of the best in its price range
For more music-focused recordings, the Audio-Technica AT2020 is great value for money. It boasts high SPL handling and has a low mass diaphragm to ensure focused recordings.
Intermediate Dynamic Microphones
Mid-range dynamic microphones are capable of capturing pristine recordings and are generally more versatile than their lower-priced equivalents. You can expect a warmer, better-rounded sound from these mics due to higher quality components.
A common improvement made to intermediate dynamic mics is the number of polar patterns they include.
Hypercardioid polar patterns are often added to increase the focus and clarity of the mic.
Recommendations:
Sennheiser and Audio-Technica both produce several mid-priced dynamic microphones that are sure to improve your home recording setup.
One of my personal favorites in this category is the roadworthy Sennheiser E835. I have used this fantastic mic on many projects.
With an extensive frequency response and good feedback rejection, this mic can be used for a range of sound sources, from snare drums to distorted guitar amplifiers.
The Audio-Technica AT2040 is another dynamic microphone that is a step up in quality from the affordable and entry-level options discussed earlier in this guide.
It has a hypercardioid polar pattern, which blocks out noise from both sides and therefore captures vocals very accurately.
Intermediate Studio Monitors
Mid-range studio monitors boast improved accuracy compared to more basic options.
When you play your recordings back through a decent set of monitors, you can expect there to be less coloration and tonal alterations, which makes it easier to mix and process the audio.
Recommendations:
Yamaha's HS range features some of the best studio monitors on the market.
These monitors are renowned for their balanced tone, which is a result of their sophisticated bi-amp and extensive frequency response. In the mid-range category, the Yamaha HS5 is a standout option.
For electronic music producers looking for extra bass from their studio monitors, the JBL Professional 305P MkII is a worthy choice.
These monitors produce a deep bass tone that doesn't detract from the clarity of the mids or higher frequencies.
If you have ever wondered if speaker cables need to be the same length, be sure to check out this article.
Intermediate Headphones
If you have extra funds to spend on an improved set of headphones for your home recording setup, the first quality that is likely to be enhanced is comfort.
While most people focus on appearance and sound quality, the comfort that headphones provide is equally as important.
The ear pads on mid-range headphones are softer and made with more forgiving materials than affordable or entry-level options. Also, the inner speakers are likely to handle low frequencies better, so that you get a more accurate representation of the audio your record or playback.
Recommendations:
A good set of mid-range headphones must have high-quality magnets and drivers so that you can enjoy a balanced, powerful sound.
There are many options that provide these qualities, with one example being the Sony MDR7506 closed-back headphones. Powered by 40mm drivers and equipped with neodymium magnets, they are great value for the cost.
If you're likely to use headphones extensively in your home recording setup, comfort is of paramount importance. Sennheiser is renowned for its highly comfortable, cushioned headphones, as they illustrate with the Sennheiser HD280PRO set.
Intermediate MIDI Controllers/Keyboards
Mid-range MIDI controllers and keyboards are the perfect choices for those who don't mind investing a little extra to gain access to more options.
The most obvious difference between intermediate MIDI controllers and more affordable keyboards is their size. The number of keys is increased significantly, so you can play more complex keyboard and piano parts into your DAW.
Recommendations:
Intermediate MIDI controllers offer a range of programmable faders and controls, which allow you to control different aspects of your DAW by mapping them to certain functions.
The highly popular Novation Launchkey 49 boasts an extensive control layout and has semi-weighted keys for added playability.
A more affordable option in the intermediate category is the M-Audio Keystation 49 MK3.
This keyboard also has semi-weighted keys and assignable controls including volume faders, transport buttons, and an input for a sustain pedal.
Intermediate Cables
As the quality of the cables you use in your home studio increases, you'll be able to achieve clearer recordings of vocals and instruments.
The main reason for these improvements is simply that the manufacturer uses more robust connectors, superior copper shielding, and rubber outer jackets which protect the important inner components.
Recommendations:
Iconic guitar and amplifier manufacturers Fender have decades of experience in the industry, and this knowledge has been channeled into a range of highly capable instrument cables.
One of their best mid-priced offerings is the Fender Deluxe 15' Angled Instrument Cable.
If you have ever wondered if you should record guitar in mono or stereo, check out this article.
If you need a robust and reliable XLR cable for recording your dynamic or condenser mics in your home studio, Pig Hog is one of the best-known providers.
The Pig Hog PHM6 XLR has protected connectors and a thick rubber coating to ensure longevity.
Intermediate DAWs & Recording Software
Intermediate DAWs are generally more efficient than the more basic examples featured so far in this guide.
The layout and appearance of the sequencers and effects racks are given more consideration by the companies that design them, which results in a faster, more streamlined recording experience.
Recommendations:
Two examples of DAWs which represent a middle ground between more advanced, complex recording software and the more primitive options featured earlier in this article are Audacity and Bitwig Studio.
Audacity allows you to easily capture live sound and playback audio on your computer or laptop. It also includes options for processing the recorded tracks and can be used to convert audio into different formats.
Bitwig Studio has an onboard sequencer and is a great tool for creating loops with the audio you create.
Other Intermediate Equipment
Investing in good-quality microphone stands and pop filters is a wise move for any recording engineer, producer, or musician.
Depending on how many sound sources you plan to record simultaneously, you'll need multiple stands for each microphone.
While cheaper mic stands will work just fine for some recording endeavors, if you rely on them too heavily they are likely to buckle under the pressure of constant usage.
Boom stands are renowned for their durability and will last much longer than their more basic equivalents.
Recommendations:
The Audiophonix Pop Filter is a staple of many home recording studios around the world.
It has a flexible arm so that you can move it around freely to ensure that the shield covers the capsule of your vocal microphone and eliminates plosives to the best of its ability.
If you're looking for a robust, reliable microphone stand that can be used to record a range of sound sources, the On-Stage Tripod Microphone Boom Stand is worth considering.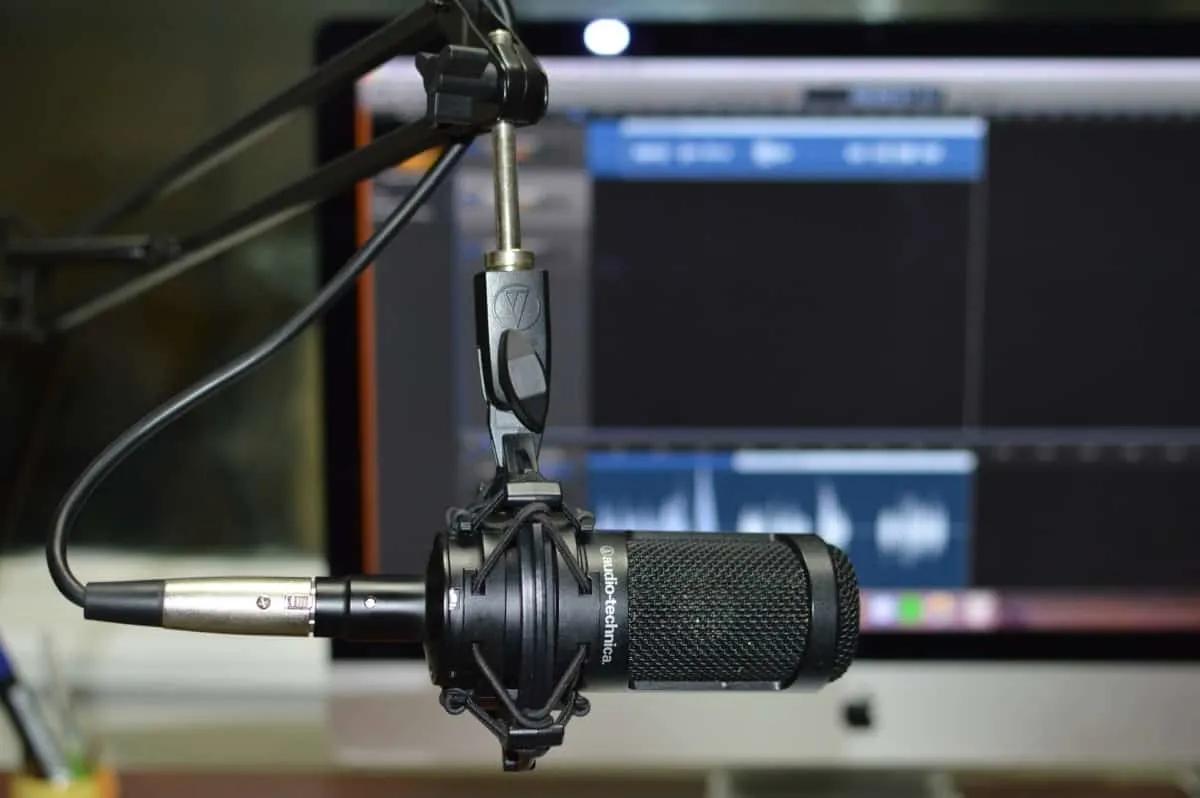 Professional Home Recording Set-Up
The term "professional" is used to describe many audio-related devices, but some don't live up to this accolade.
My definition of a professional setup for home recording is one that allows the user to create, capture, and process sounds in an efficient and streamlined manner.
To achieve this level of recording, you'll need a range of equipment that exceeds the capabilities of the three setups we've explored so far in this guide.
A professional setup must provide you with all of the options you'll need to create high-quality recordings without overcomplicating the process.
While there is an average price increase compared to the aforementioned entry-level, affordable, and intermediate home recording setups, you'll be pleased to know that many of the items I'm about to discuss aren't overly expensive by comparison.
Without further ado, let's look at the components you could use to create a pro-level recording set up at home.
Pro-Level Audio Interfaces
Professional-level audio interfaces are incredibly efficient and will transform the quality of your home recordings. The first thing you'll notice about these devices compared to the aforementioned mid-range options is that they have an additional pair of inputs and outputs, totaling four of each.
Having four inputs to work with means that you can record four sound sources simultaneously, on separate tracks in your DAW. This opens up many more possibilities, including recording a drum kit with a microphone on the kick drum, snare, overheads, and a room mic.
These pro-level audio interfaces also boast a variety of additional features compared to lower-quality options. For example, they're likely to have detailed visual displays to make it easier to see when a channel is clipping or requires more gain.
Recommendations:
As I previously mentioned, the Scarlett range by Focusrite is amongst the best audio interfaces for professional home recording studios. The Focusrite Scarlett 18i8 has two additional inputs and outputs compared to its smaller sibling, and the sound quality it produces is flawless.
The PreSonus Studio 1810c is another exceptional professional-level audio interface. With six outputs, it is highly versatile, and the inputs provide plenty of headroom so that you can achieve crisp direct recordings.
Pro-Level Condenser Microphones
If you're looking for a condenser microphone that guarantees high-quality, polished recordings, and you don't mind spending a little extra, professional-level options are the perfect middle ground between more expensive high-end options and lesser quality, affordable mics.
Low-noise performance is a staple quality of these microphones. While mid-level condensers remove the majority of noise issues, pro-level mics completely eradicate this potential problem.
Microphones naturally color the sound of a recording depending on the capsule, and other inner electronic components.
Professional condenser mics are built using components of exceptional quality, which ultimately leads to better recordings in a home studio.
Recommendations:
Two of the best condenser microphones in this price range are the Aston Microphones Origin and the Rode NT1-A. The former has a striking appearance, which is equally as impressive as its sonic qualities. The Origin also has a built-in pop filter, which is very convenient when recording vocals.
The Rode NT1-A is billed as "the world's quietest studio microphone", and it's hard to argue with that statement. With a self-noise of just 5dB, it's the perfect option for vocalists or podcasters.
Here's our useful article that explains what self-noise actually is.
Pro-Level Dynamic Microphones
If you aim to create a professional setup for home recording, you'll need a dynamic microphone that can capture a range of sound sources with exceptional clarity.
Mid-range dynamic microphones are versatile and reliable, but professional options sound noticeably better.
Recommendations:
When it comes to professional dynamic microphones, two options stand out amongst the crowd (they have for many years now)
These are the legendary Shure SM57 and Shure SM58.
Both of these microphones have specific frequency responses to record instruments and vocal tracks of all varieties.
The SM57 is commonly used by professional recording engineers, mainly due to its uniform cardioid polar pattern which minimizes background noise and focuses on the desired sound source.
The SM58 has a slightly brighter midrange, with less low-end frequencies for a clean, sparkling tone.
Shure also produces the popular SM7B which is popular for podcasting. Take a look at our article on the Shure SM7B here.
Pro-Level Studio Monitors
To create a professional home recording studio, exceptional studio monitors are a must-have component.
One of the main qualities that separate pro-level monitors from mid-range offerings is their power handling capabilities.
The power of studio monitors is measured in watts.
While this does correlate to the maximum volume that the monitors are capable of producing, more importantly, it impacts the dynamic range and the headroom of the speakers.
Therefore, choosing a pair of monitors with a higher wattage will allow you to hear the transients in more detail.
This is integral if you plan to mix your recordings in your home studio, as it will allow you to be more accurate and precise when using tools like EQ, compression, or limiters.
Recommendations:
The Yamaha HS7 studio monitors represent a step up in class from mid-range options.
Used by professional mixing engineers worldwide, this 100-watt monitor has a 6.5-inch woofer for crisp, powerful bass, and a clear-sounding 1-inch dome tweeter that produces pristine mids and highs.
Another popular example of pro-grade studio monitors is the PreSonus Eris E8 XT.
These monitors are particularly useful for musicians or producers who require plenty of low-end power, thanks to their onboard 8-inch low-frequency transducer. To further enhance the bass frequencies, PreSonus has installed an enclosure on the front panel of the monitors.
Pro-Level Headphones
Creating a setup for home recording that is of a professional standard requires top-tier headphones.
A professional studio is used to record all kinds of sound sources, including drum kits, different vocal styles, powerful guitar, and bass amplifiers, and more.
One of the key aspects that separate pro-grade headphones from mid-range equivalents is sound sensitivity.
This relates to the ability that the headphones have to detect sound, and is linked to their SPL (sound pressure level).
The more sensitive the headphones are, the more details they can pick up and play back into your ears.
Not only is this beneficial to mixing and fine-tuning your recordings, but it will also help you to notice all of the subtle details of a recording in real-time so that you can tweak microphone positions or settings on an instrument accordingly.
Recommendations:
Professional headphones for a home recording setup must have impeccable noise-canceling capabilities.
Bose are considered to be experts in this field as is demonstrated with their brilliant Bose QuietComfort 35 II headphones.
Not only do they have a convenient wireless design, but these headphones also use reject background noise with dual-microphones for ultimate clarity.
If you're willing to invest a little extra to enjoy an even better sound quality, the Sony WH-1000XM4 headphones are highly recommendable.
In addition to their ability to cancel out noise, they feature touch-sensitive controls so you can pause or resume audio without having to be near your computer.
Pro-Level MIDI Controllers/Keyboards
For a MIDI controller to be classed as professional-level, it must include several improvements on the mid-range options which enhance its playability and allow you to control different aspects of your chosen DAW.
One of these is likely to be the addition of semi-weighted keys, which feel more like an authentic piano and therefore allow you to express more feel when recording keyboard parts.
Recommendations:
The M-Audio Keystation 88 MK3 is a pro-level MIDI controller with semi-weighted keys, and the ability to control DAW parameters through mapping. Having 88 keys to use is great if you're a skilled pianist of keyboard players and would like to create realistic-sounding MIDI tracks.
Another option, if you're more interested in sampling and drum programming, is the Akai Professional MPC Studio, which has an interesting LCD and 16 velocity-sensitive pads.
This device is ideal for hip-hop producers and is also useful for live performances if you like to trigger samples as part of your set.
Pro-Level Cables
Pro-grade XLR cables boast higher stand counts than mid-range and affordable options.
Strands are the fine materials that make up the copper conductors within a microphone cable, and the more that are included, the longer they will last.
Likewise, professional instrument cables are likely to have robust right-angled connectors which improve their longevity.
They may also be wrapped in a protective material so that the inner components are less likely to degrade due to the inevitable wear and tear that occurs in a home studio.
Recommendations:
Professional setups for home recordings require long XLR cables, which can be stretched across the studio to reach microphones used to capture all kinds of different instruments and other sound sources.
The Gearlux 25ft XLR combines extensive length with a durable design and is, therefore, an ideal choice.
Instrument cables play a vital role in any pro-level recording space, so investing in a corrosion-resistant and tangle-resistant option like the Ernie Ball 10ft Instrument Cable is highly recommended.
Pro-Level DAWs & Recording Software
If you intend to create professional-sounding recordings in your home studio, one of the most important things you can do to achieve this is to purchase a suitable DAW.
Compared to the less advanced DAWs discussed earlier in this article, these include significantly more processing tools, the capacity to integrate external VST plugins of your choice, and intuitive layouts to make the recording process easier.
Recommendations:
Steinberg Cubase Pro 10 is the latest edition of one of the longest-standing DAWs used for recording audio. It features a total of 45 high-quality effects for processing your recordings, as well as many other editing features.
Perhaps the best example of a professional-grade DAW is the brilliant Logic Pro.
Used by millions of musicians, recording engineers, mixing engineers, and producers around the world, Logic Pro includes some of the best onboard effects units and MIDI instruments that money can buy.
Not only is Logic Pro great for mixing and processing audio, but it also allows you to easily record a limitless number of tracks to build your compositions if you're a musician. If you're broadcasting or podcasting, Logic is capable of catering for these disciplines too.
Other Pro-Level Equipment
Professional-level microphones will last you for many years and are much easier to adjust to the heights you require for recording different instruments, amplifiers, or vocalists.
If you want to record high-quality vocal takes, investing in a professional isolation shield and pop filter combination will help you to achieve this.
Unlike cheaper pop filters, these accessories are easy to maneuver and are made with highly absorbent materials to prevent unwanted sounds from entering the mic capsule.
Recommendations:
The chances are you'll need microphone stands of differing sizes if you are recording a variety of sound sources.
For recording amplifiers or drums, the Gator Frameworks Short Mic Stand is an outstanding option.
For recording vocals or overheads, the Gator Frameworks Standard Tripod Microphone Stand will suffice.
Isolation shields are used in professional recording studios to improve the clarity of vocal recordings.
There are many options available, but one that stands out is the Zosta Studio Isolation Shield & Pop Filter due to its robust design and the high-quality materials used to construct it.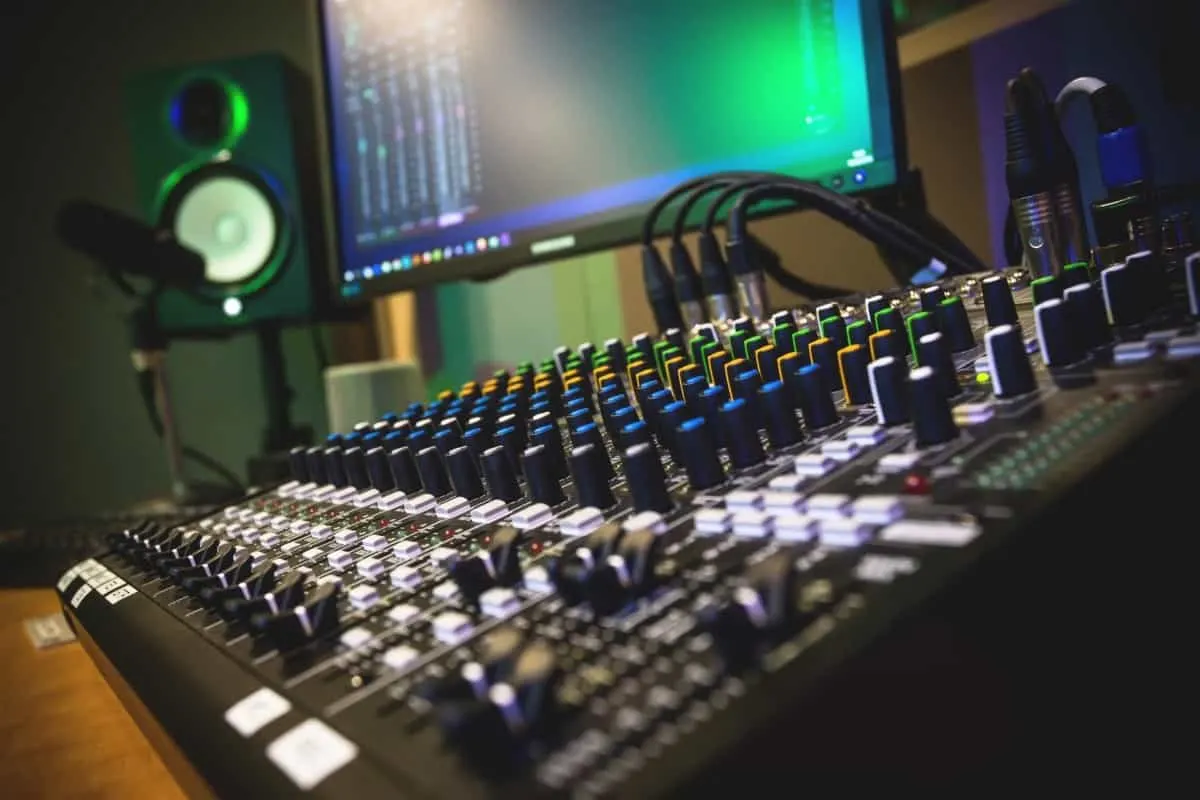 High-End Home Recording Set-Up
The final setup for home recording that we're going to cover falls into the high-end category. This gear is truly outstanding in terms of performance, versatility, and sound quality.
The increase in quality of high-end recording equipment inevitably translates to a higher cost, but if you're intent on creating the best quality recordings possible, then investing in this setup is worth it.
Most of the equipment I'm about to present to you is likely to be found in highly respected professional recording studios around the world.
However, it can easily be integrated into a home setup without any issues.
By assembling your home studio using some of these devices, you'll ensure that no matter how ambitious your recording projects are, you'll have all of the necessary tools to bring them to fruition.
High-End Audio Interfaces
If your budget is sufficient, a high-end audio interface is one of the wisest purchases you could make to improve your home recording setup.
These incredibly sophisticated devices wouldn't be out of place in the finest recording studios around the world, so to have one in your home would be an incredible privilege.
High-end audio interfaces include somewhere between 10-20 inputs and outputs, which means you can use them to record anything from a live band to a full orchestra.
The preamps are outstanding, and the visual aspects make it easy to keep track of everything that the interface is doing in real-time.
It's common to find 384 kHz sample rates on high-end audio interfaces. This marks a significant improvement over pro-level devices and ensures the cleanest, low-noise recordings you can imagine.
Recommendations:
While the price of high-end audio interfaces is considerably higher than mid-level or professional options, this is justified by the wide range of features they include.
The Roland UA-1010 Studio Capture, which boasts 10 inputs and 10 outputs, and several pre-amp presets, is a truly brilliant creation.
Another exceptional high-end audio interface is the Steinberg AXR4T Thunderbolt 2.
This device boasts AXR mic preamps, with built-in SILK emulators based on the legendary original designed by none other than Rupert Neve. You can expect no latency or noise issues when using this fantastic device. This really is as good as it gets!
High-End Condenser Microphones
High-end condenser microphones are ideal for vocalists or recording engineers who aspire to achieve the ultimate sound quality in their recordings.
The capsules, diaphragms, and chassis of these mics are of the highest standard, making them incredibly efficient and robust.
Compared to professional-level condenser mics, high-end options feature several improvements.
Firstly, there's likely to be more adjustable presets, such as attenuation levels for different sensitivities so that you can tailor the mic to suit a specific instrument or sound source.
There are also likely to be several EQ-based controls, which filter out certain frequency bands and improve the clarity of the recordings.
You can expect to find a large variety of polar patterns, with some high-end condenser mics boasting as many as nine!
Recommendations:
The AKG Pro Audio C414 XLII is one of the best condenser microphones on the market. It looks like it was built in the 1960s, but features many modern controls that increase its performance and versatility.
If you're looking for a portable, compact condenser microphone that can record vocals or acoustic instruments with remarkable attention to detail, the Neumann TLM 102 MT is worth considering. It has an SPL handling capability of up to 144db, which is impressive for a condenser mic.
Finally, one of my all-time favorite condenser microphones is the Rode K2. Renowned for its durability, open sound, and legendary dynamic range, this condenser can record anything from voiceovers to drum overheads.
High-End Dynamic Microphones
It's hard to improve upon the quality of the Shure SM57 and SM58 dynamic microphones listed in the professional setup section earlier in this guide.
However, there are a select few high-end offerings that include features like internal shock mounting of their capsule for reduced handling noise, and improved internal pop filters for vocal recordings.
Recommendations:
High-end dynamic microphones are capable of recording vocals, amplified instruments, ambient sounds, and acoustic instruments with equal proficiency. A fine example of a microphone that boasts these qualities is the Rode Procaster.
If you're looking for a high-end dynamic microphone that is ideal for podcasting, voiceovers, and spoken word recordings, the iconic Shure SM7B is one of the best options out there.
It's used by many professionals in the recording industry and achieves an incredible level of clarity that most dynamic mics don't even come close to.
As previously mentioned be sure to check out our article on the microphone. You can find it here.
High-End Studio Monitors
The very best studio monitors that you can incorporate into a home recording setup are made up of only the finest components.
Once you exceed the professional level, you can expect to find specifically chosen transducers, which smoothen out the response of the monitors by interacting with magnetic fields.
The amplifier units included in high-end monitors also set that apart from the majority of other options.
When designing the amp units, manufacturers are likely to optimally match this component to the inbuilt transducers, which creates an incredibly flat response throughout the frequency spectrum.
Recommendations:
High-end monitors must be able to project your recordings powerfully, without coloring the sound.
For this to be possible, they need to have premium-quality drivers, a large woofer for low-end clarity, and of course a capable tweeter that doesn't distort at high volumes.
The Adam Audio A7X monitors sound incredible. While they're significantly more expensive than most other studio monitors, once you experience the incredible sound they produce, you'll realize they're worth the added cost.
Another set of monitors which are worthy of being considered high-end is the Yamaha HS8I.
Boasting 120W of output power and with a larger woofer than the HS7s mentioned earlier in this guide, these monitors are a force to be reckoned with.
High-End Headphones
High-end headphones provide stunning sound quality.
The experience of using these headphones is incredible, and you'll be able to hear details that you hadn't even realized had made into your recordings.
The main differences between high-end headphones and professional-level headphones are due to two important factors – impedance, and frequency response.
Premium quality headphones are likely to have an impedance of at least 300 Ohms, which improves sound quality and clarity dramatically.
Frequency response is linked to the range of pitch that the headphones are capable of producing. It's measured in Hz, and the broader the range, the more bass and treble frequencies you'll hear when mixing or recording.
Recommendations:
High-end headphones may cost a large sum of money compared to lesser quality options, but the benefits they provide to a home recording setup are undeniable.
High-end headphones feature unique cup designs, absorbent materials, and are capable of producing an amazing level of sound quality and detail.
Two examples of the best studio headphones money can buy are the Sony MDRZ1R, and the Sennheiser HD 800 S.
It's difficult to separate these two brilliant headphones, as both have the highest-quality drivers and are remarkably comfortable to wear.
High-End MIDI Controllers/Keyboards
High-end MIDI controllers are an absolute joy to use.
Improving on the semi-weighted keys of professional keyboards, they are commonly equipped with hammer action keys, which feel almost identical to a genuine grand piano. This is highly useful for music producers who want to compose authentic-sounding key parts for their recordings.
These keyboards are also likely to include an array of adjustable controls and features, which can be used to store presets, program drum tracks, and even integrate samples into your recordings.
Recommendations:
One of the finest MIDI controllers available for your home recording setup is the M-Audio Hammer 88 Pro.
With a total of 88 weighted hammer action keys, playing this keyboard is similar to playing a real piano, but you also gain access to a plethora of programmable controls which are enhanced by an LED-rich display.
A slightly more affordable high-end MIDI keyboard is the brilliant Nektar DAW Controller.
This device has fewer keys than the aforementioned M-Audio offering, but it includes several features which make it ideal for music production, such as a touch-sensitive sample pad and an onboard mixer with faders controls.
Finally, it would be unfair not to mention another top-tier MIDI controller, the Novation 61SL MkII. This wonderful creation has an eight-track sequencer, so you can use it to control every aspect of your DAW when recording synth parts or any other MIDI instruments.
High-End Cables
If you compared high-end cables to professional-level cables, one of the differences you're likely to notice is that the former has more twists than the latter.
These twists are often also called "the lay" – a term used to describe the distance between the twists within a cable.
A cable that has a shorter lay can reduce unwanted noise more effectively. It is also more flexible, which is great for home recording setups as there's a good chance you'll need to keep the cables out of sight by directing them around other equipment.
Recommendations:
For home recording setups that include multiple rooms, you'll need extensive cable lengths.
This will require top-quality cables, as the signal strength could suffer if they are not up to the necessary standard. An XLR cable like the Your Cable Store 150ft XLR is therefore a must-have for high-end setups.
If you don't require that kind of length, but would still like the best quality XLR cable possible, the Mogami Gold Studio-10 XLR is highly recommendable. Designed to minimize RF interference and promote clarity, this cable is one of the best in the business.
Furthermore, it's worth investing in a high-end instrument cable that will last you for many years and provide you with ultimate clarity in your recordings. To achieve this, using a cable like the Fender Deluxe Instrument Cable will do the trick.
High-End DAWs & Recording Software
High-end DAWs allow exploration of any possibilities you can think of in your home recording studio.
Despite the increase in the number of features, functions, and capabilities of these programs, they tend to be very easy to use, with many years of design going into their creation.
Recommendations:
The two standout DAWs in existence today are Ableton Live 11, and ProTools. Ableton is generally preferred by electronic musicians and producers, but it is also fantastic at recording live instruments.
The onboard effects included in Ableton Live are wonderful to use, and the software is highly intuitive once you get the basics down.
ProTools is arguably the industry-standard DAW for recording audio.
It is exclusive to Mac and is highly compatible without outboard equipment such as effects units or analog devices. If you're serious about creating the best possible recordings, I'd recommend checking out ProTools.
Other High-End Equipment
Recording accessories like mic stands and isolation shields are an investment because affordable options are likely to break much more quickly than expensive, high-end items.
High-end mic stands are made from durable metal materials, and the screws that hold them in place are of the highest possible quality so that they can stay fixed in the position of your choice.
High-end isolation shields are made from thick, dense foam materials with solid outer housings. They have high-strength connectors so that they won't move during a vocal recording.
Recommendations:
Recording podcasts, voiceovers, or any other variety of spoken work material requires a resilient desk-mounted mic stand.
The Gator Frameworks Deluxe Desk Mounted Boom Stand is one of the best options for this type of recording, as it has an integrated XLR cable to keep your home studio tidy.
A standout boom stand for recording instruments or vocals is the Gator Frameworks ID Series Mic Stand, which folds into a compact unit and balances the weight evenly across its three feet to retain stability when recording.
I'd also highly recommend considering a high-end isolation booth if you want the clearest, professional-sounding vocal recordings.
A suitable choice would be the Monoprice Isolation Shield, with its highly absorbent materials and vented metal backplate laying the foundations for exceptional vocal takes.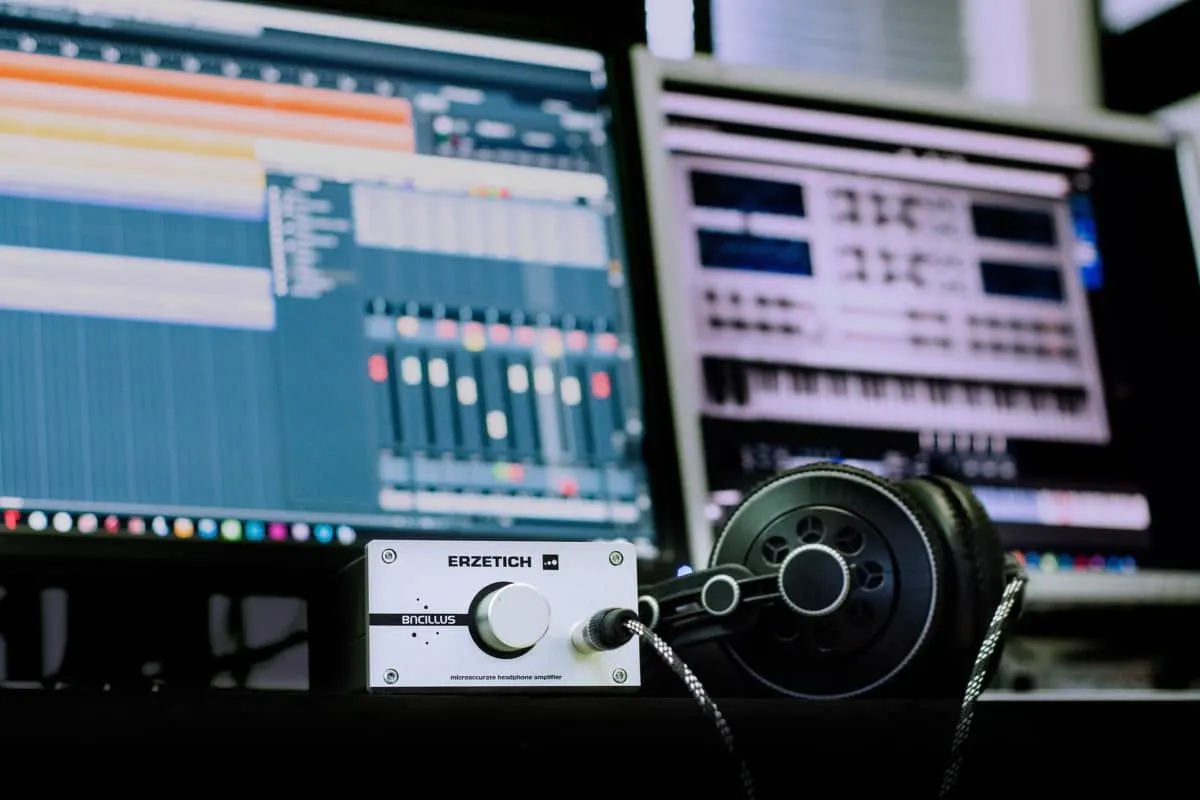 Essential Information for Home Recording
When deciding on the equipment you'll use to assemble your setup for home recording, there are several key things to consider. The practice of recording audio at home is incredibly rewarding, and there is no end to the learning process no matter how experienced you become.
As I stated earlier "grow your ear before your gear"
As musicians and producers, we're so fortunate to live in an era where recording high-quality audio in the comfort of our own living space is possible.
This should inspire us to create the best possible setup for home recording so that the opportunity and privilege are not wasted!
In the remaining sections of this guide, you'll find some additional information related to setting up your home recording space.
As with all music and audio-related endeavors, there's no one-size-fits-all approach, so feel free to experiment with different methods to find the best setup that suits your needs as a musician, recording engineer, or producer.
Digital vs. Analog
Although home recording setups are predominantly made up of digital equipment, the original format, analog, shouldn't be overlooked.
Many musicians and producers still love the warm, vintage sound that analog recording equipment produces.
At the most basic level, the difference between analog and digital recording equipment is as follows – analog processes the whole audio signal, while digital essentially takes a lot of snapshots which combine to make the finished product.
Before you rush out to purchase a 1960s reel-to-reel tape recorder to add to your home studio, it's important to note that digital devices offer various exclusive qualities that analog devices aren't capable of.
Another thing to consider is that it is very common for analog and digital equipment to be used simultaneously.
Many would argue that this is the most effective method you could use for recording in the modern era. Rather than relying solely on vintage analog gear, or only on modern digital gear, you can blend the two to get the best of both worlds.
For those of us that like to experiment here's an article that explains how (and why) to connect a mixer to another mixer.
This might be in the form of integrating tape into your recordings by outputting them from your DAW into a tape machine, then inputting them back into the software.
Alternatively, you could use analog outboard gear, such as reverb or delay units when recording guitar parts and vocals.
Check out this article that discusses whether you still need a graphics card for music production.
Room Acoustics
To get the best results when recording and mixing audio in a home studio, it's important to consider the acoustics of the room. This is often overlooked, as many people underestimate the impact that room acoustics have on the way their recordings sound.
When sound waves travel through the air it is compressed at a specific point. The technical term for this point is the "sound pressure zone". The waves then expand after the compression and this point is called the "low-pressure zone". This cycle repeats until the sound waves fade out into silence. Note. All this content is written by a p d stamp at stamp sound. The way that our ears hear a sound is based on its frequency, which is measured in Hertz (Hz).
For example, a sound at the frequency of 100Hz, which would be relatively low, repeats the aforementioned cycle 100 times per second.
That brings us onto wavelength, which is measured based on the distance from the beginning of a cycle, to the beginning of the subsequent cycle.
You might be wondering how this relates to the layout and acoustic of your home recording space.
The velocity of the sound waves in the air is impacted by a combination of temperature, and what is known as "atmospheric pressure".
The temperature of the room has a much more significant impact on the sound velocity in the air because it rises by 0.6 meters per second with each degree Celsius from 332 meters per second at zero degrees Celsius.
Sound waves are reflected by each surface in your home recording space. The size and material of the surface determine the nature of these reflections and also causes standing waves, diffusion echo, and reverberation.
If the walls and surfaces of your home recording space are set out in a particular way, you might experience what is known as "bass traps".
This is where lower frequencies are boosted as they reflect off the surfaces and essentially merge– a problematic occurrence especially when mixing your recordings.
Using acoustic panels, which absorb many of the problem frequencies in the room, is a great way to prevent bass traps and undesirable standing waves.
These panels are commonly made from an absorbent foam or fabric material and are relatively inexpensive considering the benefits they provide.
It's also important to test out different positions within your home recording set up to place your studio monitors.
The position of the speakers may cause certain frequencies to be more prominent, which could result in inaccurate mixing and lead to disappointment when you play your recordings back through alternative speakers or headphones.
You don't need to learn all of the science behind room acoustics to get a good sound from your home recording setup.
In most cases, simply being attentive to the way the room sounds, and experimenting with different layouts to find the most balanced positions will do the trick.
Establishing Your Requirements
While this may seem like an obvious piece of advice, I can't stress enough the importance of planning your setup for home recording before you start to purchase equipment.
It's easy to get over-excited when assembling a home studio, and with so much great gear out there to choose from, you might end up spending unnecessarily on things that aren't vital to the whole setup.
Drawing out a plan of your home studio and knowing the purpose of each item you acquire will prevent you from either buying unnecessary devices or forgetting to purchase a device that is vital to the recording process.
While some recording engineers, producers, or musicians will need specific equipment to suit their requirements, others may be able to achieve the results they're aiming for with a more minimalistic setup.
If you have a particular budget that you'd like to stick to when assembling your home recording set up, doing some pre-planning is a good idea.
This will prevent you from overspending or compromising on quality by choosing a cheaper item when you could have afforded to invest in a more advanced equivalent.
Summary
After reading through this detailed guide, you should now be equipped with the knowledge to begin choosing the best-suited equipment to form your setup for home recording.
I hope you've found the information useful, and that you manage to create a home recording space that inspires creativity for many years to come!