As guitar players, we need to have our instruments in great shape at all times. In this sense, the little things matter and actually make a dramatic difference.
I've been working in my studio for many years, playing live, and seen so many gigs, performances and recordings go wrong because of minimal accessories that I decided to pour all my knowledge and experience in the shape of a blog post and help you avoid those mistakes.
Read on, and enjoy your craft like never before. Let's take a look at my top 21 Accessories.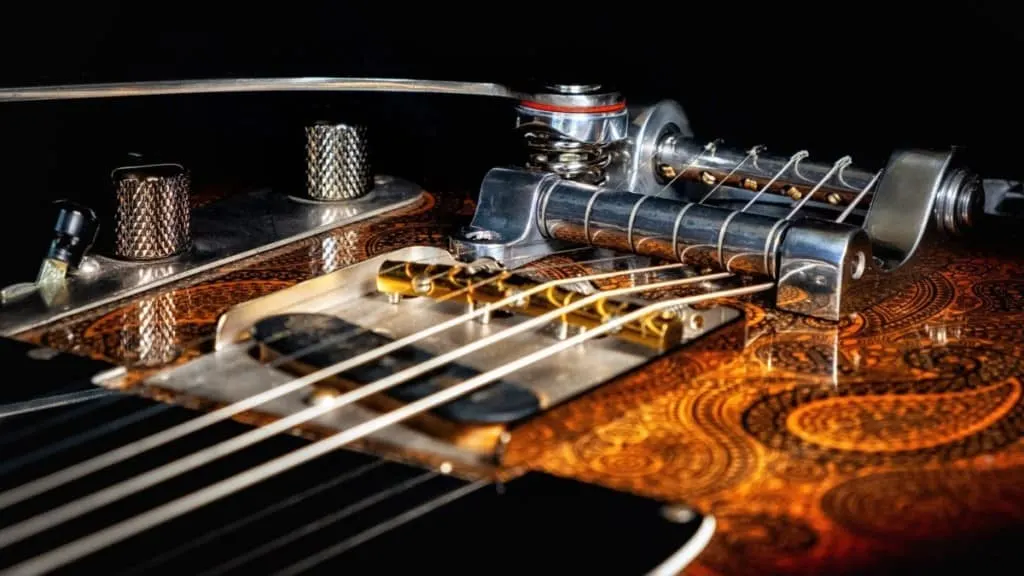 1 – Tuner
A tuner is not even an accessory; I would say that a tuner is a definite must.
I used to have a music teacher who told me that I was great with the instrument but if I wasn't in tune then nobody would want to hear me play.
Somehow I still believe that in me and no matter how many really skilled people I find on the road, if they are not playing in tune, I don't want them in my band.
My absolute favorite these days is the Planet Waves NS-Micro which is completely invisible, battery-driven, and very accurate. Also, I started playing in 432 Hz, and not every tuner out there can accommodate that tuning.
When it comes to floor tuners, I only use them in live situations and there is no beating the TC Electronic Polytune 3. In fact, the latest incarnation is the most comfortable, accurate, and small yet; it fits my pedalboard perfectly.
It is important for live situations even if you are playing acoustic to have something to go mute with, without touching the volume in the guitar.
If you don't have a tuner, at least download an app. Playing out of tune can literally ruin your capacities as a musician because it will mess with your ear training a lot.
Be wise and use a tuner at all times.
2 – Metronome
This is second on the list, but not for that it is less important than the first.
Playing in tune is a must and playing on time is a requisite as well. You should always use a metronome when composing, playing, rehearsing, or fooling around.
Your brain should always be playing to a beat especially if you are starting out. When you have enough hours with a metronome you will take it with you everywhere you go, most likely in your left or right foot.
If you ever pay attention to the best players in the world, they are very likely using their foot as a metronome and picturing a percussive line in their heads.
The micro tuner I told you about has a graphic metronome built-in but I could never really understand how to use it. I have a very old, unbranded one I carry with me since I was a teenager and has never failed me. To be honest, it never leaves the desk at my studio.
Take a look at this metronome on Amazon. It's similar to the one I use.
Always practice to a metronome (and in tune).
3 – Stand
Guitar stands come in many different shapes and sizes and they are important because other than a hardshell case I would say they are the best place to leave your guitar to rest at.
Over the years, stand technology has improved drastically. I would say that the Hercules brand is partially responsible for some of the best modern stands in the world. In fact, after getting mine I started paying attention (they are yellow and black) and saw them on the stages of big festivals like Coachella, Lollapalooza and Glastonbury holding some truly precious and very expensive instruments.
I recommend two models:
· Travel Stands – These foldable stands are light-weight and take up very little space. They are also shaped perfectly for the bottom of your guitar (they come in acoustic or electric shapes) so it won't move around when on it. If you are not dealing with an overcrowded stage, they will get the job done. The Hercules 200B is the perfect travel stand.
· Auto Grip Guitar Stand – I think these are amazing, they will close the latches on top immediately with the weight of the guitar so they will never drop your precious instrument even if someone kicks it while walking. You can check this video to see how legend Jack White has two of them on the side of the stage to hold his precious guitars.
I have the Hercules GS415BP Guitar stand and it works really well. Check it out here.
4 – Capo
Capos are great when you start working with other people. Being able to play the same thing in a different key or even a different octave is a great way to accommodate a singer's voice to his or her comfort zone.
Also, when you've been playing for some time you develop these vices. This is to say that you tend to recur to some of the intervals you've used in the past and this can sound repetitive.
Applying a capo to the equation and taking the same riff or interval or even chord sequence somewhere else in the neck can prove to be a great way to break those old vices.
The one I use the most is the Dunlop 88N that I've had it forever and still works like a charm. There are a million brands and qualities out there, this Dunlop version is very easy to use and reliable.
5 – Picks
You might be thinking… I know! I should have some picks! Well, having a few in your jean's pocket is not nearly what I mean. When you buy picks you definitely buy them by the thickness. This means to buy a bag of picks that holds 144 of them. Always bring a spare bag of picks with you when playing and have a bowl ready at home.
For picks, I lately made a change and moved away from Jim Dunlop nylons for Everly Star Grip picks. I found the star-shaped hole makes them stick to my fingers resolving the grip issue once and for all. Picks are like everything about guitar playing, you will always be changing.
6 – Strings
Yes, we are walking through the muddiest categories first. I mean guitar strings? Do I really have to say this? Well, let me tell you I always keep spare strings in the studio because you wouldn't believe just how many players show up without a backup.
In fact, lately, I started selling guitar strings at the studio so people can properly restring their instruments and make some amazing tunes with it. If you are trying to record some acoustic guitars and have the option to replace the old strings in it, you will be doing the entire recording a huge favor.
My latest discovery in terms of guitar strings was the D´Addario NYXL. I just love the way they sound, play, and feel. Plus, you can get some solid treble and bright out of them even after a couple of months of use.
There's a myth about heavier strings; using them will give you a beefier sound. This is not entirely true; strings should first be comfortable so you can play at your very best. Tone can be compensated in many ways. Here's Billy Gibbons speaking about his 0.07 string approach after being advised by BB King.
7 – Strap
Speaking about comfort, you need to get a comfortable strap.
Some guitars are heavier than others. Let me share with you a pro secret I learned years ago: the wider the surface in which you distribute the weight, the lighter you will feel it.
If you are a bass player or a Les Paul lover or like playing any other heavy guitars (like a Gibson RD, which is a mahogany anchor), you should get the widest strap possible. On the other hand, guitars like teles and strats can go great with any strap.
Personally, I always used thin leather straps with shoulder help like the one that my Custom Shop Tele brought with it in the case. When playing live I have an old wide Levy strap that works great.
8 – Cables
The never-ending story of the guitar cables! Well, here's another example of something you need to invest in and take good care of.
Guitar cables have a useful life and then need replacement, quite like strings, picks, and everything else. Although that is a fact, there are some companies like Monster Cables that manufacture lifetime guarantee pieces.
The important thing about cables many guitar players neglect is the fact that they do sound different.
There are those that have a better, fuller sound and those that sound a little thinner.
Next time you buy guitar cables ask the clerk if you can try several of them with the same guitar and amp.
You will be amazed by the difference. I learned this the hard way because halfway into the life of my studio I did a rewiring with proper Neutrik and Switchcraft pieces and the audio of all my productions changed drastically.
My personal taste is divided in two:
· Planet Waves American Stage – This line by D´Addario/Planet Waves sounds killer and is also very durable. They managed to include a longer tip that makes better contact with the guitar jack and hence, the sound is fuller. Check them out here.
· Vox Coil Cables – Old, tried and true Vox Coil Cables have proved to be the best option for live performances in my case. I love the way they look but I didn't base my choice on that. They are simply indestructible; I have a navy blue one that must have over 300 shows and five to seven years in use. It still works great and I love it because it is stretched from playing and is more comfortable that way.
Check Out Vox Coil Cables Here.
9 – Microfiber Cloth
This is something that has to go inside your gig bag or hard case at all times.
You should also have another one standing on your amplifier. If you wipe your strings clean after playing every time you will protect your strings and fretboard from the acids that come out of your sweat. Also, all the dirt and grime from your fingers won't stick and you will feel your guitar is much easier to play every time.
Avoid using any other material; microfiber cloths don't leave any debris behind and that is paramount. I use the D´Addario one but you can use the one you like the best.
I have written an article on preventing rust on guitar strings. You can find it here.
10 – Peg winder
To be honest with you, I only use it when I need to change the strings.
The peg winder is a very simple, cheap, and effective accessory you should always have handy. Instead of turning the tuning pegs with your fingers and take an hour to change strings, you can do it in a matter of minutes with this little gadget.
There are a million brands, I have a Dunlop Peg Winder that is bright blue (maybe that is why I never lost it) that has been with me for 20+ years.
11 – String Cutter
No string-changing kit is complete without a string cutter.
If there is one thing I can't stand is those guitars that have all the strings coming out of the tuning pegs with long tails.
They end up tearing apart the inside of your gig bags and can damage your eyes or your skin or someone else's. A string cutter doesn't have to be a guitar brand, actually, mine is a cheap one I bought at Home Depot for a couple of bucks. It has been with me for many, many years.
Here is an example of some wire cutters that will work perfectly.
12 – Humidifier Packs
Do you play acoustic? Well, if you do, you must know that you have to keep your guitar humidified. If your acoustic is either too wet or too dry, it will suffer greatly from it.
Here is Taylor's explanation about it that I think is impeccable; it will tell you exactly which the symptoms to look for on your acoustic are. https://www.taylorguitars.com/support/maintenance/symptoms-wet-guitar
Since I started using D'Addario HumidiPak in the acoustics at the studio they are able to hold their tuning much better and I think sound better too.
If you have constant tuning issues with your guitar please take a look at my article that will help you with this. You can read it here.
13 – Gigbags
I'm a fan of gig bags; I prefer them to my hard cases.
In fact, moving my instruments is always about gig bags. I found out two things about gig bags with time. The first is that the more expensive the instrument, the more beat-up the gig bag I should use for it.
I don't want to draw people's attention to it, thus I always stay away from flashy colors or too fancy gig bags. Second is that if you have a two-guitar gig bag, you can solve most of the problems of any gig.
I personally always use Ritter and MONO; to me, they are the best brands in the market.
14 – Guitar Hard Case
My expensive guitars came inside one of these and I still use them but rarely outside the house.
For example, if I leave for a week or even for guitars that I seldom use like 12-string Gretschs, I use their hard case as their crib. I mean, if they traveled from the factory to my hands inside one of those, it should be perfect to keep them in it.
I prefer buying gig bags but found some great SKB and TKL models.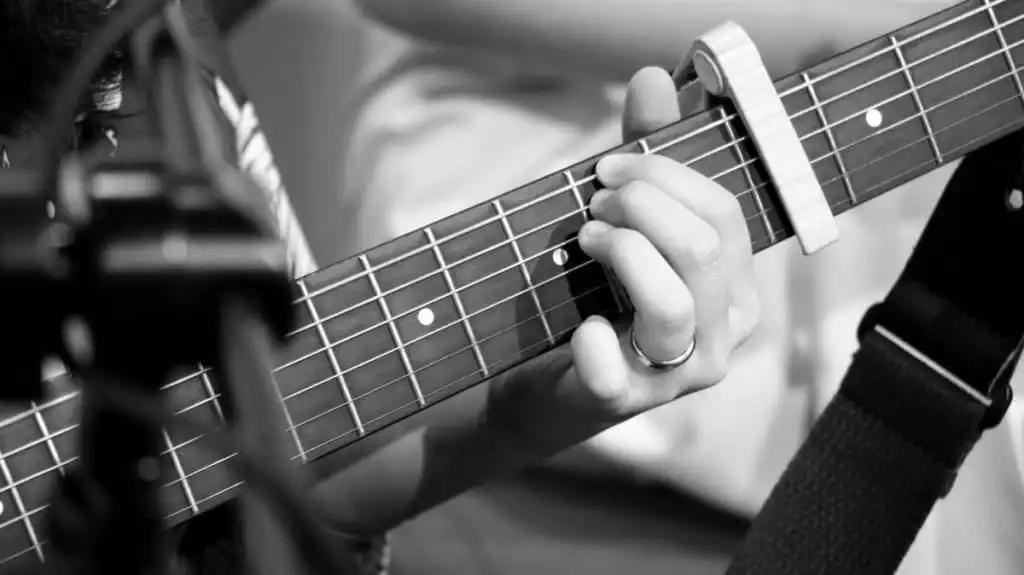 15 – Vox Amplug (& headphones)
The Vox Amplug is a wonderful invention. You can just take it with you inside your gig bag and jam with it anywhere plugging your headphones. If you are an electric guitar player on the move you have to have an Amplug and some headphones. Period.
16 – String Wipers/Cleaners
Remember we spoke about the microfiber cloth to use on your guitar strings? Well, it is important that you match that with some dedicated products to make the most out of your guitar strings.
The two big brands are GHS and Fender. Whether you get the Fast-Fret or the Speed-Stick, it can work wonders on guitars you play too often or too little. Usually, I apply a coat of either on the strings of guitars, like the 12-string Gretsch, that don't come out so often and can have some rust in the strings.
17 – Cleaners And Polishers
We took care of the strings, the fretboard but what about your guitar body?
If you have a high-end guitar or bass it is probably painted using Nitrocellulose. This thin kind of lacquer and paint is very thin and can easily be damaged by non-specific cleaning products.
Cleaners and polishers can help you maintain your guitar's color and finish perfectly from day one and for the longest time.
I personally buy Dunlop 65 polishers. It is something that usually happens once every six months when I suddenly get up one day and polish everything in the studio. The feeling of being up exhausted but surrounded by shiny, beautiful musical instruments all over is fantastic.
18 – Straplocks
The more expensive the instrument, the more important the strap locks are.
You can buy any brand you like or make them yourself with just a pair of Grolsch beers like the guy in this video.
I personally only use them on my live guitars. I've had the Schaller ones, the Fender ones, the Sperzel ones but I always keep coming back to the Grolsch trick. Besides, it is not a bad beer to drink at all.
Take a look here at the huge selection of strap locks available.
19 – Adjustable Foot Rest
This is almost exclusively for those who come from a classical background and are used to having the guitar a certain way across their chest.
If you are used to playing like that (or maybe you are a student and it is required by your academy), you need to have at least one at home and one to take with you inside the gig bag of the guitar.
Believe me, I have seen people playing with their feet on benches, books, and all sorts of replacements for this simple, inexpensive accessory.
The Hercules FS100B is an excellent choice.
20 – Allen Wrench And Screwdriver
As a guitar player on the road, you have to know that your guitar's action and set up will move with the weather.
In case you are a pro who travels with a guitar tech everywhere, you don't have to worry about it, but most regular mortals do. Bring with you everything you need to service your guitar.
You should learn how to do a minimal set up on your guitar and have the tools to do it just in case it needs a little fixing touch along the way.
Take a look here to get yourself prepared.
21 – Pick Holder
The final piece on the list is something I am obsessed about; I have a million of them!
I put one of these in the back of each of my guitar's headstocks and always put some picks in. This way I will never show up to any gig without a pick; I don't even have to remember, they will be there already.
I have recently written an article on how to record guitar without pick noise. You can read it here
They are completely inexpensive, so I recommend having one in each instrument. Now you see where those 144 picks go to right?
Take a look at the massive amount of pick holders available.
Final Thoughts
This is the list of my 21 essentials as a guitar player and studio nerd. I've probably even forgotten to mention the odd one!
You know how the line goes: the devil's in the details. Don't let a minor thing ruin a gig, be always ready.
Happy (well-accessorized) playing!