If you're new to the world of guitars, it is easy to get caught up in the whirlwind of guitar brands. As a beginner, you don't want to purchase the first guitar you pick up.
Beginner electric guitarists should choose Squier guitars due to their affordability and range of sizes. Squier guitars don't have the same high-quality sound as Fenders; however, beginners won't hear a difference. Once the beginner has more experience, they may wish to upgrade to another brand.
Squier is a fairly popular guitar brand, but not for the reasons you might think!
Keep reading to learn more about Squier Guitars and how they appeal to beginners.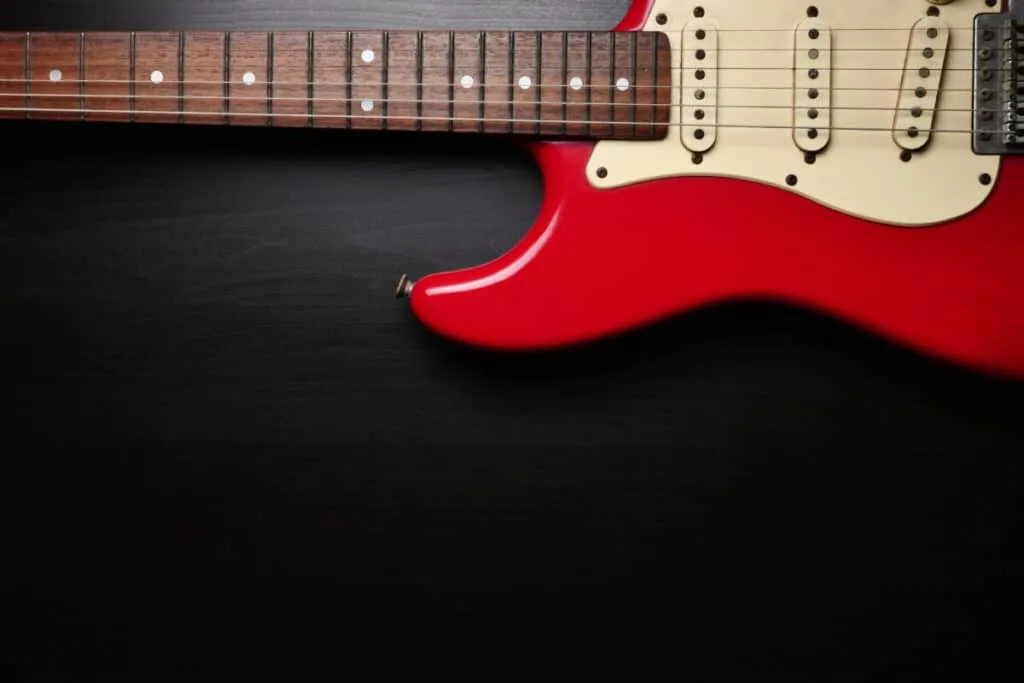 Does Fender Make Squier Guitars?
Squier guitars are made and owned by the Fender Musical Instruments Corporation.
The Squier company started independent of Fender in the late 1800s. This stringed instrument company began in Battle Creek, Michigan.
The company gained Fender's attention and was acquired by the company in the 1960s. While Fender could have absorbed Squier and renamed all its products under the Fender brand. They kept the name and used it for their lower-end products. In other words, Squier is a poor man's Fender.
Squier guitars are manufactured in many of Fender's overseas factories including those in Japan and Korea. Other factories that manufacture Squier products are located in Indonesia, Mexico, and the United States.
While Fender is primarily known for guitars, the Squier name is better associated with top-of-the-line violins and other stringed instruments.
The products that likely caught Fender's attention, were Squier's handmade strings. Using these high-end strings, Fender could improve their already high-quality guitars.
Are Squire Guitars Good For Beginners?
While Squier guitars are more affordable, beginner guitarists want a guitar that is easy to use. Do Squiers meet those requirements?
First and foremost, Squier guitars are more affordable than Fender guitars. As a beginner, it is important to purchase a guitar within your price range. After all, the hobby might not stick, and then you'll be left with a $900 guitar bill. That said, you also want your guitar skills to stick!
The easier the guitar is to use, the more likely you are to learn and keep learning to play this melodious instrument.
As a beginner, you don't need the best sounding or best-looking guitar. You just need a guitar that works.
Squier electric guitars work and so long as you take care of them, they will continue to do so for years to come.
While many say that Squier's sound isn't the best, their sound can be improved with a proper setup.
Check out this helpful YouTube video that shows how to set up a guitar.
Expert guitarists recommend avoiding some of the cheaper Squier models and even refer to these as "toy guitars."
If possible, visit a guitar store before purchasing your first Squier.
Play a couple of guitars in the shop. Pay special attention to how they feel and sound as you play. If the guitar is uncomfortable or difficult to handle, it probably isn't the right guitar for your beginning stages of learning guitar.
Consider your budget and your commitment to learning as well.
If you are determined to learn and continue playing guitar, give yourself a slightly larger budget and choose a better quality guitar. Unfortunately, the cheapest Fender guitar is $800, so you may want to look at a different brand.
However, if you're known for switching hobbies frequently, it is perfectly acceptable to spend $200 on a Squier. Once you improve, you can determine if a higher-priced guitar is worth it.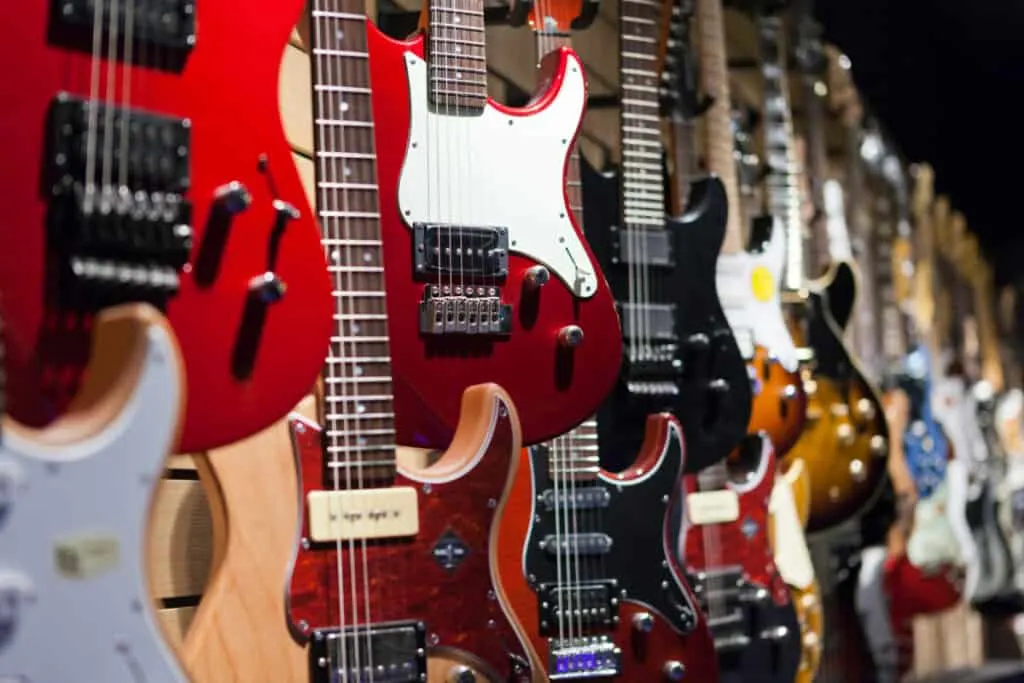 If you're still set on purchasing a Squier guitar, you'll want to purchase the best one.
Squier Guitar Examples (And What They Cost)
Squier's Most Affordable Guitars
Let's start by taking a look at Squier's most affordable guitars. These guitars are best for the hobby guitarist who is unsure how committed they are to learning.
Fender sells seven Squier guitars at the same low price of $199. These seven guitars are as follows:
Mini Jazzmaster HH
Bullet Mustang HH
Bullet Telecaster
Bullet Stratocaster HT HSS
Bullet Stratocaster HT
Mini Stratocaster
Mini Stratocaster left-handed
All of the guitars under the Stratocaster name have a similar body style. However, the Mini models are slightly smaller in size and weight.
If you're looking for an affordable, standard-size guitar you should stick with one of the Bullet models. However, if a smaller model is easier for you to hold, then either the Mini Jazzmaster or the Mini Stratocaster will be a good option.
Keep in mind that any Squier guitar labeled as a "mini" is meant for children.
Prices pulled from the Amazon Product Advertising API on:
Product prices and availability are accurate as of the date/time indicated and are subject to change. Any price and availability information displayed on [relevant Amazon Site(s), as applicable] at the time of purchase will apply to the purchase of this product.
Squier's Most Expensive Guitars
If you are committed to playing guitar, then a higher quality, more expensive model will be a good choice. Even if you're hoping to purchase a guitar on a budget, the most expensive Squier guitar isn't that expensive.
Fender sells six Squier guitars at a surprisingly affordable price of $599. Each of these guitars is part of the 40th Anniversary Series. (The fact that this is a specialty guitar could be what makes the higher price.) These six guitars are as follows:
40th Anniversary Stratocaster, Gold Edition
40th Anniversary Stratocaster, Vintage Edition
40th Anniversary Telecaster, Gold Edition
40th Anniversary Telecaster, Vintage Edition
40th Anniversary Jazzmaster, Gold Edition
40th Anniversary Jazzmaster, Vintage Edition
While these limited edition guitars promise to be high-quality guitars, they aren't that different from Squier's regular guitar line-up.
For example, the Gold Edition Stratocaster has gold-plated hardware. These simple additions don't necessarily improve the quality of the guitar but do raise its price.
The Best Squier Guitar
The Affinity Series Telecaster is one of Squier's best-selling guitars. This guitar has both the looks and the quality that you'd want out of a guitar.
When purchasing this full-size electric guitar, you can choose between four color options: Lake Placid Blue, Olympic White, 3-color Sunburst, and Butterscotch Blonde.
Each of these color designs gives the guitar some extra pop. The color you choose will also influence the fingerboard material. While Butterscotch Blonde and 3-color Sunburst have a maple fingerboard, Lake Placid Blue and Olympic White have an Indian laurel fingerboard.
Squier calls this the Fender gateway guitar. In other words, you'll like it so much that you're going to want a Fender!
Not only does the Affinity Series Telecaster have great sound and style, but it comes at an affordable price! Squier has their Affinity Series Telecaster listed at just $289.99. At this model's price, beginners of all kinds can enjoy it.