With their convenient lack of wires and comfortable design, AirPods have quickly become one of the most popular types of earphones. However, one aspect of AirPods which can be a little confusing is their serial number.
Should AirPods have the same serial number?
AirPod Pro and all 2nd and 3rd generation AirPods have a different serial number for each of the individual AirPod. On earlier models, such as the 1st generation AirPods, the serial number is likely to be the same.
If your AirPods require repairing or servicing, having different serial numbers is likely to confuse matters.
Moreover, you might also have noticed an additional serial number printed on the case of your AirPods. If this is causing you problems, rest assured as, In this guide, I'll present you with all of the information you need on AirPods and their serial numbers to make sure if your AirPods are "Real" and not fake!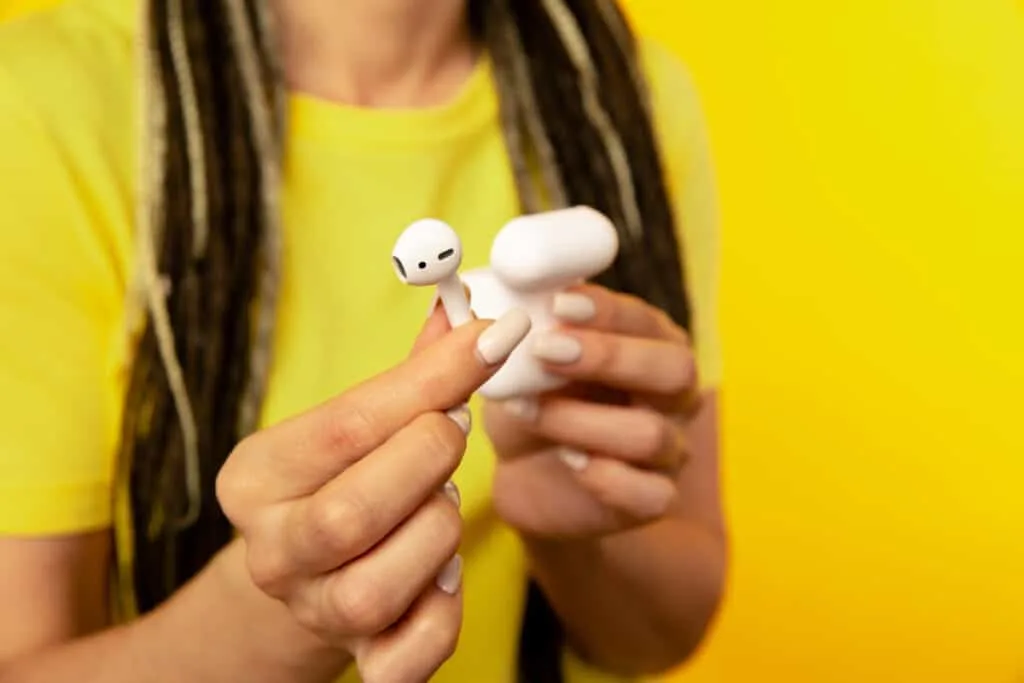 Should Serial Numbers Match Each Pod & Case?
Apple encourages its users to register AirPods and other products with their Apple ID. This makes tracking the AirPods easier if they are lost or stolen, and is also important when it comes to replacing or servicing them if the need arises.
Registering your AirPods with your Apple ID is a good idea, but it's also advised that you take note of the serial number so that you can replace them if they malfunction and are under warranty.
However, if you've attempted to find the serial number of your AirPods, you might find it to be more complicated than you'd expected. This is because some have different serial numbers printed on each AirPod, and another printed on the charging case.
2nd generation Airpods and Airpods Pro, which are two of the most popular varieties, include a serial number for each AirPod in addition to a primary serial number listed on the lid of the case.
The good news is, there's no reason for concern if you've noticed a different serial number on each AirPod and another on their case. This is an intentional measure taken by Apple to differentiate the components of the product to make it easier for repairs or replacements to be made.
The issue with this is that many AirPods users are likely to believe that their product is either fake or mismatched due to the three potential serial numbers they find when analyzing the individual AirPods and their charging case.
This has led some AirPod users to criticise Apple for seemingly making the process of identifying the serial number of the product more complicated than it perhaps needed to be.
If your AirPods don't have a serial number at all, that's a sign that they are potentially fake.
If the serial number on the AirPods and their case don't match, there's no need to be concerned as this is normal for specific models and generations of the earphones.
Where Can You Check the Serial Number of Your AirPods?
If you need the serial number of your AirPods, there are several places that it can be found. Apple has made it possible to find the serial number in different ways so that you're don't have to rely on only one method.
Firstly, it's important to note that all products made by Apple have a unique serial number. This number is important because it allows you to find out whether the AirPods are currently under warranty, and also if they are fake or genuine models.
There are four easy ways you can check the serial number of your AirPods. I'll explain them all in detail, but here's a quick summary. You can find the serial number:
On the charging case that comes with the AirPods
Printed on the individual AirPods (only on 2nd generation and AirPods Pro)
By using a paired device such as your iPhone or iPad
On the original box
The easiest way to find and check your AirPods serial number is simply by looking at the charging case which accompanies them. The case should have a lid which when opened, presents a serial number on its underside.
On one side of the case, you'll find some symbols. On the other side, there should be more symbols with numbers and letters underneath. This is where the serial number for your AirPods is likely to be located.
If you no longer have the original charging case, or for some other reason you can't find the serial number using the method I just described, you can instead look at the AirPods to find the serial number printed on them.
As I described earlier, this is not the best method for finding the serial number, as each AirPod is likely to have its number. You might still be able to use the serial number found on the AirPods to check their warranty status or to track them, but this depends on the model that you own.
Another method you can use to check the serial number of your Airpods is by using a paired device.
If you've used your AirPods with your iPhone or iPad, you can simply head to the settings on the device, select 'Bluetooth', locate your AirPods, and select the information icon which looks like this (i).
This should take you to a page where you can see the model name, model number, serial number, and version of your AirPods.
The serial number you'll see here is likely to be different from the one you'll find on the AirPods themselves, but it will be the same as the one listed on your charger case.
If you still have the original box that the AirPods came in, you should be able to find the serial number on its label. It is usually listed near the barcode and the information such as where the AirPods were manufactured.
If you have ever wondered if reset AirPods can be tracked be sure to check out this article.
Airpods Pro is now available, I have written a comprehensive guide to help you decide if you should choose AirPods or AirPods Pro. There are various pros and cons to both.
This guide will help you decide if AirPods Pro is worth it for your circumstances and needs.
Here's a helpful video from YouTube that shows a complete beginner's guide to using Airpods.
Why Don't the Serial Numbers Match on AirPods & their Case?
If you need to find the serial number of your AirPods, whether you're trying to check whether they're under warranty, track them, or verify their authenticity, it's understandable that being presented with different numbers on the AirPods and their case would be confusing.
It may seem more logical if Apple were to simply use the same serial number on the AirPods and their case. They do however have a good reason for using different numbers for these components.
The simple reason that the serial numbers on AirPods and their case don't match, is because all Apple devices have a unique serial number. AirPods are technically individual products, as is their charger case, despite the fact that they are intrinsically linked to one another.
The serial number that you find on the case is the one that should be used for warranty services and enquiries. If you were to lose a single AirPod, you could use the serial number of that device to potentially get a replacement or to fix it if it is broken.
I have written an article on how to track stolen AirPods. You can read it here.
On the charging case, you'll find a unique serial number. This is the number that is most important for you to take note of so that you can use it if you need to contact Apple for any reason regarding your AirPods.
If you ever wish to sell your AirPods, I'd recommend including all of the serial numbers you have. That way, the buyer knows that the individual products have different serial numbers and they are unlikely to think that this shouldn't be the case after purchasing them from you.
You can also find the serial number of your AirPods by viewing the information on your Apple device if it has already been linked to them. This number can also be used for warranty services, repairs, and replacements with Apple.
You can also find the model number of your AirPods by using the aforementioned method. The advantage of this is that it allows you to identify them based on the exact model and the year that they were introduced.
In the table below, you can find a summary of the different models of AirPods.
Related Questions
Can reset Airpods be tracked?
3rd Generation 2021 A2565 or A2564
AirPods Pro 2nd Generation 2022 A2931 A2698 or A2699
For more information on this subject be sure to check out our dedicated article here.
Do fake AirPods work with Find My iPhone?
Only authentic Apple AirPods will work with services like Find My iPhone. A good way to check that your AirPods are indeed genuine is by searching for them in the settings of your device, to see if you have an 'AirPods' tab in your General settings.
Are AirPods waterproof?
Unfortunately, unlike many Apple products, AirPods are not waterproof. However, they are resistant to dust and sweat and are unlikely to be ruined by briefly getting wet, but they won't survive being submerged in water completely.
Do AirPods have built-in microphones?
Each AirPod has its microphone, which is how they are capable of being used for phone calls or using Siri. AirPod users can choose to use the left or right pod as a mic, or use them both depending on their preferences.