Thanks to the rapid advancements of digital technology, assembling a high-quality audio system only requires a small number of compact devices. iPads can be used for recording and mixing music, or simply for listening purposes.
In this guide, I'll show you how to connect a mixer to an iPad by following 7 simple steps.
This process is relatively straightforward. Nevertheless, it does require you to use specific devices and software so that you can mix, record, and play high-quality audio by combining a mixer with your iPad.
To understand how to hook an iPad up to a mixer successfully, we need to explore the cables and connectivity requirements.
Thankfully, there are many suitable devices on the market that facilitate this connection, some more complex than others. The mixer you choose will depend on exactly what you want to use it for.
In this detailed article, I'll cover all of this and more.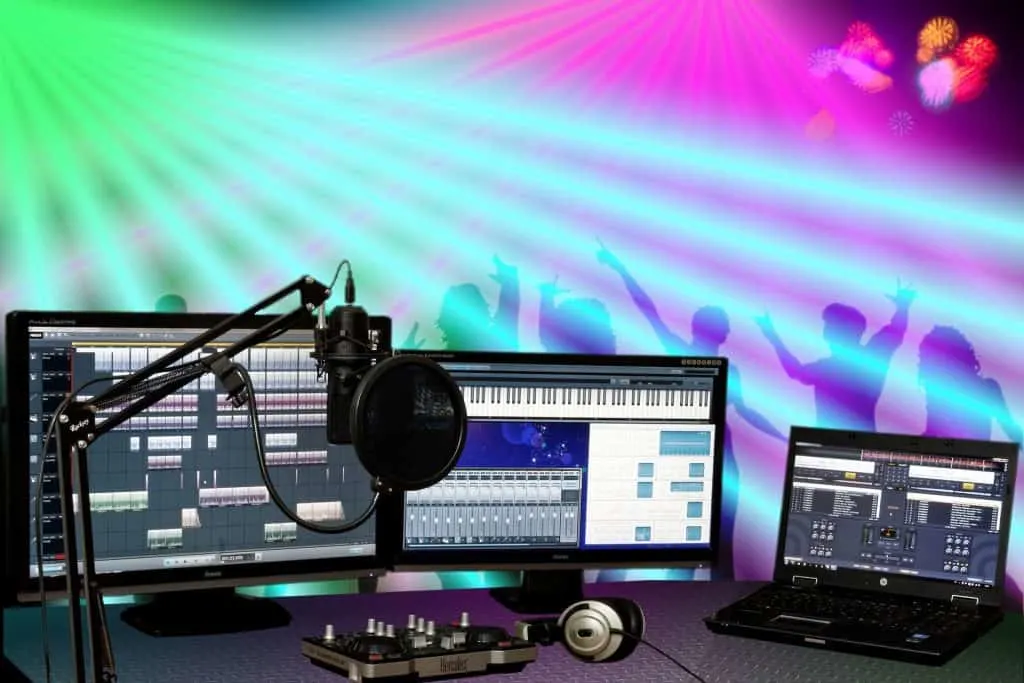 Step 1 – Establishing Your Requirements
Before you decide on the best method for connecting a mixer to your iPad, it's important to establish your end goal. There are essentially three different reasons for connecting these two devices:
To improve sound quality and control over audio playback
For recording, mixing, and playing back music on your iPad
To send audio from the iPad to monitors or speakers
It is possible to simply send the audio from the 3.5mm stereo headphone plug directly to the input of a mixer, and this method would suffice if you simply want to increase the control you have over levels, EQ, and other aspects of the playback.
If you are hoping to improve the recording and mixing capabilities of your iPad, you'll need to follow a slightly more complex method. For this guide, I'll assume that the latter is true because this method covers all three possibilities and will provide you with the most options.
The table below displays exactly what you'll need for the three different mixer and iPad applications:
| | | | |
| --- | --- | --- | --- |
| Application | Software Required | Cables Required | Additional Device Required |
| Audio Playback through headphones or speakers | None | 3.5mm audio cable | 3.5mm to RCA converter |
| Recording, mixing, and playback in DAW | iPad Compatible DAW/Recording Software | 2 x ¼ inch balanced cables | Mobile Audio Interface |
Step 2 – Choosing a Mobile Audio Interface
The best way to connect a mixer to an iPad is by using an audio interface specifically designed for use with mobile devices. These interfaces link the iPad to the mixer and are equipped with the necessary connectivity options you'll require.
There are many capable mobile audio interfaces out there, like the IK Multimedia iRig, or the brilliant Korg plugKEY. You'll need one that features an Apple Lightning Connector.
Mobile audio interfaces include audio line outputs, charging ports, volume controls, and in some cases, additional features like MIDI inputs and headphones outputs.
They often have inbuilt amplifiers and DACs, which are two vital devices for using your iPad for recording or playback.
Check out this YouTube video on the Kork plugKEY.
Step 3 – Selecting Your Software
Once you've decided on a suitable mobile audio interface, it's time to consider which software you're going to use on your iPad. If you're hoping to use a mixer for improving playback only, you may be using a popular streaming service like Apple Music or Spotify.
Alternatively, if you're using the mixer to improve the recordings you can make with your iPad, you'll need software that facilitates this. GarageBand is the most common recording and music editing software designed by Apple, and it is compatible with all mobile audio interfaces.
However, there are many other good multitrack DAWs you could choose. These include:
Some of the above DAWs are completely free, while others come with a small fee on the app store.
You might also find that it's possible to get a free trial version of a few different iPad-compatible DAWs so that you can see if they work for you before purchasing.
Step 4 – Cables
After selecting a mobile audio interface and identifying the software you need, you're halfway to successfully connecting your mixer to an iPad. The next step is to make sure you've got the appropriate cables to form the connection.
Mixers vary in terms of the features and functions they offer, but most of them have a set of staple connectivity ports. You'll need a cable that can transmit the signal from your mobile audio interface to the mixer.
If you have chosen not to use a mobile audio interface, in order to form the connection directly from the iPad to the mixer successfully, you'll likely need to convert a 3.5mm audio cable to either an RCA cable or a pair of dual TS unbalanced plugs.
This is possible, but using a converter can lead to noise issues and an unpredictable signal. If you use a mobile audio interface, it will provide you with high-quality ¼ inch jack audio outputs, so you'll simply need two cables with ¼ inch connectors to connect it to your mixer.
Step 5 – Connecting the Mixer
Your mixer should have two varieties of inputs. Firstly, there are likely to be mic inputs that need to be XLR connectors and line-level inputs which use ¼ inch jack connectors.
There are also likely to be "insert" inputs. These are different from the standard inputs because they allow a sound source to be plugged into the mixer directly after the inputs, which ensures that its signal is unaffected by any effects or other processes down the line.
There are two different ways to connect the mixer to the iPad.
Firstly, if you are sending audio from the iPad to the mixer and then out into monitors or headphones, you'll need to connect them by sending the output from the audio interface into the balanced input on the mixer.
Alternatively, if you are reversing the process and sending the signal from the mixer into the iPad, you'll need to connect the input of the mobile audio interface to the master outputs on the mixer. Both should be labeled clearly on your mixer, so this step isn't too difficult.
Step 6 – Recording & Playback
Now that you've connected your mixer to the iPad via a mobile interface, you'll need to adjust the levels for recording or playback depending on what you're hoping to achieve. Both the audio interface and the mixer should have level and gain controls, which you can set accordingly.
If you're using software like Garageband or Amplitube, you'll need to open up the settings on your iPad and make sure the mobile audio interface is selected as the audio output and input device. This may be under preferences rather than settings, depending on your chosen software.
When setting the levels, it's important to check that there is no clipping occurring. Your mixer will likely present you with a visible signal meter, which will go red when the levels get too high or the device to handle.
If you record or playback audio too loud, this can diminish the quality of your recordings or listening experience.
Clipping causes the waveform to distort, which will make it sound muddy and this can't be fixed within the software on your iPad. Therefore, it's essential to set the levels correctly before using the mixer, to avoid any disappointment.
Step 7 – Final Test
All that's left to do now, is check that your mixer is properly connected to your iPad. You can do this by doing a test recording, or playing music from the iPad and checking that it is coming through the headphones or speakers which are connected to the output on the mixer.
Once you're satisfied with your test run, you're ready to start using the mixer and iPad together to enhance your audio setup.
Whether you're just using the mixer to enjoy a better listening experience, or you're using it to broaden your recording options, I'm sure you'll find that it does a great job of both!
Related Questions
Can you add effects to audio on an iPad?
It's possible to add effects and process recorded audio within an iPad-compatible DAW. Garageband, for example, has a wide range of reverbs, delays, and other effects which you can add to your recordings or existing audio tracks.
Do I need a mixer with phantom power?
You will require a mixer that offers phantom power if you intend to record with a condenser microphone. Condenser microphones require the additional voltage supplied by +48v phantom power, but other mics, known as dynamics, don't need this.
Check out this article for more information.
Can you connect MIDI devices to an iPad?
To successfully connect and use MIDI devices with an iPad, you'll need an audio interface that can facilitate this. The MIDI device is connected to the interface, which makes it usable with the iPad. This can be useful if you want to use a keyboard or drum sampler for music production.