If you're making a podcast or recording a cover of an existing song, you might want to record vocals over an mp3 file. This is an important skill, and it's actually quite easy to do!
To record vocals over an mp3 file, install the Audacity and MP3 Encoder programs. Once they've both been installed, pull up the selected mp3 file to be recorded over, push the red record button on Audacity, and record vocals on top of the existing file.
It's certainly possible to record vocals over an mp3 file, but you'll need to follow along with the steps below. We've provided walk-throughs and detailed instructions throughout the whole process.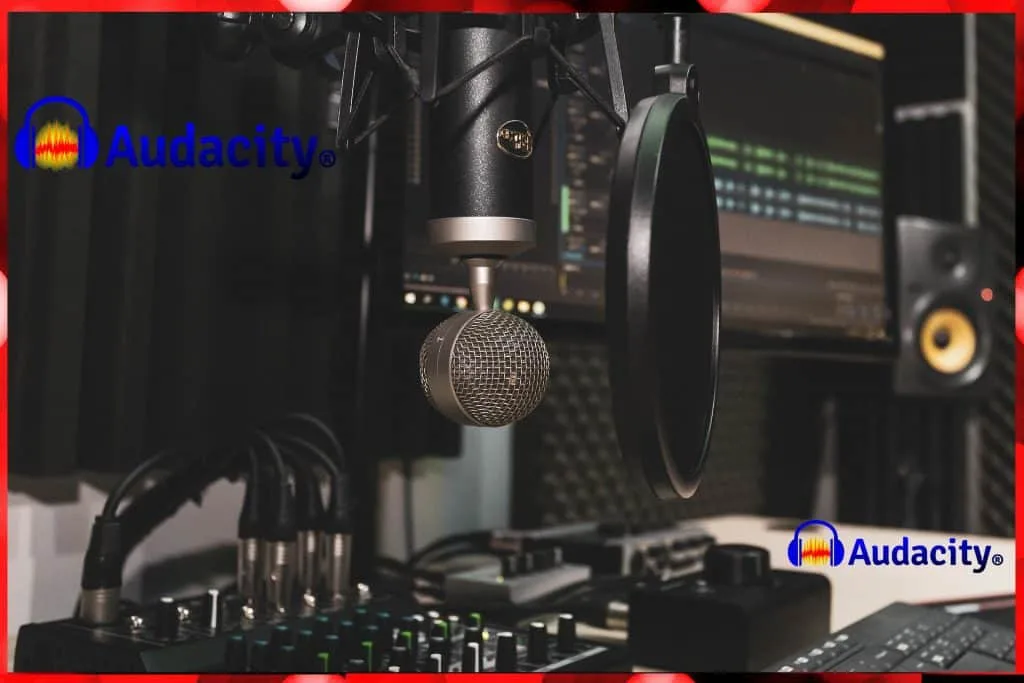 Audacity And MP3 Encoder
Audacity is a free software program you can download onto your computer for audio recording. MP3 Encoder is a file converter that Audacity uses to convert audio files into MP3.
Audacity allows you to record audio, edit the audio, and allows you to save it as an MP3.
To save it as an MP3, you do also need to install an MP3 encoder, which Audacity will use to convert your audio file to an MP3 file. Audacity is available for Windows, macOS, Linux, and other operating systems. This means that the software is available for almost all computers.
As you can see throughout the article, there are also lots of instructional videos for how to use Audacity. This makes the software easy to master because you can learn from other people, rather than teaching yourself how to do it.
Step 1: Download Audacity (Free)
Go to the Audacity website and click on their Audacity download page (here is a link to their page). Then, you can find the download button. Don't worry it's free software and is used all around the world.
Pick out the right version to install on your computer. For instance, if you have a MacBook, you will install the macOS version of the software. If you have a Windows computer like Microsoft or Dell, then you will install the Windows version of the software.
The video below helps to show you how to download the program (this may be helpful for you to visualize the steps):
You will see their latest version up for installation, and you can click on the Windows version or the macOS version. Pick the one fit for your computer and hit download.
If it asks you to save the file, you will want to hit "save the file" because then your computer can begin downloading the file. Your computer is asking you to "save the file" because it is making sure you want this file downloaded onto your computer.
So, hitting this button will not do any harm to your computer, it is just your computer asking for permission to install the software. Computers do this whenever any new software is being downloaded.
Step 2: Run the Installation File
When downloading new software, your computer will have one or multiple things pop up. Your computer may ask you to update before downloading, so whatever comes up when you are installing the program you should address so that you can download the file.
Sometimes before installing new software your computer needs to be updated so that it can start downloading the software. If this happens to you, don't worry. Just update your computer so that you can install the software.
Your computer may have you verify that you want to install the file, it can ask permission for the file to have access to your computer, or other basic security questions to make sure you approve the download.
The main button you should make sure you hit is the one that says "Run"
This button allows your computer to officially start installing the program. This button is the one that pops up whenever you want to install any new program, and you need to hit "Run" for it to begin installing onto your device.
Step 3: Download the MP3 Encoder
When the Audacity program is installed, it might start asking more questions in regards to setting up the program.
You should simply address those as they come.
For example, it may ask permission to access your computer microphone, which you would agree to. Those little things may pop up for it to finish setting up, which is normal. One thing it should ask you to do is to download the MP3 encoder.
The MP3 encoder is important for the program to have because it will be using it to convert your files to MP3 files. It will be called the LAME MP3 encoder. Follow the directions as you are prompted and it will set up the MP3 encoder.
Step 4: Start Recording
Congrats, you're finally at the fun part!
After doing all the work to set up Audacity and the MP3 encoder programs, you now get to use it. Whether you want to start recording yourself talking for a podcast, or you want to record yourself singing songs, you now can get into the program and begin recording.
Here is a short video explaining how to record your audio (this may be helpful to see how recording is done before you start practicing on the software):
To start recording your voice, you will use the red record button.
Now, you can start speaking or singing into your mic, computer, or phone and it will pick it up. You will see it pick up the audio as you are recording and it will show up as audio waves.
When you are done recording, you will hit the stop button. This should be in the center of the recording buttons and it will be in the shape of a square.
Now, you can use the other buttons to go forward or backward in the recording to hear it played back, add more recordings or delete recordings, play and pause your recording, and get the chance to use your creativity to edit and play around with the recordings you make.
When you are done, you can click the export audio button to save that recording onto your computer. Going through and doing this to save your recording will make it available to save as an MP3. Then, your computer will use the MP3 encoder that you downloaded earlier to convert the audio file to an MP3 file.
If you want to expand your knowledge on how to use more settings in Audacity, then I would suggest looking at the information/description box (located below the video) of the YouTube videos listed above.
They have links to other videos they have made with more information specifically on Audacity. So if you want to learn advanced settings, check out more of their videos.
Using A USB Microphone
Using a USB Microphone will eliminate the need to connect to your computer via an Audio Interface.
I have written an article on this topic. You can read it here.