Digital pianos are among the most expensive electronic instruments out there. This is especially true if you choose to buy yours from an established brand and aim for a high-tech model.
I have been playing piano on and off for more than two decades and owned many acoustic and digital ones at home and in the studio. During that time I was able to train my ear in such a way that I can hear where the money is in a digital piano.
So, are digital pianos expensive?
Digital pianos are expensive due to the software and digital technology applied to them and also because of the mechanics to simulate a real piano. The more ornamented and beautiful it is, the more money you will pay for it too. Digital pianos are so expensive for beginners because they use a lot of technology to emulate instruments costing up to 100 times its value.
Finally, many companies add their name to the profit and hence you pay a little more for their heritage and trajectory in the field.
Ok, now the good news (there is always good news) which are the alternative cheaper options that you will find as the second part of this post. Let's take a look.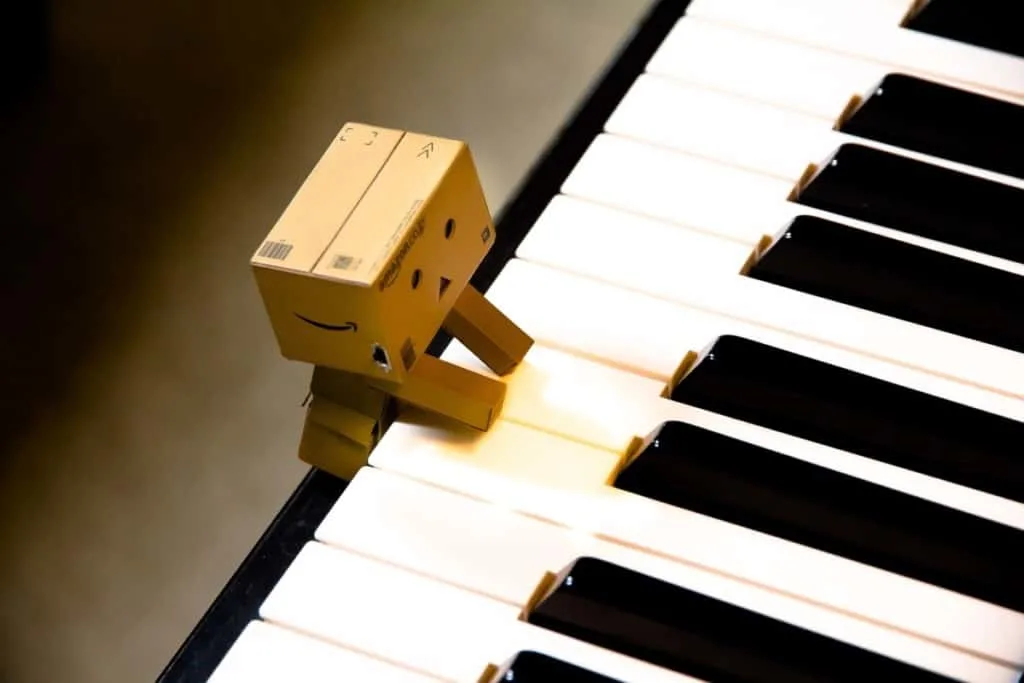 Are Digital Pianos Really So Expensive?
Well, the first things we have to ask ourselves before stating that a digital piano is expensive are the heritage and the years and money investment in development that the company put on creating it. Also, the materials used and finally, which is the instrument they are trying to emulate.
I remember walking to the music store a lot with my dad going for a guitar and an amp and being marveled by the "piano section" in the place.
They held them all in this secluded part in the back where only grownups could go. My dad held my hand strongly and told me not to touch anything as I walked among them, astonished by the jet black finishes or the pure white or even the glossy dark wood. I used to smell them even. I also remember that price tags on them at the time seemed almost obscene to me at that age.
With time I convinced my dad to buy me a basic Casio keyboard. He hadn't been able to fulfill his musical ambitions and, like many parents, flooded me with his unfulfilled dreams. I am happy he did because life without music is a mistake as the line goes.
Making a long story short I worked my way from my first toy Casio organ to owning an upright piano and a state of the art digital piano.
Both of them sit in my studio and I use them almost on a daily basis.
The digital piano needs minimal maintenance and can give me a plethora of sounds while the upright piano has that amazing percussive element and natural harmonic vibration of the wood but needs tuning and restringing and hammer replacement and is sensitive to moisture and climate and the list goes on.
I have written an article on digital piano maintenance. You can read it here.
If you think of the cost in the long term, with zero maintenance and 10-15 years of perfect functioning, they don't seem so expensive anymore.
Digital Pianos Vs Acoustic Pianos
Another item to bear in mind is just what we are buying.
In this video, you can see a clerk at a shop going through a $70 piano emulator to a $19,000 Baby Grand piano for you to check the sonic difference.
Can you hear it?
Well, the price tag on the Baby Grand is, to most of us prohibitive while we can purchase a way to successfully emulate it digitally.
Is it expensive to pay 10% of the Grand Baby's worth to get an approximation to that sound and a ton more? In fact, if you want to buy a Steinway & Sons, which is la crème de la crème in pianos they start at $70,000.
Digital pianos might seem expensive at first look, but once you compare them to the real deal, they are definitely a steal.
If you decide to purchase a used acoustic piano instead of a digital one, be sure to read my buyers guide here to avoid any costly mistakes. You can read it here.
Digital Piano Cost Comparison With Other Instruments
This is perhaps what gets people the most: entry level is more expensive than other instruments. Nowadays there are many different ways to get started in black and white keys other than buying a piano right away.
You can even get started with a MIDI controller and some computer software.
Still, it is always more expensive than your first instrument in other categories. Cheap basses, guitars, ukuleles, trumpets, violins, accordions, and harmonicas for entry-level students are always cheaper than their digital piano counterparts.
The fact that digital pianos start higher in price doesn't make them more expensive.
Once you become an accomplished guitar player and start looking around for the real deal in terms of electric guitars, price tags can be just as obscene or even worse. In comparison, though, for entry-level instruments, digital pianos are always more expensive.
If you ever wonder who makes the best keyboards, Casio, Yamaha, or Roland I have written an article on this topic. You can read it here
Are Digital Pianos Worth The Investment?
My philosophy in this case is to always "outgrow" your instrument.
This means that your playing capacity and ears will ask you for more than your instrument can give you. In guitar playing, for example, there is a shrill high frequency as well as a hollow mid and weak low end that you can definitely hear in cheaper guitars (we're not even starting with tuning issues and so on).
As your ear evolves you continue your path through dynamics, tone, and all the small nuances that make a guitar great and another not so much.
That is the moment you should make your investment, when your ear and talent have reached the "next level". Also, when making an investment such as a digital piano you have to bear in mind that technology moves forward and that it will become obsolete soon. Obsolete doesn't mean unplayable, but yes less compatible with current technology.
In the same line, let me tell you that learning how to play piano on a Steinway & Sons will leave very little room for dreaming.
Also, growing your ear beyond your instrument might turn out to be mission impossible.
Even having the money in your pocket to start high I would always aim entry-level if I'm an entry-level musician. There will be plenty of time to go up in price and reach the next level, you don't have to worry about that.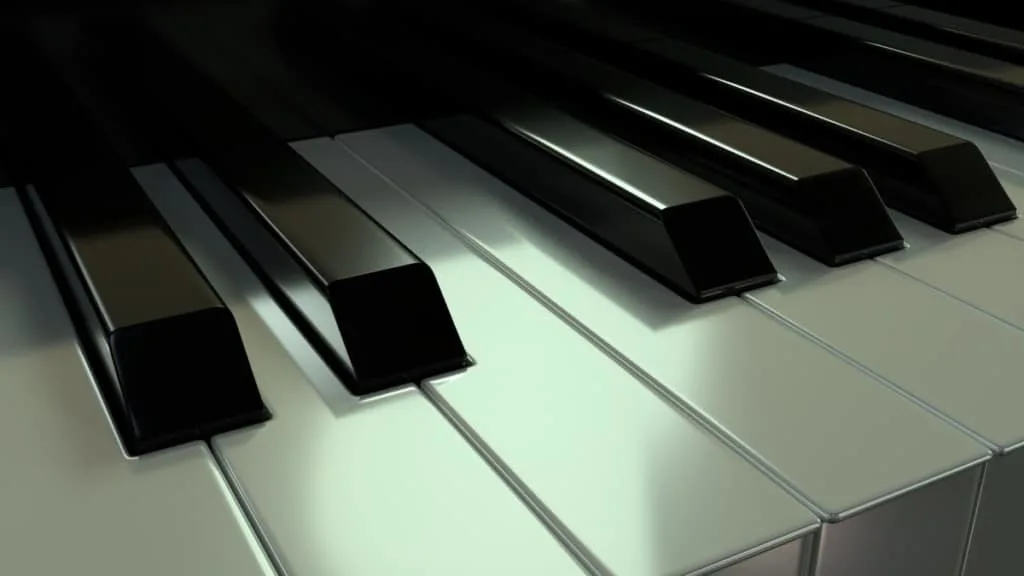 Digital Piano Options On A Budget
Ok, after all the introduction and what I think is a brief explanation why digital pianos are more expensive than other entry-level instruments, let me sum up what makes a good starting point for me, or better said, what do I look for in a digital piano:
· Sensitive – A digital piano has to be touch-sensitive. This means that the strength you apply to each key will make it sound different and hence you can learn to have an expressive voice through the instrument. Especially for starting out, the way I see it, this is a definite must.
· Key Weight – Coming from a classical background I do recommend hammer action keys on a digital piano. You can buy a synthesizer and get those weightless keys and regulate the attack from a knob, but digital pianos are built differently and played differently. If your budget allows it, go for full hammer-action weight keys every time.
· Samples Vs Physical Modeling – These are two different types of technology applied to digital pianos. Sampling is recording the sound of a real piano at different speeds and then assigning those sounds to the settings of a digital piano.
This is the technology you'll find on the list below.
On the other hand, the more modern physical modeling approaches digitally the structure of a real piano and emulates how it will sound like playing it the way you are.
If you want to know more about physical modeling, you can check this video That is a technology that you won't find in an entry-level digital piano and can very well mean making the jump to the next category.
9 Digital Piano Alternatives On A Budget
Ok, a lot of research has gone into this list and I have either owned or at least used all of the digital pianos I'm about to recommend at some point.
When we speak of keyboards and digital pianos for those who are at an entry-level I would say that the first brand that comes to our minds is Casio.
Casio offers alternative cheaper options in most price points but the overall winner, to me, is this Privia.
It has everything you need from the sensitivity to the key weight and adds two 8" speakers and an external speaker out.
It features an expression pedal and a three-year manufacturer's warranty. You can get plenty of piano sounds and have an instrument that will give you years of effortless satisfaction with minimal investment and care. Finally, it comes with 60 songs to learn and a 2-track MIDI recorder to keep improving. On the other hand, not having Bluetooth connectivity is kind of a bummer.
Check out the CasioPX-160 Digital Piano Here on Amazon.
A little cheaper and with slightly fewer functions, this digital piano by Casio is exactly what you need to learn the instrument sounding great.
You don't have any songs to learn or a MIDI recorder but you do have 10 sounds with 3 grand pianos, hammer action (not tri-sensor as the PX-160 but still quite good), 64 notes of polyphony and, of course, 88 textured and weighted keys.
For those only looking for an inexpensive replacement to an acoustic piano, this instrument will make you happy at one of the lowest prices in the market. The Casio CDP-100S is a no-frills, straight-up, great-sounding digital piano.
Speaking of recreating the real deal, this piano is, for most people, the most affordable way to have a three-pedal upright piano to play honky tone tunes all night.
This upper-part of the Privia range sounds and plays just as good as the smaller versions but it comes with the full wooden stand and the three pedals.
The absolute leader in this category is Yamaha, but getting one of these for under $1000 like this Privia is impossible. If you want a very good-looking piano to sit in your living room that sounds very good and will allow you to learn, this might be the one for you.
For those out there who became minimalism fans in the past decade and for all of us who love jet-black instruments with minimal knobs on them, the Korg B2 seems as fallen straight from heaven.
The Grand Piano sound in it is very realistic and, besides having very good audio with the dual full-range 15-watt speakers, you can attach another external audio source to it.
The weight of the keys and the material are very realistic and hence it works perfectly for what it was designed. I wish a piano like this was available when I was growing up and learning how to play the instrument. If you want an affordable grand piano sound with no other bells and whistles, then the Korg B2 might be it.
Here's a good review video of the Korg B2
Going up in price a little bit but still in the affordable line, we have another amazing instrument from one of the big brands.
Yamaha manufactures pianos since the late 1800s and does it in a level few brands can compete. The P45 is a good example of why buying Yamaha in terms of digital or acoustic pianos is always next-level. If you can invest slightly more, the sound gallery of this Yamaha has most of the brand's most famous pianos one touch away.
Also, the hammer action is very well-made; they even get heavier as you go to the bass side as the real deal would. The Yamaha P45 is an entry-level wonder for those willing to sacrifice features for a great sound for a flawless construction.
If you were to add a lot of learning features to an already great-sounding package in the world of digital pianos that would be going from the P45 to the P125.
Yes, it is a little more expensive but the 21 demo songs, 24 voices, 50 piano songs, and the addition of Yamaha's own and elite-oriented Pure CF Sound Engine should be enough to make up for that money difference.
This instrument features the same good taste in jet-black matte minimalism but loaded with USB connectivity and stereo outs to listen to your piano through a good pair of studio monitors. Sure, there are alternative cheaper options like the entire Casio Privia line, but if you have the budget this can be a great acquisition.
Check out this great sounding digital piano here on Amazon
If I was to say professional-grade sounds at an entry-level price you would definitely be interested, right? Well, right there in price, sounds, and feel with the Yamaha P45, this Roland FP-10 is the simplified version of the iconic FP-30 and sounds amazing.
This SuperNATURAL piano sound is simply top-notch and the feel of the ivory and ebony recreation is superb.
I would say that, as a beginner, this might be the perfect instrument to go to the intermediate level without making any changes. The Roland FP-10 really shows what this company is capable of in a product that has a very friendly price tag for almost everyone out there.
For the price and the specs, this Alesis makes it to the top 10 comfortably.
Truth be told, it doesn't sound as clear, punchy and articulate as the Yamaha or the Roland or even the Privias, but with an LCD screen and a very intuitive user interface it transforms in a great tool for beginners who are a little more curious and want to be able to do adjustments on sounds.
In case you didn't know, Alesis is a brand that was top-notch in synthesizers, arrangers, and high-end technology in the nineties and early 2000s. That heritage is present in this beautiful instrument that works perfectly for the job at task. With a convenient price tag and some good sounds at hand, you should definitely try this one out.
Check out the Alesis here on Amazon.
Finding upright digital pianos at this price range is almost impossible. Costing half what the PX-770 and with a similar furniture stand, this is one of the alternative cheaper options you can't overlook before making your decision.
It comes with three pedals, stereo sound, and a cool LCD screen to follow your lessons. On top of that, you can learn by doing playing one of the 80 built-in songs.
The fully-sized and fully-weighted keys are nothing to write home about and neither is the overall sound, but it still is a great upright piano for the price tag.
This Artesia could be a great entry-level product before jumping to a Yamaha, Roland, or one of Privia's higher models. I like the fact it is USB compatible, MIDI compatible, and has 2 headphones jacks to play along with someone else without making any noise.
Check out the Artesia DP-2 here on Amazon.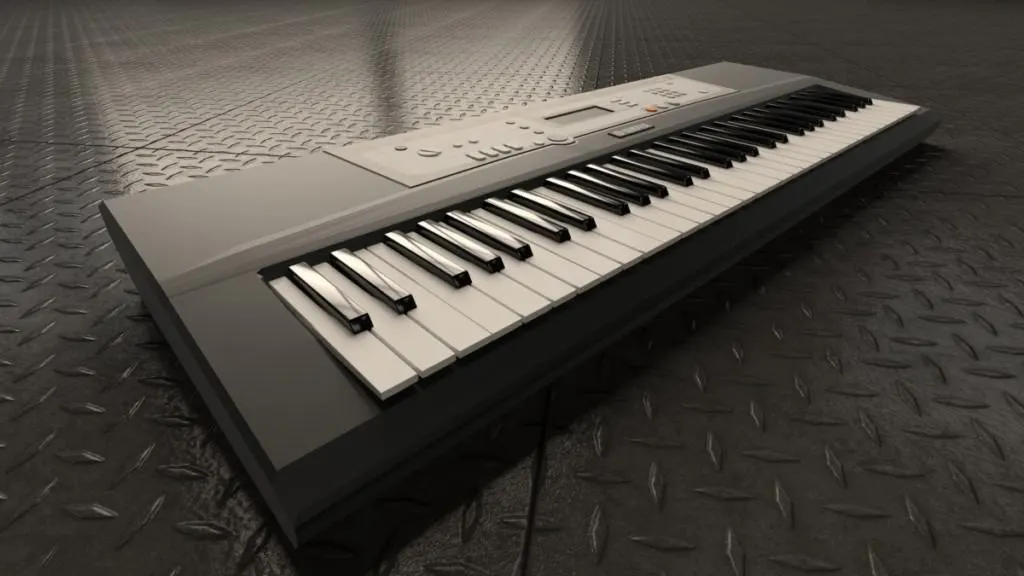 Final Words About Buying Digital Pianos On A Budget
As I said at the beginning, the fact that digital pianos are expensive instruments is relative.
First of all because, as you could see, there are alternative cheaper options you can buy and get a grand piano sound at a fraction of the price. Second, because they are emulating much more expensive instruments; having a grand piano at home from a respectable manufacturer can cost you several thousand dollars, and having it for less than $500 is a complete bargain.
A piano is the mother/father of much of the modern instrumentation and learning how to master it will take you to a whole new musical realm of inversions, chords, melody, and rhythm that will blow your mind.
If you are serious about learning, you will have an amazing time mastering any of the models listed above.
Don't forget, grow your ear before your gear!
Happy (digital) playing!