Like most Apple products, AirPods have been a huge success in the consumer market. If you walk down a high street, there's a good chance you'll see someone wearing a set of these popular earbuds.
Why are AirPods so expensive?
AirPods are expensive because they include a wide range of features, which can be used to control devices like iPhones or iPads. Airpods also produce decent sound quality, and you also get a wireless charging case as part of the package, all of which contribute to their price tag.
Despite AirPods' undeniable popularity, many consumers feel that they are overpriced, and are unwilling to pay a considerable fee to acquire them.
In reality, there are many earbuds and earphones that cost a lot more than AirPods, so in order to determine whether the cost is worthwhile, we need to analyze their attributes.
In this guide, we'll discuss whether AirPods are a good investment, and why they cost so much.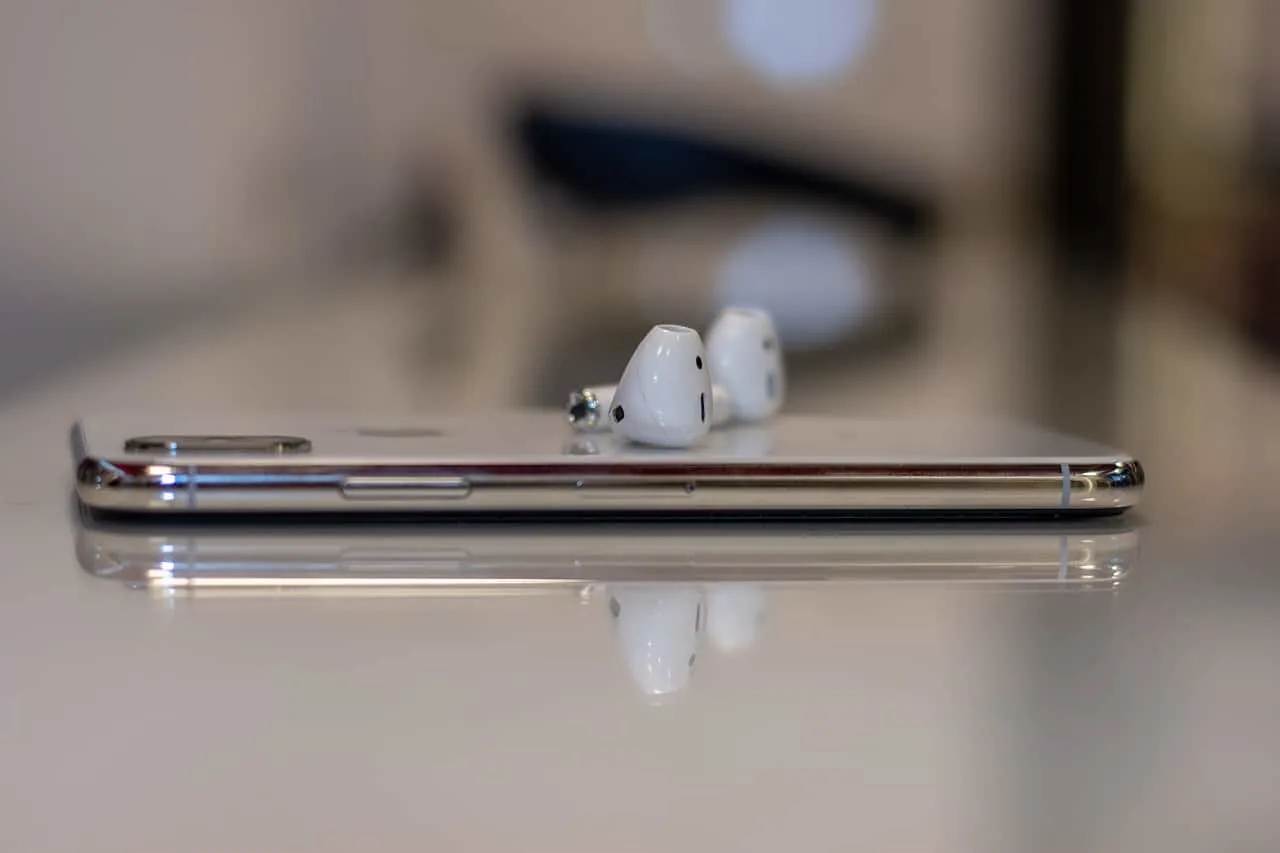 Are AirPods Worth It?
The question that every customer needs to ask before they invest in a set of AirPods, is are they worth the cost? While there is some subjectivity involved, we can answer this question by looking closely at their capabilities.
AirPods are not the first earbuds of their kind, nor do they offer any particularly groundbreaking features. However, as is the case with the majority of Apple products – they just work!
One of the key selling points of AirPods is their fluid integration with mobile devices, particularly those made by Apple.
AirPods are flawless when it comes to controlling the various functions of an iPhone, iPad, or iPod touch. They make hands-free operation a breeze.
If you own a Samsung mobile phone or another Android-based device, you won't be able to enjoy the full extent of the integration features that AirPods have in their locker.
It could be argued, therefore, that it is not worth investing in AirPods if you don't use Apple devices.
A counterargument to this would be that AirPods still offer solid sound quality when listening to music or other audio formats. They're also very comfortable to wear for most people, thanks to Apple's ergonomic design.
I have written a separate article for users that find AipPods uncomfortable. You can read it here.
Moreover, some people simply love the way that Apple's AirPods look. They're considered by many to be a fashion accessory in addition to a set of earphones, and people are willing to pay the price for this aspect alone.
Another reason that AirPods are worth the cost, is that they come with a high-quality charging case, which is worth a fair amount of money on its own. This charging case is highly mobile and protects the earbuds when they are not in use.
Overall, I think it's safe to say that AirPods are worth it if you use them with Apple products. If you use Android or a different operating system, they are less effective, but still, perform as well as the majority of mid-priced earphones.
Check out this Youtube video that gives a rundown of all the features on AirPods
Are AirPods Pro Worth the Extra Cost?
Initially released in late 2019, AirPods Pro marked a significant improvement on first and second-generation models. Apple tweaked its design with the aim of making AirPods Pro more comfortable and also attempted to improve its functionality.
AirPods Pro uses the same processor used in 2nd gen AirPods – the H1. This means that the way they operate is very similar to the earlier models, but the main differences are found in additional features.
One reason that AirPods Pro is worth the extra cost is the addition of active noise cancellation. This feature allows AirPods Pro users to block out background noise so that they can focus entirely on the audio coming from the earbuds.
In terms of battery life, there is minimal difference between standard AirPods 2 and AirPods Pro. The latter offers 4.5 hours, with 19 hours from their charging case. The former boasts an additional half an hour of battery life, at the same time from their charging case.
Another area that Apple attempted to improve in order to justify the extra cost of AirPods Pro was their comfort and fit. Compared to 1st or 2nd gen AirPods, the AirPods Pro are significantly more customizable, thanks to the inclusion of removable silicone ends which are available in a range of sizes to suit different ear shapes.
Additionally, AirPods Pro features miniature air vents which are designed to prevent pressure from building up when they are worn for considerable lengths of time.
AirPods Pro are also much better suited to gym-goers or exercise enthusiasts. Rated as IPX4 water and sweat-resistant, they are much better equipped at dealing with physical activity than the standard 1st or 2nd generation AirPods.
The controls and operational features of AirPods 2nd Generation and AirPods Pro are very similar. However, the AirPods Pro boasts a superior sound quality, with a more refined midrange than earlier models.
To summarize, AirPods Pro are worth the extra $100 or so when you consider the superior listening experience, comfort, and robustness they offer.
Why Are AirPods Cheaper from Amazon?
If you've been searching for the best-priced AirPods, you may have noticed that retail giant Amazon offers them at a cheaper cost than Apple, or other licensed sellers. This may lead to some confusion as to why they cost less on that website.
The reason that AirPods are cheaper than Amazon, is because Amazon buys products from Apple in bulk.
Amazon orders a huge amount of AirPods in advance, and therefore get them at a wholesale price that is significantly less than the MSRP.
Apple is renowned for seldom dropping the products of their prices temporarily, to offer discounts to customers.
This is because that privilege is given to Apple Authorized Resellers like Amazon, who can benefit from selling products like AirPods at a reduced rate.
Are AirPods from Walmart Real?
Along with Amazon, another major retailer that is classed as an authorized reseller of Apple products is Walmart. The American company sells AirPods both in their stores, and online.
Walmart may not be a company that people associate with the sale of Apple products, which could lead to some skepticism over whether the products are genuine or replicas.
In reality, all of the Apple products that Walmart sells, whether in-store or online, are genuine.
They simply would not get away with selling fake AirPods, as this would risk the reputation that the store has built up over many decades.
Like Amazon, Walmart often sells AirPods and other Apple products at a cheaper price. This, again, is due to them buying up the products in bulk and pre-purchasing a huge amount.
Which AirPods Are Most Expensive?
Apple's range of AirPods has expanded significantly since they introduced the original model in December of 2016. Now, users can choose from a selection of AirPods, AirPods Pro, and AirPods Max.
The cost of AirPods has come down gradually as new models are released. However, this is the general order of existing models in terms of their price:
As you can see from the table above, the most expensive model is the AirPods Max. These over-ear headphones are considerably bulkier than the earbud-style models, which explains why they cost so much more.
Of the three most popular earbud-style AirPods, the Pro model is still the most costly, despite them being older than the 3rd gen AirPods.
This is because the AirPods Pro includes several additional features and capabilities that the standard models simply can't rival.
Be sure to check out this article if you find your Airpods randomly pause.
Airpods Pro is now available, I have written a comprehensive guide to help you decide if you should choose AirPods or AirPods Pro. There are various pros and cons to both.
This guide will help you decide if AirPods Pro is worth it for your circumstances and needs.
Are AirPods Overrated?
Some audio enthusiasts and critics argue that AirPods are overrated when you compare them to other similarly-priced earbuds. However, you have to consider the whole package when deciding whether the hype surrounding AirPods is justified.
Indeed, there are many earbuds and headphones that offer superior sound quality and comfort than AirPods.
Nevertheless, these Apple earbuds have an undeniably stylish design, which contributes largely to their popularity.
Additionally, no earbuds can claim to offer the range of operational controls and features that AirPods do, particularly when they are used with Apple devices. For that reason, I think AirPods are deserving of their popularity.
Airpods Pro is now available, I have written a comprehensive guide to help you decide if you should choose AirPods or AirPods Pro. There are various pros and cons to both.
This guide will help you decide if AirPods Pro is worth it for your circumstances and needs.
Related Questions
Can AirPods be connected to multiple devices?
Some earbuds and headphones are compatible with Bluetooth multipoint, which means that they can be connected to several devices simultaneously. Unfortunately, AirPods are not compatible with this, and therefore can only be used with one device at any given time.
Does AirPods' Active Noise Cancellation block out talking?
The Active Noise Cancellation is one of the standout features of Apple's AirPods. If you are trying to focus on the audio coming through the earbuds, this feature will effectively reduce the volume of people talking in the background.
Can you use one AirPod to make phone calls?
AirPods are designed so that they can be used in mono mode, which means one AirPod can be used at a time. To do this, you can simply leave the second AirPod in the charging case, which will automatically switch them to mono mode.