A workstation keyboard has more controls, effects, and sounds than a regular digital piano. They are mostly used by composers to create music.
Workstation keyboards are similar to digital pianos, but they have a lot more functions. A composer can write music for several different instruments, including the piano. Some buttons can play the sound of many instruments, helping the composer get a feel for the sound of the piece.
Workstation Keyboards are different from digital pianos. More information about Workstation keyboards is below.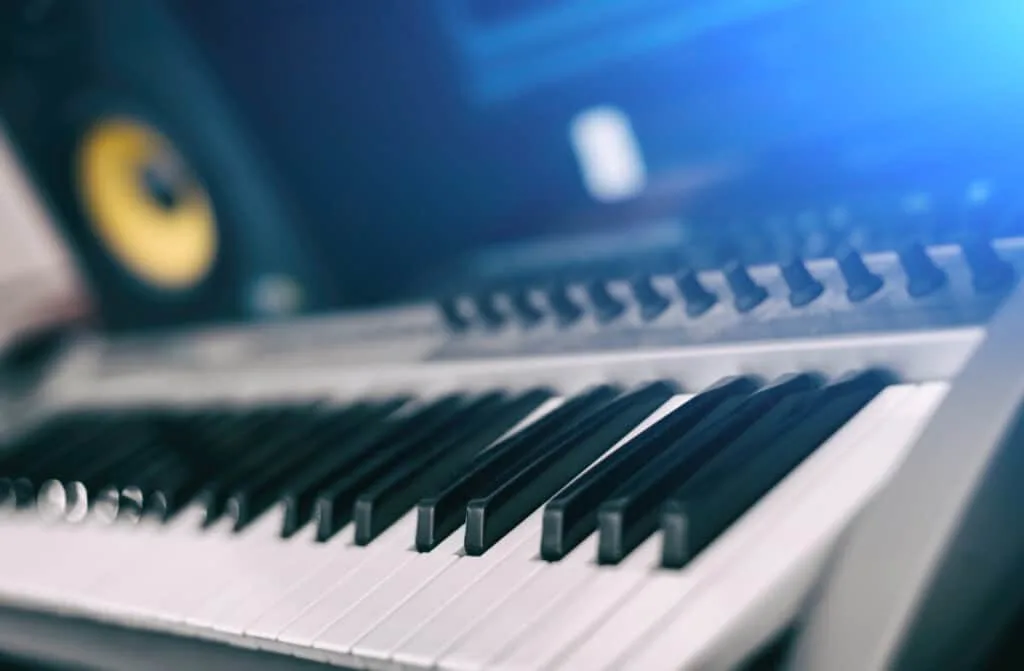 What's the Difference Between a Digital Piano and a Workstation Keyboard?
Digital Pianos are very useful to musicians. They don't have to be tuned, they are easier to transport, and they can be fairly inexpensive.
Digital Pianos have an amazing sound quality and can be easily adjusted for each musician. You can change the volume, making it quiet for individual practice, or louder for performances in front of an audience.
Anybody can play a digital piano. It doesn't matter if you are a professional or just trying to learn a few songs. In recent years, they have started to replace acoustic pianos in houses, apartments, and other locations.
Workstation Keyboards are much more complex.
While Digital Pianos are meant to produce the same sound and feel like a real acoustic piano, workstation keyboards do that and much more. They sound like a piano, but you can add in additional sounds and recordings, by just clicking a certain button.
They look much like a digital piano but have a lot more buttons and functions. While Digital Pianos are for the player, Workstation Keyboards are for the composer. Composers can use them to create music, not just for pianos but for any instrument or composition.
The workstation piano is more advanced because it has prerecorded sounds of all the instruments, to be played at any time. This helps the composer write music and get a feel for what the song would sound like, with different instruments.
A composer could essentially write music for a whole orchestra depending on the type of workstation keyboard. This makes songwriting much easier for the composer.
They can visualize what the song would sound like with all of the instruments, instead of physically bringing in all the instruments or having to wait for rehearsal.
Arranger Keyboard vs Workstation Keyboard Differences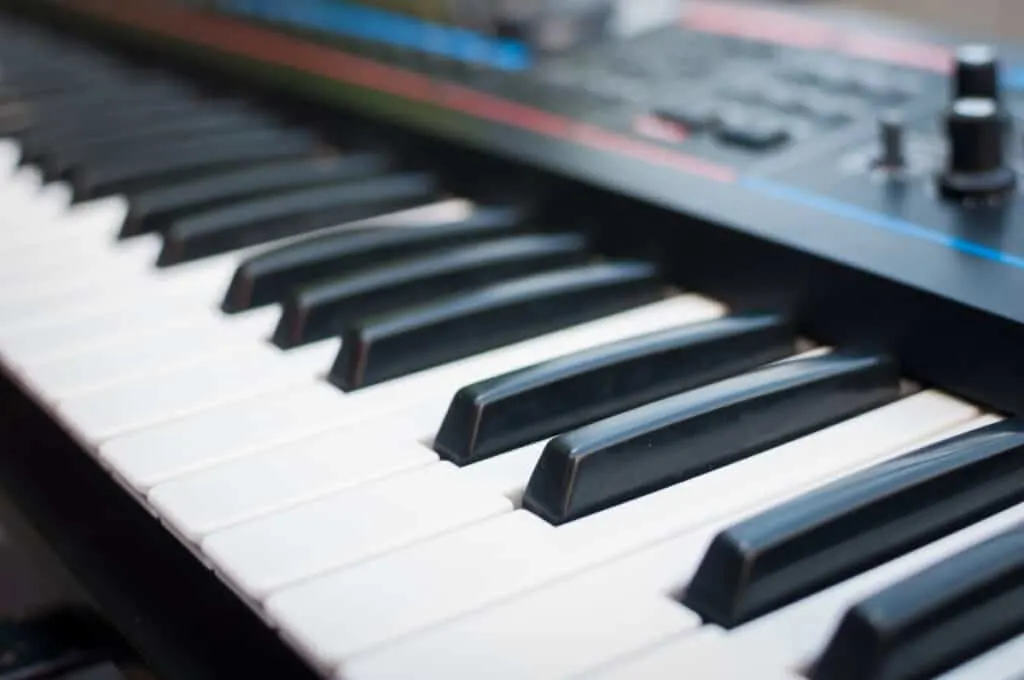 Arranger Keyboards are different from workstation keyboards, but they can easily get mixed up.
They are both bigger than digital pianos and have many more buttons, but each has its own purpose. An Arranger is even more advanced, but it is meant to be used by one person who is singing and needs a background piano. You can match tones and pitches rather than different instruments.
A workstation keyboard isn't as high of quality and doesn't sound as amazing, but the library of sounds is much bigger.
It is more for composing with instruments instead of figuring out the background instruments for a voice. There is much more variety with a workstation keyboard. It is mostly used when designing the sound and in the studio when producing the music.
Best Keyboard Workstation Under $500
Once you have decided you want to purchase a Workstation piano, you need to find the best one that fits your needs. It is best to narrow down your search by picking a brand and then choosing one from their collection.
Some of the best brands are Roland, Yamaha, Korg, and Casio.
Workstation Keyboards can get very expensive, especially when you customize them and add on additional buttons or functions. However, we have located all of the best workstation keyboards for less than $500, all located on Amazon.
Most of these brands are pretty expensive, but Cassio and Yamaha have some affordable keyboards for under $500.
Yamaha
The Yamaha PSR-EW310 76-key Portable Arranger is a great arranger keyboard for beginners.
This keyboard has 76 keys, 15 more than the average 61 keys on a keyboard. The reviews online say that it is great for beginners and easy to learn, as well as worth your money. This would be a great gift for someone who is trying to get back into the piano or is beginning to learn how to play the piano.
Yamaha PSR-EW310 76-key Portable Keyboard (Power Adapter Sold Separately)
The PSR-EW310 has everything you need in a starter keyboard, with 76 keys for the more serious piano beginner.

The AWM (Advanced Wave Memory) Dynamic Stereo Sampling engine recreates the realism of an acoustic instrument, reproducing its dynamic nuances by recording samples of various playing strengths.

Smart Chord lets you play great-sounding chords from simple Pop triads to complex jazz 7th chords with just a few fingers.

Super Articulation Lite Voices can be controlled with the Art button to intuitively reproduce the natural expressive nuances of non-keyboard instruments, allowing keyboard players to achieve realistic expression.

Power adapter sold separately
Casio
The Casio WK-6600 76-Key Workstation Keyboard with Power Supply is another good option.
Out of 466 ratings, 75% of them are 5 stars.
This keyboard has track sequencers that can record up to 5 songs. It also has hundreds of built-in rhythms, as well as the ability to create your own rhythms. It also has hundreds of built-in tones, that you can customize yourself to fit better with your song.
Casio WK-6600 76-Key Workstation Keyboard with Power Supply
16 track song sequencer + 1 system track supports recording of up to 5 songs or approximately 30,000 notes

Combine instrumentals from the 210 built-in rhythms, toggle individual instrumental portions and adjust parameters to create your own personal rhythms

With the Tone Editor, attack and release time, cut off, vibrato, reverb, chorus and DSP can be adjusted based on your preferences

Features a choice of 700 tones to expand your music creativity, and offers 48 notes of polyphony to prevent dropped notes

Built-in effects include 10 reverbs, 5 choruses and 100 DSP types with the option to create your own effects and store up to 100 unique styles

Use with Mac or Windows computers without downloading drivers or as a controller for the Apple iPad simply by using Apple's Camera Connection
If you are looking for an Arranger Keyboard, then the Casio CT-X3000 61-key Portable Arranger Keyboard is for you. It is great for beginners because it isn't too difficult to use.
With a little bit of practice, you can be imposing news songs in no time. It is also portable, making it easy to bring with you anywhere.
It has 800 tones and 260 accompaniment styles, allowing you to create an infinite amount of new sounds. You can find this arranger keyboard on the Sweetwater website.
Most of the keyboards on this list are beginners because they don't have as many controls and keys, making them less expensive.
If you are past the beginning stage and using a workstation keyboard for music production, invest in a higher quality and more advanced keyboard.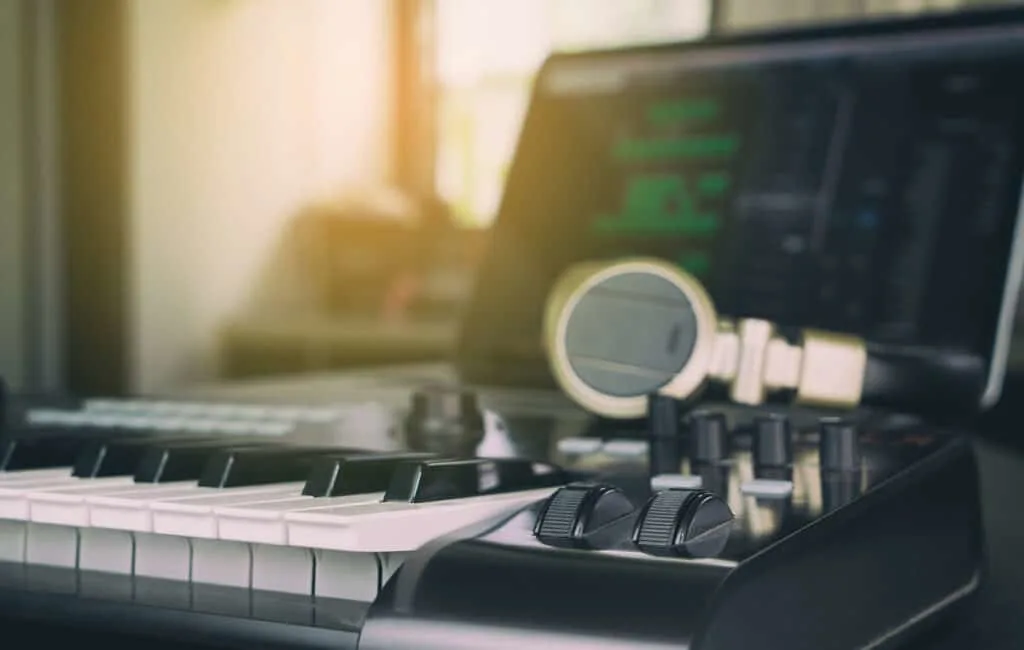 Workstation Keyboards can be very expensive, but they are very worth it due to all of their functions and abilities. The possibilities for music composition are endless with these high-tech keyboards.
Arrangers do tend to be on the less expensive side compared to workstation keyboards. Most of the keyboards on the list are Arrangers, but that doesn't mean you can't find an affordable Workstation keyboard.
If you are willing to buy a used Workstation keyboard, it will be much more affordable than a new one. Do your research, find the best keyboard for you, and get to playing!