Since Bose entered the headphone market at the turn of the millennium, they've enjoyed a rapid rise to becoming one of the best known and most popular manufacturers globally.
How long do Bose headphones last?
Bose headphones are designed to last for many years, providing they are used responsibly and properly maintained. Their build quality is generally very robust, and they have reliable batteries that can last for thousands of hours before a replacement is required.
Bose produces a wide range of headphones and earbuds, some of which are designed for maximum sound quality, and others that focus more on comfort and practicality.
The longevity of Bose headphones varies depending on the design and their main purpose.
With so many cheap and poorly made headphones on the market today, Bose's commitment to making their devices last for a long time is refreshing, and a key factor in their success.
In this guide, we'll explore the topic of how long Bose headphones last in detail.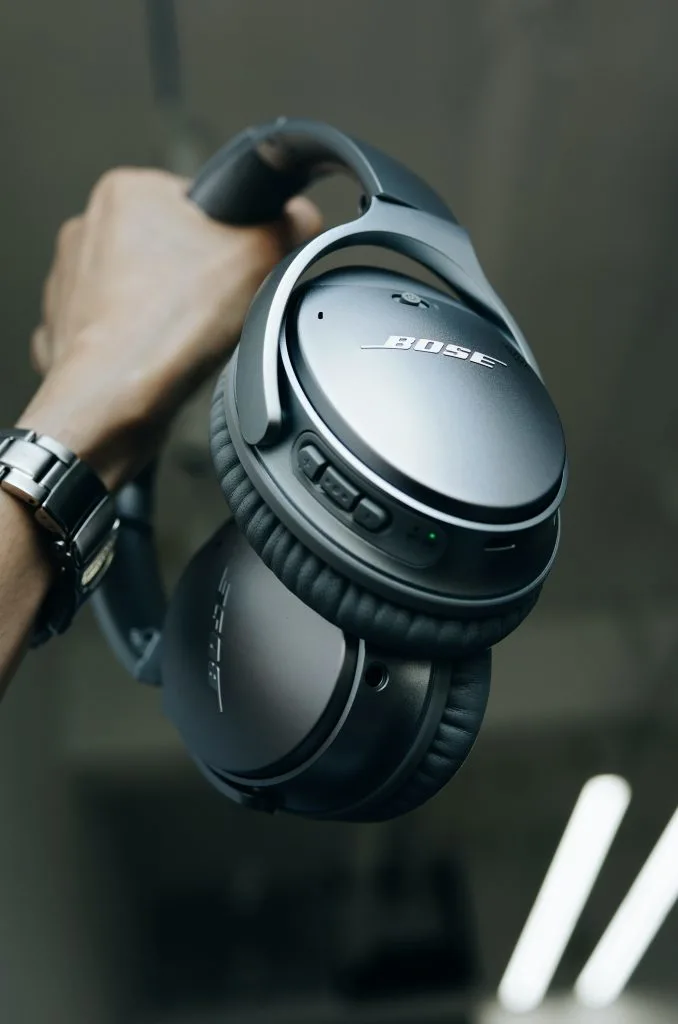 How Many Years Do Bose Headphones Last?
Headphones and earbuds are amongst the most widely used audio devices. They allow us to enjoy music in any environment without disturbing others, to make calls, record and mix audio, and do many other things.
Investing in a good quality set of headphones is a wise move if you are likely to use them extensively.
In general, high-end headphones and earbuds will last significantly longer than cheaper models. Bose offers a variety of headphones and earbuds, some of which are more affordable than others.
However, one thing that is consistent throughout Bose's headphone range, is their build quality.
Whether you own a set of Bose QC35 over-ear headphones or the brand's Sport Wireless earbuds, you can be a guarantee that they will be roadworthy and robust.
It's impossible to say exactly how long Bose headphones or earbuds will last, as this depends on several variables.
For example, the more often you use wireless earbuds, the quicker the battery will start to diminish. Likewise, if you don't store your headphones in a safe space when traveling, this may cause some wear and tear.
Providing the Bose headphones or earbuds are relatively well looked after, charged regularly and properly, and stored in a suitable place, they have the potential to last between 5 and 10 years, perhaps even longer in some cases.
Again, the lifespan depends on the type of headphones or earbuds in question.
Bose's affordable range is made with lesser quality components to cut costs, which means they will last for a shorter time on average than the high-end devices that consist of the finest components.
Bose QuietComfort 35 II Wireless Bluetooth Headphones, Noise-Cancelling, with Alexa Voice Control – Black
Three levels of world-class noise cancellation for better listening experience in any environment

Alexa-enabled for voice access to music, information, and more

Noise-rejecting dual-microphone system for clear sound and voice pick-up

Balanced audio performance at any volume

Hassle-free Bluetooth pairing, personalized settings, access to future updates, and more through the Bose connect app. USB cable: 12 inch

Bose AR enabled — an innovative, audio-only version of augmented reality

For iPhone, iPad, and Android users, be sure your product's firmware is up to date through the Bose connect app. Then you can access a showcase of Bose AR enhanced apps with Links to download them.
Battery Life Of Bose Headphones
When people talk about the longevity of electrical devices like earbuds or headphones, what they are discussing is the performance of the inbuilt battery.
If you've ever had the same smartphone for several years, you probably noticed that by the end it would struggle to hold a charge, and the battery often malfunctioned.
Bose headphones are mostly wireless devices these days, and the majority of them are battery-powered. Typically, headphones are connected to the mains via a mini USB cable so that they can charge up for between 10-16 hours of use.
Bose earbuds, on the other hand, are usually charged inside a specially designed case or pouch.
The case draws power from the mains electricity and supplies it to the inbuilt battery in the earbuds. Again, depending on the model, Bose earbuds can last for anywhere up to 16 hours of continuous use on a full charge.
To preserve the battery in Bose headphones, there are several measures you can take. It's important to turn them off when they are not in use. For most devices, this can be done easily by pushing the on/off button or switch.
If you leave your Bose headphones on at all times even when you're not using them, this will drain the battery unnecessarily and lead to it degrading at a faster rate.
Certain features, like noise cancellation, also use more battery power when they are turned on. It's easy to forget that these features are on, so make sure you regularly check and turn them off unless you need to use them.
Unfortunately, all batteries eventually become redundant as a result of them being charged and drained constantly. However, there is a common misconception that leaving headphones plugged in and charging for long periods will cause the battery to degrade quickly.
This is not the case with Bose products and most other modern electronic devices. They have a feature installed that automatically disconnects the battery once they reach full charge so that they're not constantly being subjected to power.
Bose QC35 Build Quality and Battery Life
The Bose QuietComfort 35 over-ear headphones deliver exceptional noise-canceling and detailed sound quality, but are they likely to last for a long time, or will they leave you disappointed?
Firstly, the build quality of the QC35 headphones is very impressive. They're designed for comfort, and they provide this in abundance thanks to the soft, cushioned earpads and ergonomic headband.
Check out this review video of Bose QC35 from YouTube
However, comfort doesn't guarantee longevity.
These headphones have flexible, but strong hinges which allow you to fold them down into a compact size so that they can fit inside the carry case. This is a wise design feature by Bose, as it reduces the chance of the earcups being detached from the headband.
The battery life of the Bose QuietComfort 35 headphones is also impressive. They provide around 20 hours of wireless usage, and 40 hours if they are used with a 3.5m audio cable.
It takes only 15 minutes to get over 2.5 hours of battery life when charging the headphones.
Bose QuietComfort 35 (Series II) Wireless Headphones, Noise Cancelling, Alexa Voice Control – Black – Worldwide Version (Renewed)
Three levels of world-class noise cancellation for better listening experience to suit any type of environment

Noise-rejecting dual-microphone system for clear sound and voice pick-up - Perfect, balanced audio performance at any volume

Volume-optimized EQ makes your music always sounds its best, whether its turned up on an airplane, or turned down at the office

Alexa-enabled for voice access to music, information, and more - Bose AR enabled - an innovative, audio-only version of augmented reality

INCLUDED WITH YOUR PURCHASE: Bose QuietComfort 35 Series II Wireless Noise-Canceling Headphones (Black), Carry Case, USB Charging Cable, and 3.5mm Audio Ca
Bose SoundSport Build Quality and Battery Life
The SoundSport wireless earbuds are designed for active people who like to listen to audio when exercising. They are very lightweight and fit securely in the listener's ear so that they don't become dislodged from motion.
In terms of build quality, the SoundSport earbuds are very robust.
They're rated as IPX4 resistant, which means a little sweat or water won't cause them any harm. Also, they have a small battery on the neckband, which reduces the wear and tear that they are exposed to.
The maximum battery life of the SoundSport earbuds is around 6 hours and 45 minutes. This isn't the longest battery life you'll find for wireless earbuds, but they charge very quickly.
Do Bose Headphones Break Easily?
Bose headphones shouldn't break easily. Even their most affordable models are designed to last for years if they are treated with care.
All headphones can break if they are stood on, placed into a bag with other objects, or subjected to another form of carelessness. Bose headphones are generally built with sturdy components, which means they're unlikely to break if you look after them.
Bose earbuds come with charging cases that are designed to protect them from damage.
Likewise, many of their popular headphones have a foldable design, so that they can be stored away safely when not in use. If you always use the case, this will significantly reduce the chance of your headphones breaking.
The most common cause of headphones or earbuds breaking is when they are either sat on or stood on accidentally. That's why it's so essential to store them away in a safe, suitable place when they are not being used.
Bose vs. Other Headphone Brands – Build Quality
When comparing Bose headphones to other popular manufacturers, they rank amongst the most durable on the market.
Apple-made Beats and AirPods are closely matched with Bose in this respect, and other headphone brands like Sennheiser and Sony have a slight edge in terms of the quality of their builds.
Bose headphones and earbuds mostly fall into the medium-priced category. They do produce some affordable and high-end devices, but these are less common than their mid-range offerings.
Compared to other similarly priced manufacturers, the build quality and battery life of Bose headphones are equal, if not superior to its competitors. However, the top-end headphone brands invest more into the materials and designs, which ultimately results in a better overall quality of the product.
Overall, Bose headphones represent a good choice for consumers who want excellent comfort, good sound quality, and reliability that ensures they won't easily break or malfunction after a short period.
Related Questions
Is Bose owned by Apple?
In 2014, Bose was purchased by tech giants Apple, which did the same with Beats headphones. This is a common tactic used by Apple, to but their competitors out and integrate them into their brand.
Where are Bose headphones made?
Bose headphones are made in four different locations – the United States, Mexico, Malaysia, and China. The high-end products tend to be made in the US, while more affordable devices are made in the other three countries.
Which Bose headphones have noise-canceling?
Many Bose headphones and earbuds have noise-canceling capabilities. These include The QC20 wireless earbuds, the QuietComfort 35 and 45 wireless headphones, and the QuietComfort earbuds.