I've been playing guitar and singing most of my life. In the very beginning, I used to consider myself a "guitar player who could sing" rather than a singer so all my money went on buying guitar gear.
So do guitar amps work for microphones?
Guitar amps do work for microphones but don't sound good. Although you technically can plug your microphone into a guitar amp, you shouldn't expect it to sound loud and clear. The range of human voice exceeds that of the guitar to the lower and the higher frequencies. Plus, our voices produce harmonics that the guitar doesn't. Some of your tonal power will be lost and you might even damage the guitar amplifier.
The time came that I had my Marshall JCM900 stack in the nineties and my voice was still coming out of a practice amp. Well, from that moment until now things have gone the exact opposite direction and every time I go and see a band the guitar amps are smaller and the PA is bigger.
So, I decided to write this post to give some advice to musicians starting out, to tell you what you can expect if you plug your microphone into a guitar amplifier, and finally show you the right way to do it. Are you ready to sing your heart out? Here we go.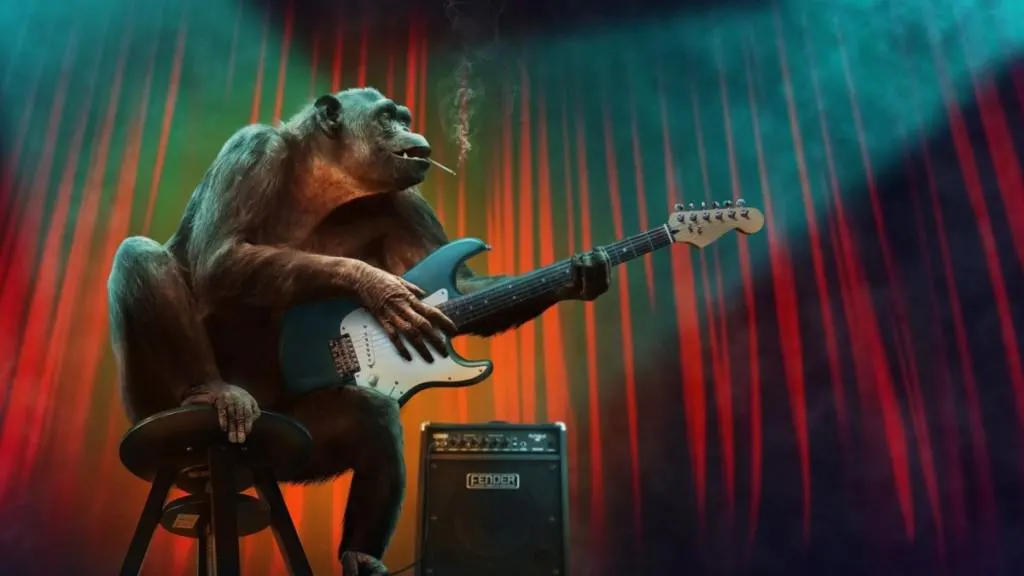 Why Plug A Microphone Into A Guitar Amplifier?
There are many reasons why people plug their microphones into a guitar amplifier.
The most common one is because there is no real singing equipment available to them. I remember growing up and gathering to play at the drummer's house in the shed. We would set our amps and jam out. There was no PA available and we couldn't afford a rehearsal room. I used to sing my lungs out on this 30 watts practice amp that belonged to his sister until we eventually blew it up completely (more on this later..).
Eventually, I was able to afford a rehearsal room (a nice one) and finally own one in my own home. Now I know what the difference is in sound quality. Although we were doing it out of need, there are a lot of guitar players and singers out there who get a signature sound out of plugging a microphone to a guitar amp.
Check out the stampsound video that accompanies this article.
You can subscribe to the channel here, it's free!
A very well-known trick is to do it with a Green Bullet, harmonica microphone into a valve-driven small guitar amp. The first time I saw that happening I had tickets to go see The Raconteurs, one of Jack White's genius bands.
They were halfway through the set and I could see something hanging from his green guitar. Suddenly he pulled it out and started singing to it. It was a microphone. Then Jack White explains the concept to no other than The Edge and Jimmy Page in the film "It might get loud".
Harmonica players and old blues singers have been plugging their microphones in guitar amps for decades. This gives them a very distinct sound but, most of the time it is not what we are looking for.
Take a look at this video to see how it's done.
What Will A Guitar Amp Sound Like With A Microphone Plugged In?
The preamp section of a guitar amplifier is tuned to accommodate the frequencies an electric guitar can generate.
You might not know this but guitars occupy a similar frequency range to the human voice. It is heavily based in the mid frequencies. The thing is that a human voice exceeds the sounds that a guitar can generate. There are harmonic overtones to our voice and generally a larger frequency register.
Let's go through some basic concepts to break this down in parts and make it friendlier.
I have also written an article that discusses the difference between guitar amps and bass amps. You can check it out here.
The Mids, The Lows, And The Highs
Guitar amplifiers reproduce mainly mids. Some have more emphasis in the mid-lows to generate that growl needed in heavier music and some in mid-highs to achieve those bell-like crystal clear pop sounds.
Both of them, even combined, cannot cover the full spectrum of the human voice. We are closer to producing 3 octaves from the lowest part of our register to the highest. Professional singers do get to cover 4 octaves or beyond.
Those high highs and low lows can do several things to a guitar amp, especially if it is tiny and cranked as it is in most cases:
Blow the speaker cone – It will try to reproduce a frequency out of its spectrum at a high volume and "blow up" as they say. The amp will need a new speaker.
Fry part of the circuit – Because you are pushing it beyond its limits, the amp's preamp section might melt capacitors and that will be the end of the amplifier.
Our lows are too low, our highs are too high, and also loaded with a ton of harmonics the amp is not ready for, so it will sound awkward until the poor amp dies on us.
Understanding Preamp And Overdrive
Guitar amps are designed for overdrive because that is how we, guitar players, like it.
When speaking about Hi-Fi equipment or any other type of high-end, valve-driven, sound-making machine, distortion is the last thing you want. In fact, many pieces of PA and Hi-Fi gear have limiters installed to prevent them from distorting.
That is how you get a singer's voice loud and clear. There is a term to indicate this phenomenon, which is "headroom".
Headroom is the volume that a guitar amplifier can be played before generating distortion.
For example, if you could plug in a microphone to a Rivera-age, red-knob Fender Twin Amp with its massive 2×12 JBL speakers and 120 watts of pure valve volume, you could sing pretty loud before getting any distortion. It is an amplifier with massive headroom.
Now, most amplifiers are not like that and start "cooking", this means giving you that sweet, beautiful, and natural overdrive at around 11 o'clock. You don't want that overdrive in your vocals and hence, the overdrive for which the preamp on most guitar amplifiers is prepared will ruin your singing.
Here's a video that discusses the difference between preamp and power amp overdrive.
XLR to XLR vs XLR to TRS Microphone To Guitar Amp Connections
XLR is the connection for 99% of the microphones for live situations out there.
Let's take, for example, the best-selling microphone of all time: the Shure SM58. The SM58 is a dynamic microphone that you can find in your local pub and Madison Square Garden at the same time. It has an XLR connection (the three-pin cable).
Check out the Shure SM-58 Microphone here.
This connection is at its best when you couple it with another XLR on the other side.
The audio frequency goes out of phase, travels through the length of the cable and reaches the other end where the phase is inverted again and the signal remains at full power. With TRS connections what you get is signal degradation, so, the longer the cable, the weaker the final signal is.
With a regular guitar amp what you need to plug it in is a TRS end on the cable; hence your voice will sound smaller and weaker due to the connection itself.
Blowing Up Speakers
Speakers on the tiny practice amp we had back in the day blew up one day.
The practice amp was cranked all the way up and had been like that for two hours resisting my throat going berserk trying to copy high-pitch screaming that was so common back then.
We had no idea what happened but the amplifier went quiet and when we unplugged it to open it up, the entire speaker had a crack going throughout the entire thing. It was like that amazing scene in "Back to the Future" when Marty McFly blows up the huge speaker at Dr. Brown's house!
We learned the lesson the hard way and hope that reading this post will save you from the 45 days of detention I had after ruining my drummer's sister practice amp.
How To Plug A Microphone Into A Guitar Amp (Safest Method)
After all these words of advice, let me tell you that there is a way to do it right. Let me break it down to you step by step.
1. Plugin your TRS-XLR cable to the amp and the mic – It is important that you start with the amp off and the microphone plugged in to avoid noises.

2. Turn on the amp with the volume in zero – Put all the dials to zero before turning on the amplifier, this includes all channels volume and gain.

3. Put all the equalizers at noon – All EQs at noon means they are in zero. Equalizers boost to the right and cut to the left, but find their balance at five.

4. Slowly raise the volume – With the clean channel volume knob (in case your amp has two channels) go slowly from zero upwards until the volume suits you and there is no distortion. Stand back because feedback is a common issue as well. When it starts to distort, lower it to the headroom safe zone.
If your amplifier has a "Gain" control and a "Volume" control or a "Volume" and a "Master" control make sure you keep the gain to the lowest and use only the volume knob (master in some) to increase the volume.
I have also written an article that discusses the differences between guitar and keyboard amps. You can take a look at it here.
Conclusion
Given the option, you should always choose PA equipment to handle your vocals.
Nowadays many companies are building amps for acoustic guitars with a dedicated XLR input for vocalists.
Also, some brands like Roland came up with a concept like the Roland Cube Street EX which is an all-in-one battery-powered amp that can accommodate an electric guitar, two microphones, and more instruments like drum machines.
If your budget doesn't allow for anything other than a tiny guitar amp for your vocal endeavors (been there) do it with care not to break it following the steps above. Remember that a good PA system or even a single active speaker can be a great investment and an awesome practice companion for a long time to come.
Happy singing!