This is an article I've wanted to write for quite some time.
Over the last 3 decades, I have played various Flugelhorns including Yamaha, Courtois, Besson, Kanstul Jupiter, Geneva, Kuhnl And Hoyer, etc. Honestly, the list is endless.
In fact, I've played so many I forget all of them. I spent many hours over the last few months looking for the best Flugelhorn for under £1000.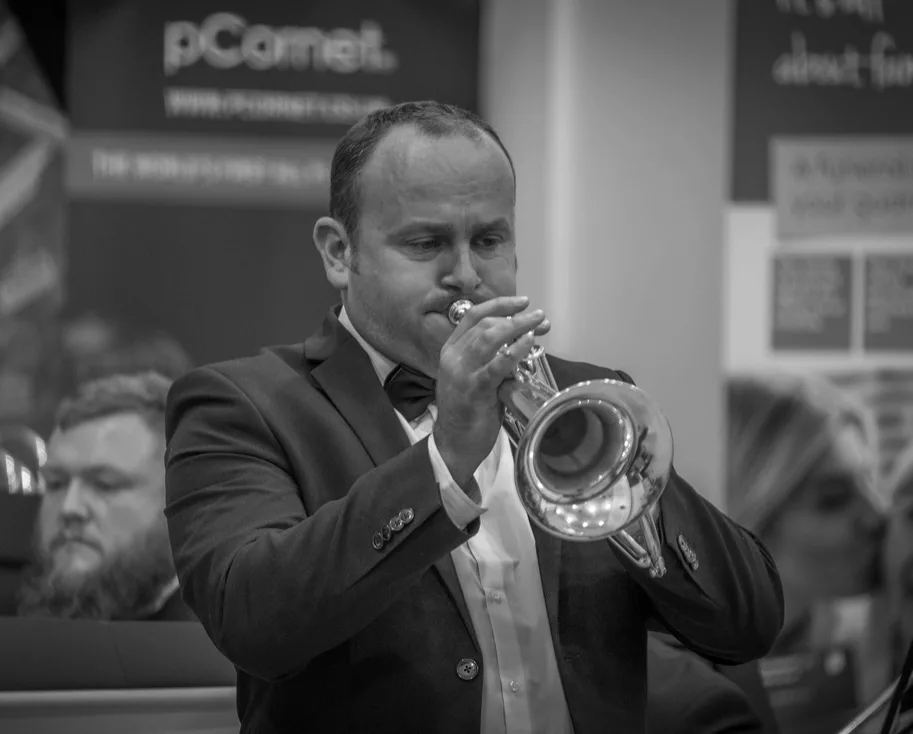 You could say I've been on a Flugelhorn Safari of sorts.
I just want to make one thing clear, I didn't go looking for the world's best Flugelhorn.
I purposely set out to find a solid instrument that sits somewhere in the middle of the price range, ideally priced at under £1000 that I believe offers the best value for money overall.
Believe me, I have tested everything from the cheapest to the most expensive over the last few months.
I Was Stunned With What I Discovered.
The problem with buying any brass instrument is that without getting your hands on each and every one of them, you can only really go with the specifications and what you read on forums.
I wanted much more than that so I hired, begged, borrowed, and purchased a very wide-ranging selection of instruments from anywhere I could.
I used a Denis Wick mouthpiece on all these instruments. I played on a size 4 Denis Wick Standard Flugel Mouthpiece and 4FL dependent on the shank.
I tested all these instruments either sat practicing on my own and playing them in various groups and bands.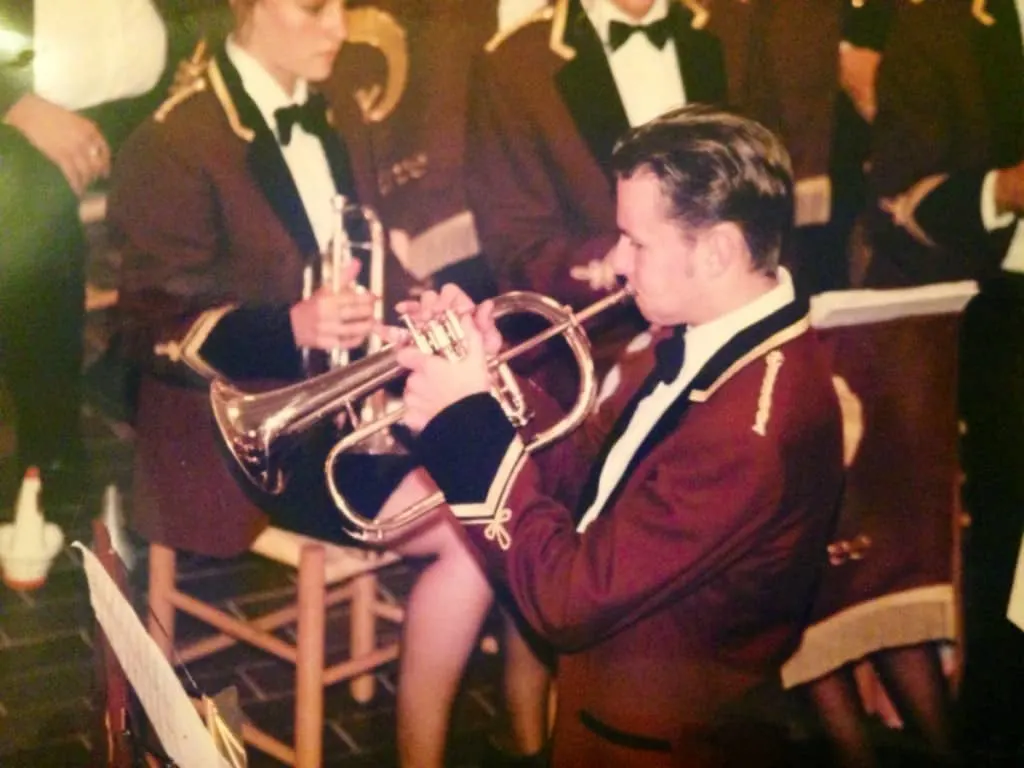 Being an experienced Flugelhorn player myself, I collected all the instruments and naturally couldn't wait to get started!
I felt like a kid in a sweet shop!
To remind me of the quality, feel, intonation and projection of some top-class instruments, I started with a price range way above the £1000 mark so I had something to compare the less expensive instruments with. Naturally, I started with the most expensive.
Vincent Bach Stradivarius Flugelhorn
No doubt about this instrument. It's stood the test of time and has been one of the top instruments to purchase for the last 3 decades at least.
This instrument has what's known as a straight-through valve block and has very good intonation indeed. If money was no object and I simply wanted the best Flugelhorn I could afford then the Vincent Bach Stradivarious Flugel would certainly be my first choice.
I would expect an instrument like this to last at least one full lifetime.
The build quality from Vincent Bach is superb, as is the finish.
The 3rd valve trigger sits in the perfect position for your hand and the instrument is nicely balanced. The only problem (for this review) is the price. At Just under £3000 pounds it won't win the contest for "best flugelhorn for the money" but it sets a good marker for some other manufacturers to try and achieve.
Specification
Model: 183, 183S

Key: Bb

Bell Size: One piece Yellow Brass 152.40mm

Valves: 3 Piston

Bore: Small Bore 0.401″ (10.19mm)

Water Key: Lever 3

Body: Yellow Brass

Finish: Lacquer (183), Silver Plated (183)

Lyre Box: No

Mouthpiece: Bach 7C mouthpiece
Average Price £2995
Overall Instrument Rating 9.5/10
Value For Money Rating 6/10
I have played Yamaha Flugelhorns for years. From the Bobby Shew Models (8310Z), the Yamaha 635T, and the ever-popular Yamaha 631 model.
This instrument for me sits right between the Bobby Shew models (8310z) and the best selling Yamaha 631 range.
It isn't as versatile as the 8310Z but still has more clarity and definition in sound than the 631 Model.
One thing to note is that the lead pipe is much longer on this instrument than the 8310z and the 631. This may suit anyone looking to purchase a flugel to double up with on trumpet.
The intonation of this instrument is amazing and the valves are first class (even though they are bottom sprung) for me it's an excellent choice for someone who can't quite decide between a Yamaha 631 and a Bobby Shew model. The overall sound is really nice and the projection is superb.
So what about the price tag?
Specifications

Model: YFH-8315G, YFH-8315GS

Key: Bb

Bell Size: Gold brass 6″ (152mm)

Valves: Piston 3

Bore: Small Bore: .413″ (10.50mm)

Water Key: Lever 2

Body: Yellow Brass

Finish: Lacquer (YFH-8315G), Silver Plated (YFH-8315GS)

Lyre Box: No

Mouthpiece: FH14F4

Warranty: 2 Years
Average Price £2350
Overall Instrument Rating 8/10
Value For Money Rating 7/10
Take a look at this flugelhorn online and be sure to check out the silver plate and lacquer options. View this instrument here on Amazon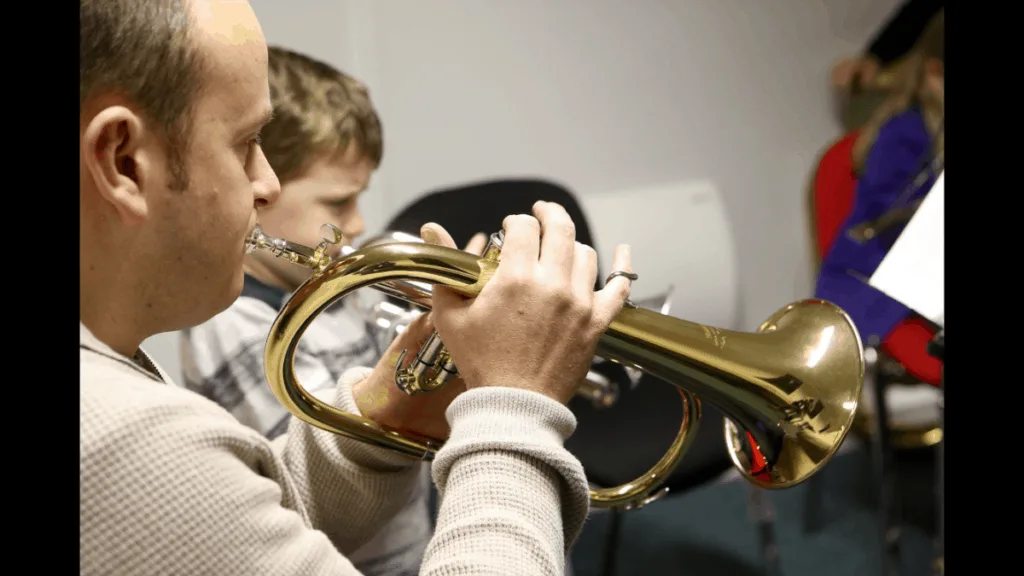 Here's a review video I filmed on the Yamaha 8315 Flugelhorn
Yamaha 631 Flugelhorn (The Best All-Around Choice but not under £1000)
This instrument is one of the best-selling Flugelhorns worldwide.
There's a reason for that.
You could say "it does exactly what it says on the tin" This instrument has been the go-to "all-around best flugelhorn of choice for many years"
Players from Jazz and Brass Band backgrounds, in particular, have all found favour with this instrument and the basic design hasn't altered in many years.
Renowned Flugel player Chuck Mangione played a Yamaha flugelhorn for decades. The early models of this instrument had no 3rd valve slide trigger, but now with this feature added it certainly makes a superb all-round instrument that sits right in the middle of the range.
This is an instrument that is extremely well built and finished and has stood the test of time. For me, the price range is just about right for the quality and reliability of a Yamaha instrument.
Model: YFH-631G, YFH-631GS

Key: Bb

Bell Size: Gold brass 6″ (152mm)

Valves: Piston 3

Bore: MS Bore: .433″ (11.00mm)

Water Key: Lever 2

Body: Yellow Brass

Finish: Lacquer (YFH-631G), Silver Plated (YFH-631GS)

Lyre Box: No

Mouthpiece: FH11F4

Warranty: 2 Years
Check out this great all-round flugelhorn I have played for many years here on Amazon
Average Price £1800
Overall Instrument Rating 7.5/10
Value For Money Rating 8.5/10
Here's a video of me in action performing on a Yamaha 631 Flugel
(Click the white triangle to play the videos)
Jupiter JFH 1100 Flugelhorn
If you are looking for a second-hand instrument that mirrors the Yamaha 631 keep an eye out for the Jupiter 846r. It's pretty much identical. I'll discuss other second-hand instruments to keep a close eye out for later in this article.
I wanted to test out one of Jupiters "Mid Priced" instrument and this sat perfectly at the £800 price range.
First impressions are superb. The valves are incredible and the instrument looks great but there's something I just don't like, unfortunately.
This flugel seemed very "tight" as you go higher up the register and the intonation really begins to suffer. Another annoying aspect is that the valve tops are very difficult to unscrew as they are so near the bell flare.
This instrument began to grow on me the longer I used it but there was just always something about it that stopped me wanting to pick it up. In fairness, it's a well-built instrument for the price range but perhaps just a "not for me" one.
My deciding factor on this one is the sound. It just didn't project as well as it should.
Specifications
Model: JFH1100R

Key: Bb

Bell Size: Rose Brass 6″ (152mm)

Valve: Piston 3

Bore: ML Bore: .460″ (11.68mm)

Water Key: Lever 3

Body: Yellow Brass

Finish: Yellow Lacquer

Lyre Box: No

Mouthpiece: Jupiter mouthpiece
Average Price £800
Overall Instrument Rating 7/10
Value For Money Rating 7/10
Check out the Jupiter Flugelhorn online right here on amazon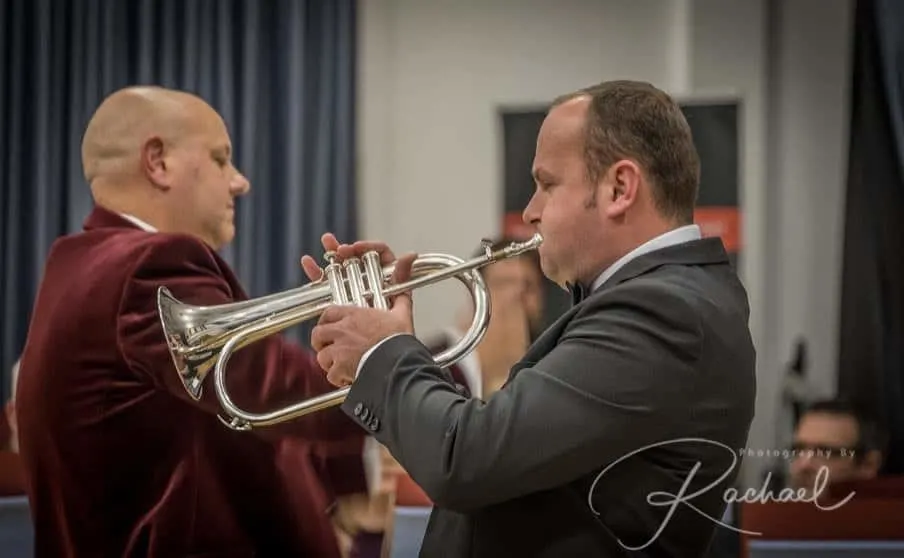 Trevor James Renaissance TJFL6500 Flugelhorn
Let's drop a little further down the price range to an average price of £699
This instrument is simply too heavy and cumbersome.
The build quality and finish look great but the playability is not. The valve block seems unresponsive, particularly when playing chromatic scales and the heavy "renaissance" style valve caps only seem to add to the problem. Trevor James has tried something different with the style of this Flugel but for me, it just doesn't work.
Specifications
Bore size: .441" (11.20 mm)
Bell diameter: 6.06" (154.00mm)
Bell material: rose brass
Leadpipe: long and short leadpipe option included
Finish: Bright silver plate
Valve material: stainless steel
Trigger on 3rd valve slide
Slides: Cupronickel
Water keys: x3
TJ acoustic brace
Case: Backpack style case with TJ logo
Mouthpiece: Trevor James mouthpiece
Average Price £699
Overall Instrument Rating 5/10
Value For Money Rating 5/10
Odyssey OFG Flugelhorn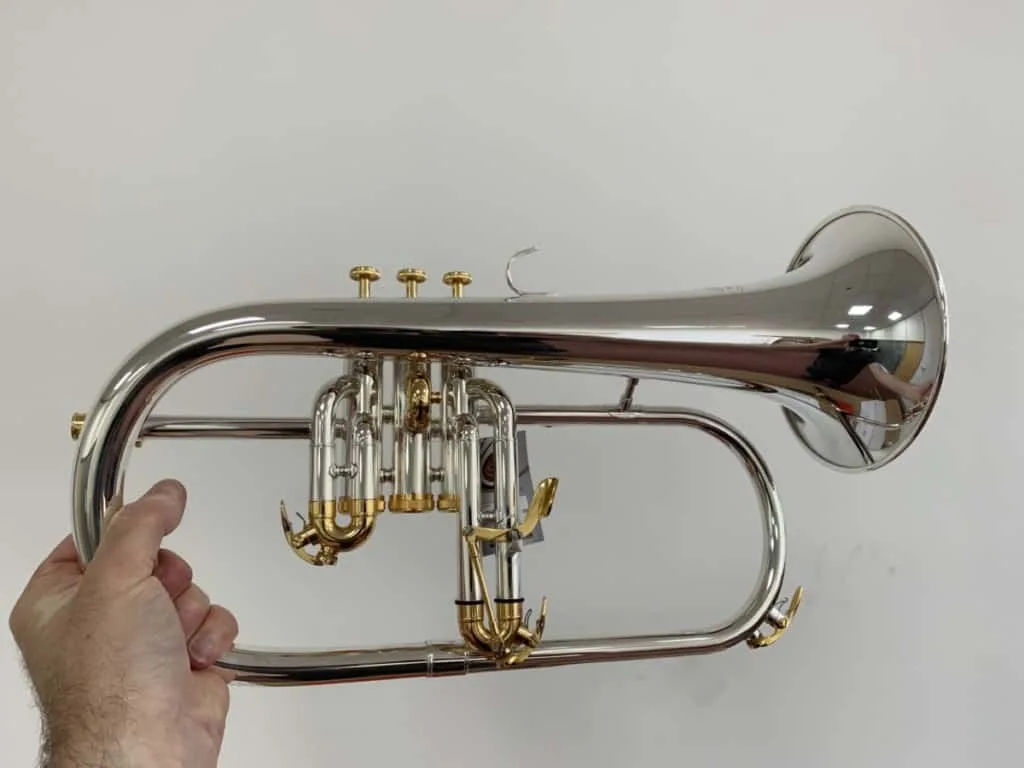 Creeping in at under the £500 range is the Odysssey OFG Flugelhorn.
This is another heavy instrument. It certainly looks and feels nice but I can't stop thinking about the weight of it.
This instrument is appealing on the eye with its silver plate and gold trim and does represent good value for money, priced at around £459
The sound is dull though and the vales are pretty slow. This instrument looks great but unfortunately, the playability of it just isn't very good at all.
There are just too many things I don't like, particularly intonation and weight. A great price and a nice instrument to look at but it's a no from me.
Specifications
• Silver-plated brass body
• Silver-plated rose brass lead pipe and bell
• 3rd slide throw
• Three water keys
• Monel pistons
• Denis Wick mouthpiece 5884-4BFL
• Bell diameter: 152mm/6″
• Bore size: 11mm/0.43″
• Zero-gravity 'backpack' hard foam case Canvas covered, plush-lined with shoulder straps
• Accessories: Gloves, cleaning cloth, oil
Average Price £459
Overall Instrument Rating 5/10
Value For Money 6.5/10
Elkhart 100 FHR Flugelhorn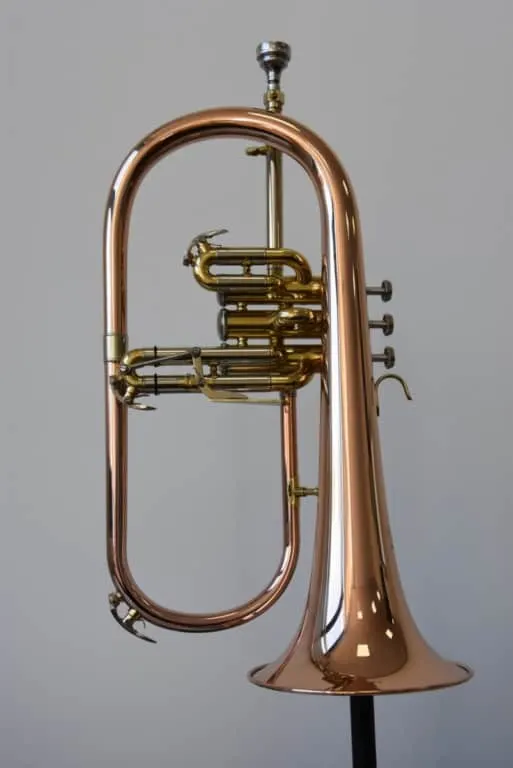 This instrument stopped me in my tracks. It really did. I wasn't expecting to play this instrument for too long based on the price alone.
The average price of this instrument is just £320.
I can't begin to describe how impressed I was with this instrument.
Looking into the Elkhart range I now realize this line of instruments is produced by Vincent Bach.
The overall build quality of this instrument is good/very good but the playability, tone, and intonation is amazing for the price range.
Featuring a rose brass bell I managed to get a terrific sound out of this instrument right through the range.
The valves aren't super quick but certainly functioned well enough for the average player and chromatic scales felt excellent through the valve block.
This instrument just had some minor drawbacks such as the water key springs feel weak and the 3rd valve trigger extension is quite short and the case is not particularly world-class, but as a basic instrument, it does everything you need very well.
Sound, intonation, and projection somehow just work well.
This is an instrument that feels nice to play as well and somehow you can tell it's got the engineering of a world-class supplier like Vincent Bach.
One final thing to mention is this instrument looks great as well. The copper finish with some silver on the first and 3rd valve slides and valve caps finish it off nicely.
The intonation suffers slightly once above top C but how many flugel players need to play up there? Don't be put off by the "Student" instrument tag or the price, instruments are all about sound, Intonation, and projection and this flugel has all 3 of those.
The Elkhart 100 FHR is much better to play than most Fluglehorns listed at double this price and at 1/5 of the price of a Yamaha 631 it's a clear overall winner for the term "Best Flugelhorn under£1000″
Where else can you get a quality instrument like this produced by Vincent Bach themselves at even half the cost?
In all honesty with some better water keys and a longer extension on the 3rd valve slide combined with a hard case, I would not be disappointed if I paid £850 for it.
Here's a demonstration video of the Elhart FHR100 in action. (click the triangle play button to view)
Specifications
High-Quality Stainless-Steel Piston Valves, which are Light Smooth and Durable

Bell: 154mm,bore: 11.20mm

Rose Brass Bell
Rose Brass Leadpipe

Cupronickel Slides Extend the Lifetime of the Instrument and Prevent Corrosion

Clear Lacquer Finish

3 Water keys

Key Of: Bb

Includes a Mouthpiece, Valve Oil and Cleaning Cloth

Supplied with a Quality Backpack Style Case with an Adjustable Shoulder Strap for Convenience
Average Price £320
Overall Instrument Rating 8/10
Value For Money Rating 10/10
Excellent Second Hand Flugelhorns To Look Out For
Previously I have owned some excellent second-hand Instruments. Many of these instruments I honestly wish I had kept hold of.
If you don't particularly need or want a brand new instrument then here are a few recommendations to look out for on the second-hand market.
F Besson MEHA
This is is the one instrument out of all I really do wish I'd kept tight hold of. There aren't too many of these about now but if you do see one in good condition I suggest you buy it rather quickly before I do!
Here's a video of this instrument I sadly sold after I had just had it refurbished and silver plated. These horns were originally made by Kanstul.
Specification (Largely Unknown)
Larger (0.460 inch) bore Flugelhorn.
Courtois 154
The Courtois 154 was, without doubt, the most in-tune flugelhorn I have ever owned. I really wanted a 157 Courtois Flugel, but instead settled on a 154 with the larger bell.
This is another instrument I wish I had kept hold of but in the end, the larger bell size began to irritate me. If you see a Courtois 157 or a Courtois 159 on the second-hand market I would certainly take an interest in it.
Here's a video of my Courtois 154 Flugelhorn
Specifications (154 Model)
Key:

Bb

Bore :

.413″ / 10,50 mm

Bell:

Hand-hammered yellow brass or gold brass bell 6.69″ / 170 mm

Valves :

(3) Top sprung hand-lapped Monel pistons

Water keys :

3 lever-style, forged
Yamaha 6310Z
This is perhaps the most versatile instrument I ever owned. It has a slightly smaller bore than the standard Yamaha 631 model and is more suited towards Jazz players.
A lovely instrument and certainly another one to watch out for on the second-hand market.
Here's a video of my Yamaha 6310z
Specifications
• Bb Flugelhorn
• Yellow-brass bell
• Bell: 151.8mm (6″)
• S Bore: 10.5mm (0.413″)
• Clear lacquer finish
• 3rd valve slide trigger
• Mouthpiece: SHEW
Jupiter 846R
The Jupiter 846R is almost an exact replica of the Yamaha 631. If you are looking for something that plays the same, then this is a good instrument to purchase on the second-hand market. It should be a fraction of the price of the Yamaha 631 as well.
Specifications
Key: Bb

Bore.433″

Leadpipe: Tunable

Leadpipe Material: Yellow Brass

Bell: 6″

Bell Material: Yellow or Rose Brass

Valves: 3 Monel Pistons

1st Valve Slide Adjustment: N/A

3rd Valve Slide Adjustment: Trigger on Rose Brass Bell Models Only

Features: French-Style Vertical Valve Slides

Case: Wood Frame

Mouthpiece: Yes

Finish: Lacquer, Silver
Conclusion
If I was looking to purchase the best Flugel I could at some point in the future for under £1000 I would probably be looking on the second-hand market for a Yamaha 631 or preferably a Yamaha 635T.
I would expect to pay between £600 and £1000 for these instruments depending on the condition.
If I simply wanted to order a basic all-round instrument today that ticks all the boxes of build quality, sound, and projection I would not hesitate to purchase the Elkhart 100FHR at just £320 this instrument represents great value for money.
I love the rose brass bell and produced a lovely in-tune sound on this instrument. When you consider this Flugelhorn is built by Vincent Bach who has an incredible reputation for building quality instruments for decades you really can't go wrong.
I hope this article helps you make an informed decision on the best Flugelhorn you can buy for under £1000, either new or on the second-hand market.
Whichever Instrument you decide on have a great time playing it.