With nothing but a passion for building high-quality guitars and a team of friends who shared his vision, Paul Reed Smith (PRS) revolutionized the guitar-making industry.
Pair top-of-the-line quality control with a memorable, signature build, and it is no wonder why these customized creations appeal to guitarists everywhere.
Quality and authenticity aside, the most common question is: With such high pricing, are PRS guitars worth buying?
PRS guitars are definitely worth the price. Though first-time buyers may initially balk at the pricing, guitarists everywhere recognize PRS as one of the highest quality brands in existence. Professionals and beginners alike are enamored with PRS for its consistency, durability, and artistry.
Read on to learn more about how PRS is so successful in the craft of guitar-making and why PRS customers become loyal for life.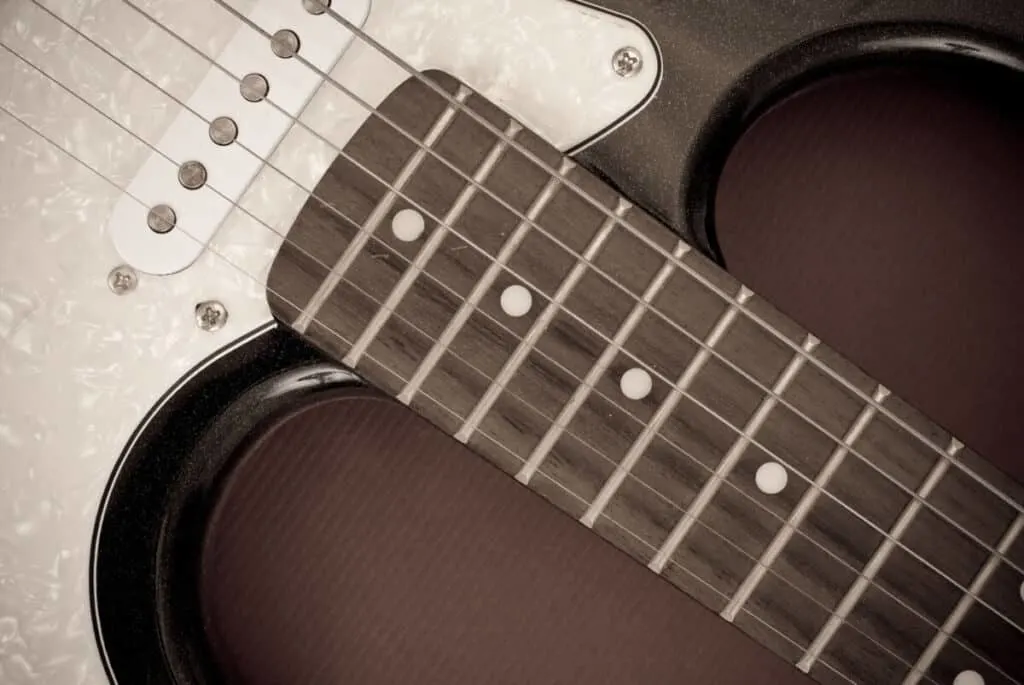 Why Are PRS Guitars So Expensive?
PRS is based in Maryland, and American-made guitar models are more expensive than overseas models.
Because PRS guitars are custom-made, both labor and material costs drive the overall pricing into the four- to the five-figure range. (We're talking mahogany backing, ivory inlays, the whole deal.)
Though the cost for this level of craftsmanship is definitely above average, the good news is that the quality rises to match.
Soaring above other brands and designs, the signature PRS bird inlay has become an insider icon of artistry, prestige, and individuality—the values that distinguish Paul Reed Smith's company to this day.
Paul Reed Smith's zeal for craftsmanship began in his teenage years.
In high school, he constantly signed up for as many shop classes as were allowed simultaneously, enthralled with any opportunity to work with his hands. In college, a music professor challenged him to make a guitar, at which he succeeded, and from then on, Smith was obsessed.
He'd spend night after night brainstorming and crafting, playing hand-made guitars at local gigs and peddling them to traveling musicians. Sales were rare, but with the support of skilled family and friends, the brand eventually amassed a small following.
The PRS factory opened in 1985, launching into the business with handmade craftsmanship and attention to detail as hallmarks of the brand.
Though the company no longer consists of the boutique-style vision of five guys in a garage, each guitar is made with as much efficiency and precision as if Smith were planning on using it himself.
In fact, Smith is known to walk throughout the manufacturing floor every day, working alongside over 300 employees to ensure the highest possible quality before an instrument ever reaches a customer's hands.
Are PRS Guitars Better Than Gibson And Fender?
Gibson and Fender are the primary contenders for PRS's position of prestige in the industry.
Having created and produced phenomenal guitars for over a century, Gibson has certainly earned its fame. Fender, with personable customer service, sleek design, beginner-friendly playability, and affordable prices, is also understandably popular.
Still, when it comes to design and rapport, PRS leaves both brands backstage.
Take a look at this YouTube video where John Mayer demonstrates the SE Silver Sky from PRS.
Fender
Guitarists have complained about the quality control of Fender, especially compared to the PRS SE lines in both pricing and beginner-friendly design.
With Fender, customers can generally assume that they're purchasing a familiar brand with decent quality, but with PRS customers know exactly what they're getting: It plays perfectly in tune right out of the box. You can't go wrong.
Additionally, PRS guitars' fret design and string tension promote comfort and playability, even in the more affordable designs. With other brands, it is normally assumed that the cheaper the guitar, the more painful it is to play.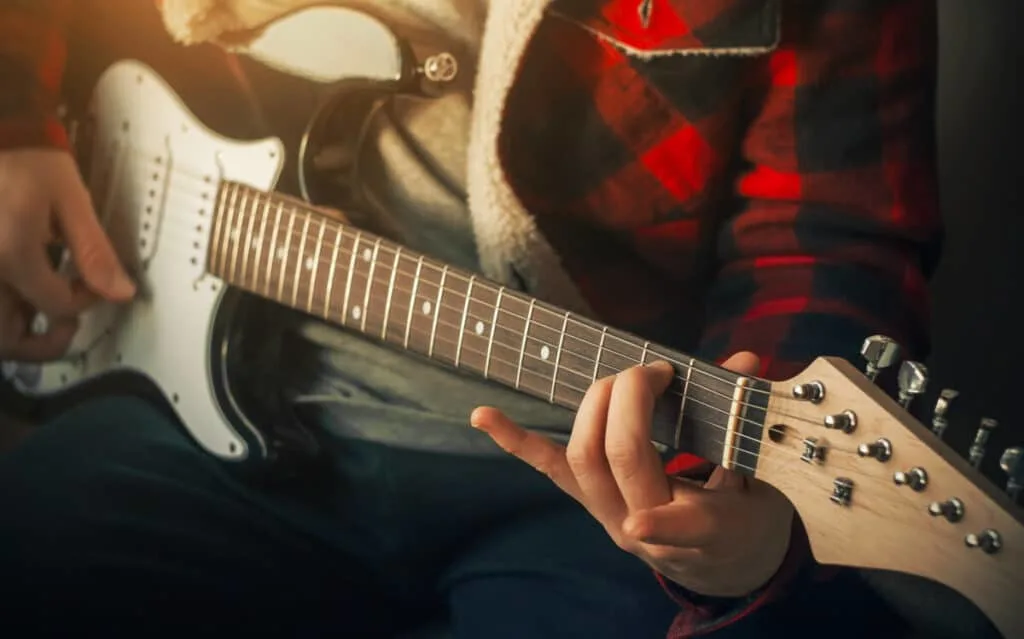 Gibson
Compared to Gibson, PRS has better break angles and string tension, is typically lighter in weight, and is easier to tune.
Gibson also had a headstock and single-cut design that alternative manufacturers attempted to replicate for decades, but PRS simply dove into their own design—a bold move in an industry where professionals are skeptical of anything that deviates from the norm—and it was wildly successful.
With a newer model introduced in the 80s, the overall PRS design differs from the traditional variations on models from the 50s, and the visually classy yet modern take on the instrument strikes a magical marketing balance between old and new players alike.
The design was not only visually innovative, but it also significantly enhanced function.
The neck is sleek, comfortable, and playable. The strap buttons are low and wide, securely supporting even the thickest straps. The bridge and tailpiece feature a modern design using angular brass.
The control cavity covers feature outward-facing bevels for easier movement. The nut angle is less drastic than other models, making tuning easier and more effective.
With stunning stains and a wide selection of colors and patterns, not to mention flawless intonation and clear sound, each guitar is a unique, unparalleled work of art.
Do PRS Guitars Hold Value?
The nostalgia of popular artists using PRS guitars, coupled with the guitar's flawless design, are what continues to uphold the PRS reputation, and thus the resale value of old or used models.
One of the reasons that PRS is so popular is that it has developed a strong association with the metal artists of the early 2000s: Disturbed, Sevendust, Staind, Drowning Pool, Slipknot, etc. As mentioned, John Mayer recently partnered with PRS to create his signature Silver Sky model, designed to "recreate all the magic and sound and feel of a vintage guitar."
Naturally, Mayer's model and enthusiastic endorsement drew even more attention to the PRS brand.
In a video introducing the sleek features and available styles of the Silver Sky, Mayer played a few samples, remarking about how he plays the guitar while watching TV just because he loves the feel of it. It's relaxing and reliable. It's vibrant and versatile.
Take a look at this video from PRS YouTube channel that shows the factory in action.
PRS has long been at the forefront of low, heavy, drop-tuned music, and as long as it is a celebrity choice, these guitars will hold their value—to some extent.
The resale value may drop as newer models are released, with the exception of limited edition or vintage models.
For the most part, nostalgia and celebrity association will account for resale value, but for the more generic models, it will decrease over time.
What Does SE Stand for on PRS Guitars?
SE stands for "student edition."
PRS produces student edition models of their guitars as more affordable and accessible instruments for beginners or buyers on a budget. The SE is a modern take on the single-cut shape, with a variety of colors and models available.
Though these guitars are lower in price, they still come with all of the electronic features, classy vibes, and high-quality craftsmanship PRS is renowned for.
Mayer's Silver Sky SE model is a fan favorite, coming in four different colors with all the bells and whistles of a higher-end model.
Paul Reed Smith himself loves the SE models and is passionate about ensuring that buyers "interview the guitar" before buying it.
All guitars sound different, so more than anything else, it comes down to the question of whether you like the way it sounds and feels. At the end of the day, the guitar should be an extension of the musician, a natural part of the person creating and living through the music.