As someone who willingly and for most of his life behind a console in a studio surrounded by XLR, 1/4", and RCA cables, I've gone through as many of them I can't even recall.
During that time I also went from one side of the spectrum to the opposite. The same guy saying that premium-quality cables were a complete hype suddenly rewired the entire studio upgrading every cable and noticed a huge difference.
Well, that's life, right? What I want to tell you is the story behind the decision.
So, do RCA cables make a difference?
Premium RCA cables can make a difference, whether you hear it or not depends on your setup and expertise. Good RCA cables make a lot of difference for trained ears and a good sound system. On the other hand, using $10 RCA cables on a $1000 system would be unadvisable.
Indeed, you should even upgrade your power cable to avoid any unwanted electrical noises.
That was the short answer, but I went through a lot to be a premium-cable lover. Read on and find out everything about it.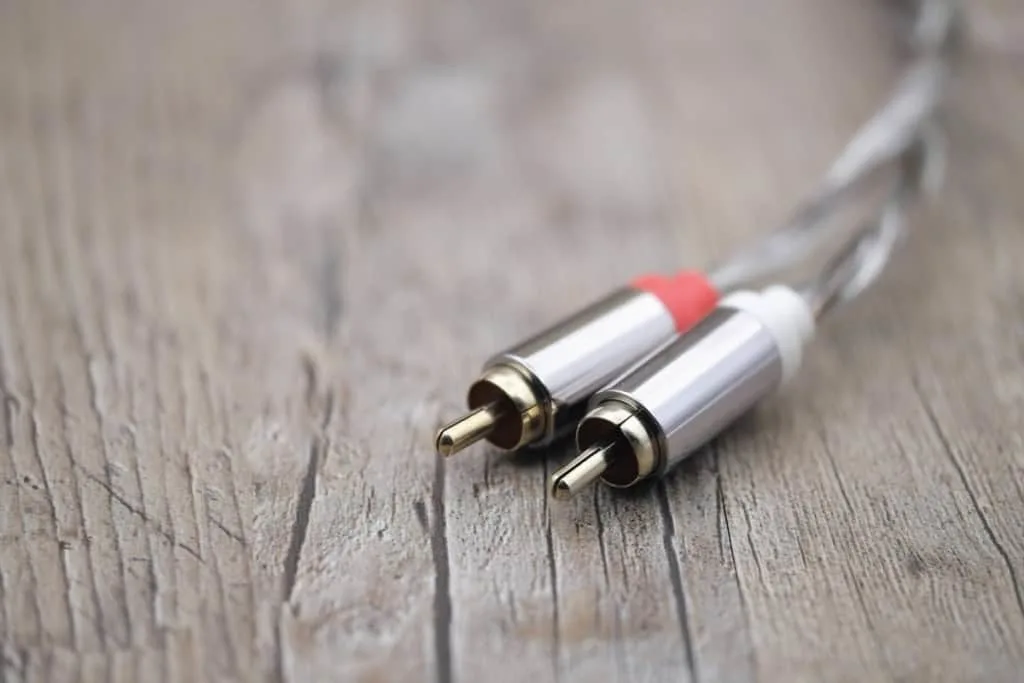 Good Cables Are Like A Fine Wine
I don't know how much of a wine-lover you are, but good cables and fine wine are very much alike in a sense.
Let me illustrate it with a small story. My friend Sarah, who went to high school with me, is a sommelier. She tastes and rates wines for a living, and often invites me to fancy places to taste expensive wines with weird cheese. My wife and her love it and I like dressing up to go, so it's kind of fun.
My first time, though, wasn't all that good; I just couldn't tell the difference! Sarah explained to me quite a few concepts and suddenly, after going over ten times, I noticed my palate was different. This magical epiphany-like moment happened and all of a sudden I was able to tell a good wine from a not-so-good one. Needless to say that it ruined my budget because I can no longer drink $10 wine.
But back to audio, our ears' ability to listen to different layers and more complex sounds can be trained. My friend Sarah can tell the difference between wines but can't tell the difference between a $2,000 audio system and a Bluetooth speaker.
That is because her palate is trained ninja-level but her ears are untrained. Good cables, especially the ones carrying audio like RCA can make a difference, but it is up to your ears to tell it.
What Makes A Better Cable?
What makes a cable better than another cable? Well, many items can fall into this category. Let's take a closer look.
· Isolation – Cables' isolation is what prevents them from picking up external noises. In cables like RCA, the more shielding they have or the better the isolation technique used, the more it will reject noise, thus your audio will be cleaner.
· Connectivity – The tips of the cable, the ones that make the connection with your audio equipment's output an input make a huge difference. Some materials are more conducive than others. For example, gold-plated connectors are always better (as a rule of thumb).
· Strength – The strength of the signal traveling through a cable is mostly decided by the number of copper strands transporting it. The fewer they are, the weaker the connection and vice versa.
Here is a chart where you can check to see how conductive your cable is.
The list could go on indefinitely, but with those three items, you have more than enough info to get started.
Let´s Talk Sound Degradation
Let me introduce you to the villain in this story: sound degradation.
When we carry sound through cables, what we are truly carrying is voltage. This voltage reaches the speaker and, with the positive and negative loads, moves it to generate the sound. If the voltage would reach the speaker unmodified, the speaker would be able to translate into sound the exact, unmodified audio coming from the source.
A lot can happen on the way causing sound degradation, AKA differences in the voltage hitting the speaker(s).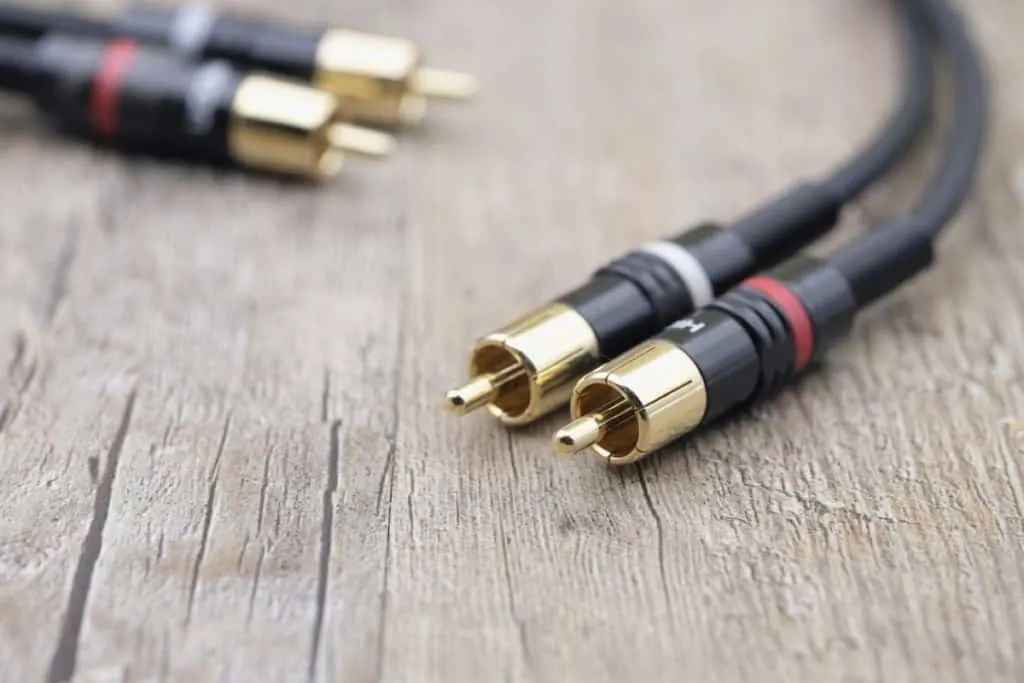 Distances
The longer a cable runs, the more chances are that it gets sound degradation not only because of the distance but also because of the noise it can pick up on the way there. If you are using RCA cables that have braided shielding and OFMC construction (OFMC stands for Oxygen-Free Multi-stranded Copper), you'll be able to reject noise and keep conductivity fresh throughout the entire length.
RCA Cable Noise
Noise can happen in short cables too, depending on how good the cable can reject it and how close it is to noise sources.
For example, I had an evening of hell in the studio trying to get rid of noise in the signal. I couldn't find the problem until I saw very clearly how my RCA cable was sitting on top of the Wi-Fi modem. Network connections regarding data and Wi-Fi are a huge noise source. If you have good RCA cables you can fight back, but the best advice is to run them as far away from those as you can.
Grounding
Finally, grounding is something that is always going to affect your noise levels and thus the resulting sound. You need to have grounding for the electrical system before even thinking about investing in audio. The amount of noise a poorly-grounded electrical socket will bring to your state-of-the-art equipment is immense. The grounding comes first, always.
Is Your Setup Audiophile-Ready?
This is a question you need to answer before you do any serious investment.
In this video, you can check for yourself (using headphones is much better) how much difference it makes to replace adapters and cheaper cables.
Taking this video from Paul McGowan as an inspiration, we need to start thinking of sound as a system.
Every system needs all its parts to function properly. Furthermore, each part will fulfill a task and the weakest link of the chain will make the entire system weaker. That being said, the stronger link will also make the system stronger. Let's put this in an example:
Let's say you bought an ELAC EA Series amplifier to use with your ground-smashing Technics SL-1200MK7 turntable.
Let's also say that you bought some amazing Klipsch RP-600M speakers. That is one great-sounding combo.
What cables will you use to hook it all up? Going for something cheap but not bad like Amazon's own RCAs might cause sound degradation and regardless of how faithful your amplifier is to the sound of your $1,000+ turntable, your speakers won't get all the quality. If you have a much-trained ear, you can hear that difference even if it is minimal.
If you were to choose (and afford) some great AudioQuest RCA cables like the Victoria series, your speakers might get all the purest sound and the analog low frequencies will give you the chills.
Keeping the system at the same level with all your components is a definite must. The more you upgrade on the big stuff (turntable, power amp), the more you have to invest to maintain that quality difference across the board.
The Miscellaneous Matter Too
Some things make a cable better than others that are not strictly related to the connectivity or shielding, but with endurance. Buying good-quality cables is also to buy cables that will last you for a long time.
If you are going to be using your RCA cables in a spot in which they are going to be moving a lot, you need highly-durable cables.
For example, a non-expensive pair of Goalfish RCA cables will cost you $10.99 and offer a braided chord, oxygen-free copper, and an aluminum shell. This RCA cable is great for connecting pieces that will be moved a lot, or stepped on.
You can watch this old video in which members of a sound publication discuss the topic and mention flexibility and durability as other, miscellaneous qualities that they look for when buying an RCA cable.
Conclusion: Mind The Chain
The more we go into the audiophile world, the more we need to think of sound as a system.
Upgrading an already great system is more difficult and expensive than upgrading a basic system. The more you go up the audiophile ladder, the more expensive equipment you'll find to make smaller differences. This is simply because, in the quest for pure sound, you need to get rid of all that stands in the way.
What I can say, being a life-long audiophile, is that you need to invest wisely.
Getting some very fancy Viborg YAMDROK RCA Stereo Cable costing twice or thrice as much as your preamp, power amp, turntable (or other sources), and speakers, is throwing your money away. You'll get much better results in investing that 3K into an amazing amplifier or speakers.
Trust your ears and relax, the audiophile path is long and beautiful. Your ears will tell you when it's time to make a change, trust, educate, and nourish them.
Happy (high-quality) music enjoying!