Do-it-yourself guitar kits are guitars that need to be assembled before they can be played. But are these kits worth the money to buy them?
Many DIY kits are not high-quality. While do-it-yourself guitar kits are great if made with high-quality materials, this is often not the case. There are many inexpensive options of buying a fully built guitar that would make purchasing a DIY guitar kit unwise.
Quality DIY guitar kits are also much more expensive than pre-assembled guitars.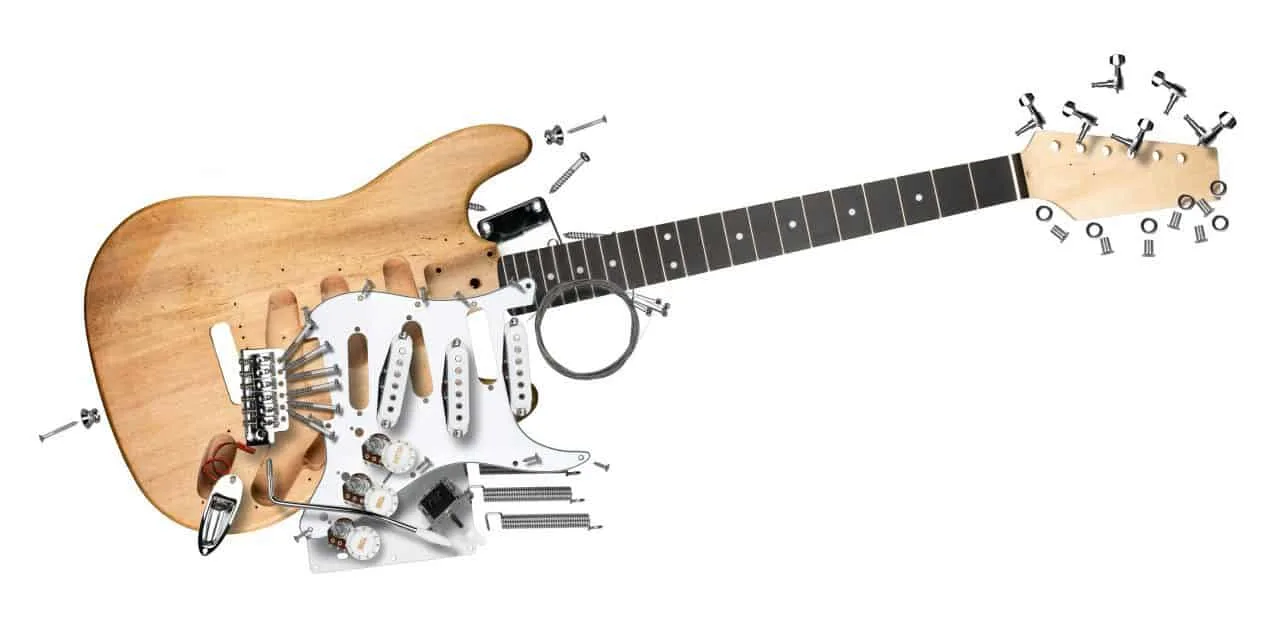 Are DIY Guitar Kits Difficult to Build (Some Models are Easier)
DIY guitar kits can be fairly easy or very difficult. Some kits, like those sold by Martin, have all the more difficult steps already finished. For instance, neck-joint machining, soundboard finishing, thickness sanding, fretboard slotting, and side shaping have all been handled before you buy it.
Other kits have some things professionally handled but have left most of the building up to you. These ones can be more difficult to build.
The difficulty of the DIY guitar kit can also depend on the brand of the kit.
Are Guitar Kits Cheaper (Than an Equivalent Built-up Guitar)
Guitar kits themselves are generally cheaper than an equivalent built-up guitar.
However, they are typically built out of cheaper parts than a prebuilt guitar. Not only this but in order to build these guitar kits, you need the right tools.
If you do not already have the tools necessary, you will have to purchase these tools. This will cause the cost of building the guitar kit to increase tremendously.
Take a look at this excellent video from Gear4music that shows how to assemble one of the various DIY guitar kits they offer.
Tools that you may need to buy include an Allen wrench, a screwdriver, a string cutter, a string winder, a ruler, a truss-rod wrench, and an optional work mat.
On top of buying the right tools and hardware, you may need to also purchase any electronics that will go with it and extra wood for any potential mistakes that may occur.
DIY guitar kits can cost as little as $200 to $300 with the potential to create an instrument that can sound like a $1,500 to $2,500 guitar.
That is only a potential to become that, however.
The likelihood of creating such an instrument on your first build is small. That does not mean that it isn't worth it. This means that it is unlikely that the first guitar you build will be on this level of craftsmanship.
On the surface, buying a guitar kit is cheaper, but if you only build one kit it has the potential to be more expensive if you do not have all the tools for it.
Easiest Finish to Apply to a DIY Guitar Kit
The easiest finish to apply to a DIY guitar kit is to finish it with oil, such as Tru-oil or Tung Oil. Tung Oil can be colored with Lemon Oil to the shade that you want it to.
After that, you can hand rub the Tung Oil with a dozen or so coats.
Then finish it with a couple of light coats with a sponge brush applicator. In between coats lightly sand the guitar if it needs it. Tung oil will dry with a smooth, matte finish on the guitar.
If you are feeling creative you could even take a look at hydro dipping your DIY guitar!
Are DIY Guitar Kits Worth the Effort?
DIY guitar kits when compared to their premade counterparts are not worth the effort.
DIY guitar kits not only cost more but also require you to build them yourself. It takes time to build these kits. DIY guitar kits are not a one-day project.
The process can be tenuous. This includes drilling, cutting, gluing, sanding, painting, and wood staining.
With painting and wood staining, you have to wait for it to dry before continuing. Also with these two things, it takes multiple coats to finally finish it.
Building DIY guitar kits is a time-consuming process. It is not worth the effort if you will only be building one guitar kit.
DIY guitar kits do, however, provide more customization depending on which kit you purchase and from whom you buy it. For instance, LMI provides the option to customize each individual part of the kit, while Stewart MacDonald does not.
Varied brands of DIY guitar kits come with different options. Some offer no customization, while others give you full freedom in that field. This customization may make it worth it to some people.
The learning experience that comes from building your own guitar can provide you with a further understanding of your instrument. This has the potential to make you a better player in the process.
On top of these things, if you decide to keep building guitars and become good at building them, it can become a profit to you.
Whether you enjoy having many guitars or are able to sell them, it can actually become a profitable business. Other than these few exceptions, it is not worth it for the average person to purchase and build a DIY guitar kit.
Conclusion
DIY guitar kits are for those who would like a challenge, as it is a delicate process to build a guitar.
A process that if not followed carefully can be disastrous. DIY guitar kits are also for those who love woodworking, crafts or have artistic abilities. It can be very rewarding for these people and may even become a wonderful hobby.
For most people, however, DIY guitar kits are not worth the cost of both money and time, as there are so many good, inexpensive guitars that you can pick from.
There just is not enough of a reason to purchase a DIY guitar kit when there is not much of a price difference between DIY guitar kits and decent prebuilt guitars.
On top of this, most DIY guitar kits do not come with high-quality parts. These kits take a lot of time to build and finish. If you are looking to play your new guitar as soon as possible, it would be wise to buy a pre-built guitar.